$1,110 MSPT Main Event
Days: 2
$1,110 MSPT Main Event
Day 2 Completed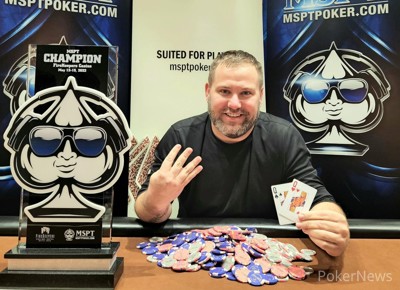 After 15 hours of play in the Mid-States Poker Tour (MSPT) $1,110 Main Event at Michigan's FireKeepers Casino it was MSPT champion Dan Bekavac who ended up winning his record-breaking fourth MSPT title.
"I feel great, I feel confident," said an enthused Bekavac. "Now nobody can say they got more than me now."
Over the course of a five-hour-long final table, Bekavac's signature aggressive style earned him three knockouts, more than any other player at the final table.
Once players got three-handed, an ICM chop was struck. Bekavac had the most chips of the three players left so Marquez Davis took home $198,975 and CJ Peake took home $241,290.
Just weeks after his win in Riverside Iowa, Bekavac has climbed atop of the MSPT Main Event leaderboard with no other players matching his four-time winning accomplishment. Scoring his biggest live cash at $252,020, Bekavac looks to continue his run and plans to play next weekend at MSPT Deadwood. While 2022 isn't even halfway over, he's put himself in a strong position to win MSPT Player of the Year.
When asked for some advice towards up-and-coming players he said, "Three-bet, c-bet."
MSPT FireKeepers Final Table Results
| | | |
| --- | --- | --- |
| Place | Player | Payout |
| 1st | Dan Bekavac | $252,090* |
| 2nd | CJ Peake | $241,290* |
| 3rd | Marquez Davis | $198,975* |
| 4th | Zinoviy Pelekh | $119,706 |
| 5th | Jonathan Johnson | $91,699 |
| 6th | Alex Oberlin | $72,275 |
| 7th | Timothy Mulroy | $56,465 |
| 8th | Ruben Delgado | $44,043 |
| 9th | Elliot Hebden | $35,008 |
*Denotes three-handed deal.
The day began fast and furious as 311 players returned to action, but within 40-minutes, the players had already burst the bubble in a wild three-eliminations-at-once situation.
Other players to fall throughout the day included poker commentator Jamie Kerstetter (213th-$2,710), Chris Tryba (89th-$3,840), MSPT champions Chris Moon (102nd-$3,388), and Aaron Johnson (66th-$4,517) and WSOP Main Event Champion Joe Cada (43rd-$6,550). The final table was reached when start-of-day chip lead David Peterson got his queen-jack in against Bekavac's queen-nine and lost when Bekavac flopped a nine. He finished his run in tenth place for $27,103.
Final Table Action
The first elimination came rather quickly, when Elliot Hebden four-bet shoved his stack pocket tens into Davis' pocket aces. No help came to Hebden and he left the tournament in ninth place for $35,008.
Next to finish was Ruben Delgado, who impressively spun up his stack after being down to just three big blinds with four tables left. His luck came to an end though, after losing a big pot to Alex Oberlin when his top pair lost to a flush. He moved in his remaining chips with queen-jack only to get called off by Jonathan Johnson's ace-jack. No improvement was found and Delgado finished his run in eighth place for $44,043.
Timothy Mulroy managed to ladder up a few places with his short stack but moved it in with ace-king only to see it shrivel up against Bekavac's ace-five when Bekavac flopped a wheel. Mulroy went to the rail in seventh place for $56,465 and was greeted by his son Timothy Mulroy Jr., who himself finished the same tournament in nineteenth place for $16,714.
Oberlin saw his chips dissipate when, after three-betting pre, he moved all in on a monotone queen-high board with ace-king high only to get looked up by the flopped pair of sixes for Bekavac. The turn and river provided no help and Oberlin's run came to an end in sixth place for $72,275.
After roughly two hours of every short stack doubling, the unlucky one was Johnson who moved all in from the small blind with jack-ten offsuit only to get looked up in the big blind by Zinoviy Pelekh with pocket kings. No help could be found on the board and Johnson collected $91,699 for his fifth-place efforts.
Pelekh would follow him shortly after and collected $119,706 for his fourth-place finish when he moved all in with ace-king suited only to get called by the pocket queens of Bekavac.
Bekavac held the chip lead and offered an ICM deal to both players and after some talking, it was agreed upon. After surviving seven all ins, Davis collected $198,975 for a third-place deal chop.Holding only slightly less chips than Bekavac, Peake collected $241,290 for second place, all three players finding their career best score.
Congratulations to Dan Bekavac for winning the $1,110 MSPT Main Event at FireKeepers for a career-best score and a fourth MSPT title!
Thank you for staying tuned with us here at PokerNews, be sure to keep reading for updates on MSPT stops across the country and other tournaments. The MSPT will now head to Deadwood, South Dakota for the $1,110 buy-in South Dakota State Poker Championship at Silverado-Franklin Casino from May 20-22. PokerNews will be on-site to offer live updates. Click here for more details.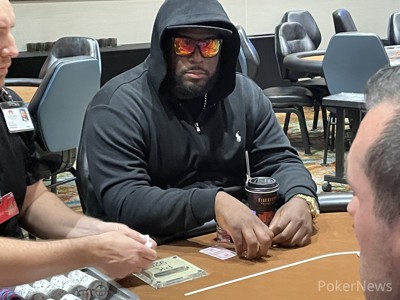 CJ Peake out lasted over 2,300 entrants to hit a career best score of $241,290 . He finishes in second place while Dan Bekavac has won his fourth MSPT title.

After starting the final table as one of the short stacks, Marquez Davis ended his incredible run in 3rd place. He takes home $198,975 for his win.

Dan Bekavac raised to 1,200,000 in first position and in the big blind Zinoviy Pelekh moved all-in for 14,000,000 and Bekavac called.
Zinoviy Pelekh:

Dan Bekavac:
The board ran out
and despite the royal flush draw Pelekh picked up on the turn, Bekavac's set of queens was good for the win and Pelekh left the tournament in 4th place.
Level: 37
Blinds: 300,000/600,000
Ante: 600,000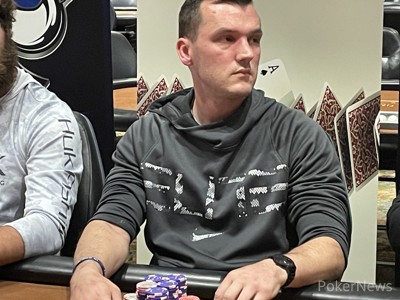 Jonathan Johnson moved all-in from the small blind for 6,100,000 and in the big blind Zinoviy Pelekh called.
Jonathan Johnson:

Zinoviy Pelekh:
The board ran out
and Jonathan Johnson found himself leaving the tournament in fifth place.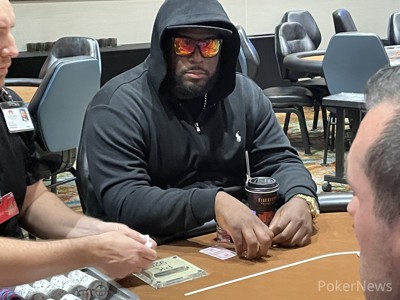 Zinoviy Pelekh raised on the button to 1,200,000 and CJ Peake in the big blind defended.
The flop came down
and Peake check-called a bet of 900,000 from Pelekh.
The turn came off a
and Peake checked once more to Pelekh who sized up to 2,100,000 which again Peake called.
The river came off the
and Peake moved all-in for 5,400,000 effective and Pelekh went into the tank. After roughly a minute of contemplation, Pelekh folded and Peake moved into a commanding lead at the final table.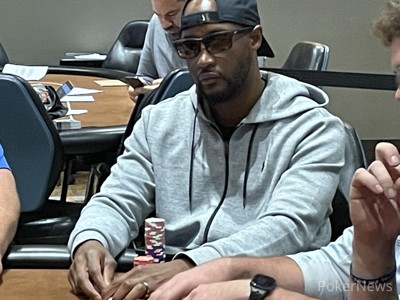 Marquez Davis moved all-in for in the small blind and in the big blind Jonathan Johnson called.
Marquez Davis:

Jonathan Johnson:
The board ran out
giving Marquez two pair and leaving Johnson with a short stack.
Level: 36
Blinds: 300,000/500,000
Ante: 500,000