O'Dwyer Straightens Out Sontheimer
Level 6 : 300/600, 75 ante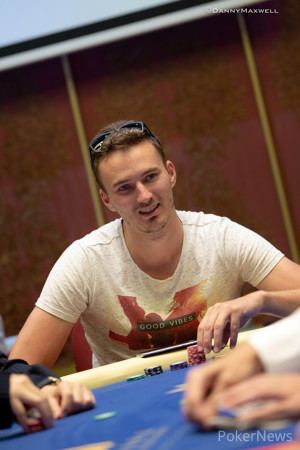 There has been another elimination with Steve O'Dwyer the man to show Steffen Sontheimer the door. We picked up the action on the turn in a three-way pot between the aforementioned two and Isaac Haxton and the action had been checked by O'Dwyer (big blind) and Haxton (middle position) over to Sontheimer on the button with the flop spread
.
The pot was not huge at this point, but quickly got that way when Sontheimer bet 3,300 and O'Dwyer check-raised to 8,200 in total. Haxton took the hint and bowed out, while Sontheimer made the call to take the action heads-up to the
turn.
This saw O'Dwyer plonked down a chunky stack of yellow 5k chips for a bet of 60,000, which easily had Sontheimer covered. The German player thought it over before making the call for his tournament life.
"Straight," declared O'Dwyer, rolling over
. Sontheimer flashed him
before the
river completed the hand and a call of 'player out!' echoed through the tournament area and the field was reduced by one.