Bas de Laat Leads Final 10 Players in 2016 Unibet Open Malta Main Event

Level 20 : 10,000-20,000, 3,000 ante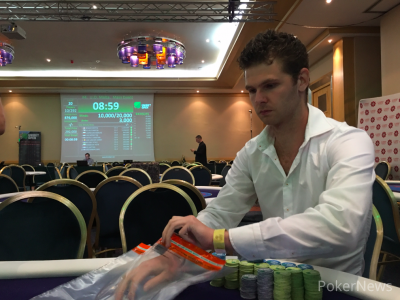 Ninety-three players returned to Casino Malta to battle it out for the trophy and €65,000 first-place prize on Day 2 of the 2016 Unibet Open Malta Main Event.
The first hurdle to tackle would be reaching the money, with 36 players cashing. Losing 57 players proved an easy task as they busted out left and right to get things going.
Jorma Vuoksenmaa from Finland was the first one to go, followed out the door by the likes of Miroslav Hrivnak, Simon Griffin, and many others.
Before you knew it, the tournament was getting to the bubble stage, with at least three very short stacks. All three of them would survive though, as Unibet Open regular Johan Goslings ended up busting in a bit of a cooler. He open-shoved his medium stack in with ace-king but soon found out his neighbor Mads Junker had aces and covered him by just a couple thousand.
Junker, former professional soccer player with seven caps for the Danish national team, made 36 players very happy, but busted out himself a level or two later.
The bubble hand was just about the only hand Canadian Global Poker League commentator Griffin Benger wasn't involved in. He raised most of his hands, wasn't afraid of showdowns, and won most the pots he was in. Besides having his experience help him along the way, Griffin ran extremely good as well, winning 30-70s and 40-60s like it was nothing.
For quite some time, Benger's name was on top of the chip counts by a wide margin. The last couple of levels he wasn't able to extend his lead and in fact saw several players catch up with him, and drop down a bit himself. Amongst the players to catch up was Dutch online professional Bas de Laat, who went from the role of short stack to that of chip leader in a matter of minutes. He doubled up and busted two players to get to 1.758 million.
After 10 levels of play, the tournament was halted for the night.
The final day will start at 1 p.m. local time with two tables of five players. Once one player hits the rail, the two tables will combine to the official final table. As you by now can expect from the Unibet Open, the final table will be broadcasted live with cards-up coverage.
PokerNews.com will again be on site for all the updates and photos of the event, so stay tuned.
| Table | Seat | Player | Chip Count |
| --- | --- | --- | --- |
| 1 | 1 | Bas de Laat | 1,758,000 |
| 1 | 2 | Vitalii Belyaev | 454,000 |
| 1 | 3 | Christian Ostfelt | 616,000 |
| 1 | 4 | Tim van Meene | 889,000 |
| 1 | 5 | Piotr Marzejon | 1,225000 |
| | | | |
| 2 | 1 | Martin Soukup | 1,340,000 |
| 2 | 2 | Emil Westerberg | 170,000 |
| 2 | 3 | Griffin Benger | 680,000 |
| 2 | 4 | Mariusz Czarnojan | 963,000 |
| 2 | 5 | [Removed:158] | 657,000 |
Player
Chips
Progress

Bas de Laat

1,758,000

158,000

Martin Soukup

1,340,000

140,000

Mariusz Czarnojan

1,225,000

679,000

Piotr Marzejon

963,000

311,000

Tim van Meene

889,000

109,000

Griffin Benger

680,000

-489,000

[Removed:158]

657,000

157,000

Christian Ostfelt

616,000

-384,000

Vitalii Belyaev

454,000

-106,000

Emil Westerberg

170,000

-170,000