Eight levels were scheduled for Day 2 of the 2019 Unibet Open Sinaia €1,100 Main Event, but it would take until 2.30 a.m. local time for the day to wrap up after an extensive bubble period. Out of the 366 entries, only 199 hopefuls had returned to the poker tables in the New Montana Hotel and the end of the day turned into a roller coaster of emotions.
With just two spots away from the elusive min-cash of €2,085 at the end of the eighth level, tournament staff decided to continue playing until the bubble burst and one full level passed with several players being at risk forced all in and surviving under miraculous circumstances. Unibet Poker ambassador Dara O'Kearney did so twice while fellow Irishman Padraig O'Neill found himself forced all in from the big blind and he came out on top of a six-way limped and checked down pot.
Eventually, it was Oleksandr Sharov that fell short of the money when his ace-six was bested by Razvan Sabau and his queen-jack. A jack-high straight on the board gave Sabau the best hand and right after, all 47 survivors bagged and tagged for the night. They will be aiming to take home as much of the €366,000 prize pool as possible on the remaining two tournament days.
Sabau leads the field after Day 2 with 741,000, only a smidge ahead of Ran Shahar (735,000), Cristian Grecu follows in third place with 711,000. Further notables include Silviu Baltateanu (612,000), Gilles Huet (343,000), Jean-Serge Baril (318,000), Evangelos Bechrakis (228,000), Aku Joentausta (172,000) and Toni Judet (172,000).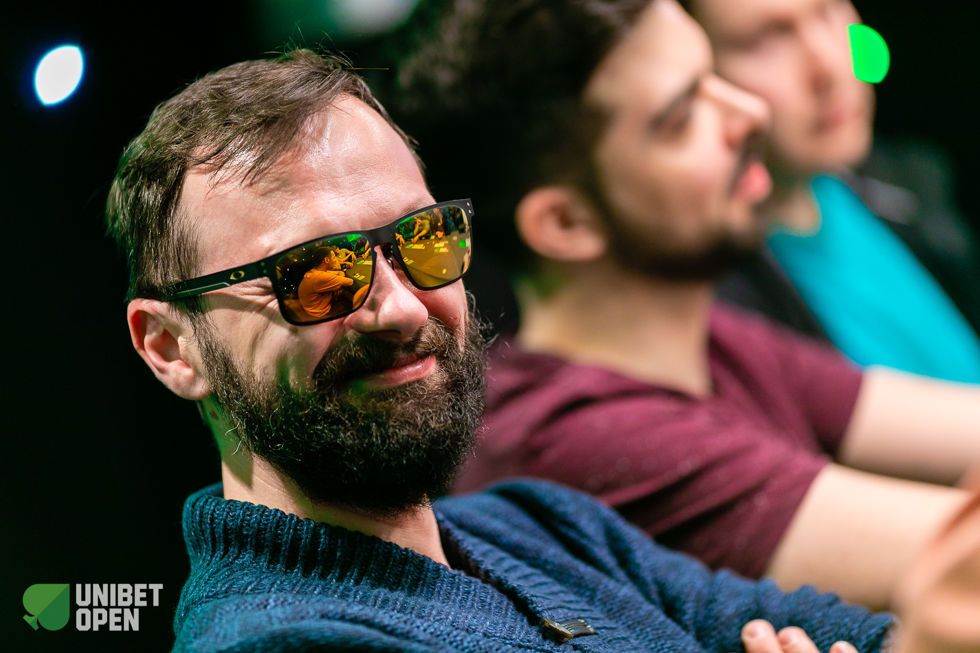 Three former Unibet champions are aiming for a repeat victory, two of them on home soil. Traian Bostan (pictured above) advanced with 330,000, Martin Soukup bagged up 227,000 and Unibet Poker ambassador Dan Murariu has 132,000. Fellow ambassadors Espen Uhlen Jorstad (240,000), Daiva Byrne (23,000) and the master of short stack grind Dara O'Kearney (3,000) are joined by Alan "Hotted89" Widmann (72,000).
2019 Unibet Open Sinana Main Event Schedule
| Day | Date | Time | Entries | Survivors | Further Information |
| --- | --- | --- | --- | --- | --- |
| Day 1a | February 13th, 2019 | 15:00 | 120 | 56 | Play eight levels of 60 minutes, late reg six levels, 60-min dinner break after level four |
| Day 1b | February 14th, 2019 | 15:00 | 176 | 90 | Play eight levels of 60 minutes, late reg six levels, 60-min dinner break after level four |
| Day 1c | February 14th, 2019 | 22:00 | 70 | 53 | Play eight levels of 20 minutes, late reg six levels, re-entry for bustouts of 1a/1b |
| Day 2 | February 15th, 2019 | 15:00 | 366 | 199 | Play eight levels of 60 minutes each, the money bubble will burst |
| Day 3 | February 16th, 2019 | 15:00 | 366 | 47 | Play down to a final table |
| Final Day | February 17th, 2019 | tba | tba | tba | Level duration 45 minutes with six remaining, 30 minutes long when three remain |
Esports Battle Royale XII champion Kevin "Rotterdam" van der Kooi was among those that fell agonizingly close of the money with a chip and a chair story to tell and fellow esport streamers John "Swifty" Pyle and Andrey "reynad" Yanyuk also bowed out before the money.
Among the Unibet Poker ambassadors, it was a disappointing day at the poker tables for David Lappin, Monica Vaka, Alexandre Reard, Quentin Lecomte, and Ian Simpson. Lappin ran with king-jack suited into the pocket aces of Yanyuk while Simpson was haunted by his nemesis hand once more. On Day 1b, Simpson busted with queens and ran with queens into kings mid-way through the day.
Plenty of other notables came short in their bid for a payday in Sinaia as Alexandru Papazian, Katie Swift, Florian Duta, Narcis Gabriel Nedelcu, Andy Hills, Tomasz Kozub, Mateusz Moolhuizen, Mihai Manole, Luciana Manolea, Carmen Zainescu and Andrei Boghean all ran out of chips much sooner than they had hoped for.
While the electric pace of the eliminations before the dinner break halved the field in the first four levels, the action thereafter slowed down and culminated in the frantic bubble period. As a result, many players advanced with very short stacks for Day 3 and will be under immediate pressure on resuming blinds of 4,000/8,000 and a big blind ante of 8,000.
Day 3 kicks off at 3 p.m. local time and will aim to play down to a final table. The action of the feature table will be streamed on a security delay of 30 minutes on the Unibet Poker Twitch channel. For all the outer table action, PokerNews will be your one-stop-shop on the way to crowning another champion of the popular mid-stakes circuit.
Main Event Day 3 Seat Draw
| Table | Seat | Player | Country | Chip Count | Big Blinds |
| --- | --- | --- | --- | --- | --- |
| 5 | 1 | Iulian Tataru | Romania | 121,000 | 15 |
| 5 | 2 | Corentin Ropert | France | 84,000 | 11 |
| 5 | 3 | Evangelos Bechrakis | Greece | 228,000 | 29 |
| 5 | 4 | Gilles Huet | France | 343,000 | 43 |
| 5 | 5 | Cristian Grecu | Romania | 711,000 | 89 |
| 5 | 6 | Tomas Ksenevicius | Lithuania | 91,000 | 11 |
| 5 | 7 | Dan Murariu | Romania | 132,000 | 17 |
| 5 | 8 | Ran Shahar | Israel | 735,000 | 92 |
| | | | | | |
| 6 | 1 | Steven Vollers | Netherlands | 532,000 | 67 |
| 6 | 2 | Silviu Baltateanu | Romania | 612,000 | 77 |
| 6 | 3 | Sorin Radulescu | Romania | 114,000 | 14 |
| 6 | 4 | Padraig O'Neill | Ireland | 33,000 | 4 |
| 6 | 5 | Dmitrii Prusov | Russia | 203,000 | 25 |
| 6 | 6 | Nicolae Suciu | Romania | 162,000 | 20 |
| 6 | 7 | Solomon Stan | Romania | 120,000 | 15 |
| 6 | 8 | Espen Uhlen Jorstad | Norway | 240,000 | 30 |
| | | | | | |
| 7 | 1 | Alan Widmann | Germany | 72,000 | 9 |
| 7 | 2 | Daiva Byrne | Lithuania | 23,000 | 3 |
| 7 | 3 | Pavel Alexandru | Romania | 125,000 | 16 |
| 7 | 4 | Eirik Lunde | Norway | 77,000 | 10 |
| 7 | 5 | Dara O'Kearney | Ireland | 3,000 | 0 |
| 7 | 6 | Adrian-Sorel State | Romania | 100,000 | 13 |
| 7 | 7 | Mihnea Potcoava | Romania | 258,000 | 32 |
| 7 | 8 | Aku Joentausta | Finland | 172,000 | 22 |
| | | | | | |
| 8 | 1 | Andrei Dobrescu | Romania | 26,000 | 3 |
| 8 | 2 | Toni Judet | Romania | 169,000 | 21 |
| 8 | 3 | Nikolay Ponomarev | United Kingdom | 63,000 | 8 |
| 8 | 4 | Dan Petrea | Romania | 181,000 | 23 |
| 8 | 5 | Marius Gicovanu | Romania | 134,000 | 17 |
| 8 | 6 | Antti Tiainen | Finland | 108,000 | 14 |
| 8 | 7 | Traian Bostan | Romania | 330,000 | 41 |
| 8 | 8 | Tudor Bartha Lazar | Romania | 214,000 | 27 |
| | | | | | |
| 12 | 1 | Denis Simionel | Moldova | 265,000 | 33 |
| 12 | 2 | Tomas Montrimas | Lithuania | 76,000 | 10 |
| 12 | 3 | Catalin Moraru | Romania | 106,000 | 13 |
| 12 | 4 | Bogdan Sovaiala | Romania | 225,000 | 28 |
| 12 | 6 | Oerjahn Winther | Sweden | 481,000 | 60 |
| 12 | 7 | Jean-Serge Baril | Canada | 318,000 | 40 |
| 12 | 8 | Martin Soukup | Czech Republic | 227,000 | 28 |
| | | | | | |
| 13 | 1 | Stefan Drusca | Romania | 589,000 | 74 |
| 13 | 2 | Johannes Vaeisaenen | Finland | 275,000 | 34 |
| 13 | 3 | Iulian Bleau | Romania | 136,000 | 17 |
| 13 | 4 | Alexandru Palievici | Romania | 146,000 | 18 |
| 13 | 5 | Lennaert Joostens | Romania | 106,000 | 13 |
| 13 | 6 | Razvan Sabau | Romania | 741,000 | 93 |
| 13 | 7 | Razvan Bizera | Romania | 642,000 | 80 |
| 13 | 8 | Marc Wilkens | Netherlands | 231,000 | 29 |