USPO #01 – $10,000 No Limit Hold'em
Event Info
Level Info
| | |
| --- | --- |
| Level | 28 |
| Blinds | 60,000 / 120,000 |
| Ante | 120,000 |
USPO #01 – $10,000 No Limit Hold'em
Day 2 Completed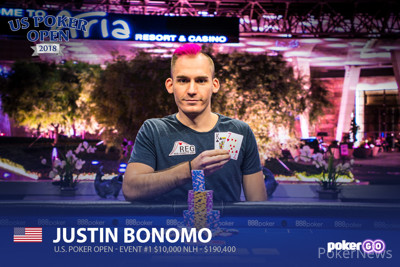 Justin Bonomo has been in an excellent form in the last months and he carried his momentum to the US Poker Open. The 32-year-old American pro showcased his talent in the first $10,000 No Limit Hold'em event, topping the 68-entry field for a $190,400 payday.
"I've just had an incredible run of cards in the last two months and I hope it continues," said Bonomo who already came into the US Poker Open as the #1 ranked player on the GPI Player of the Year leader board.
Bonomo takes an early lead in the race for the overall US Poker Open title which comes with a spectacular, 25-inch tall trophy. In the moments after his victory, Bonomo declared he'll jump straight into the $10,000 Pot Limit Omaha event that kicked off earlier today.
Bonomo has been constantly showing his prowess in the toughest tournaments all around the world. He's also an accomplished mixed games player and the combination of his skill set, fine form and a brilliant start immediately puts him among the hottest favourites for the US Poker Open crown.
Bonomo came back for the final day holding the chip lead. But even the shortest stacks among the final six contenders maneuvered a solid 40 big blinds so everyone had a legitimate shot at the victory.
The main character of the opening period was Boutros Nadim, a recreational player from Lebanon who fearlessly competed in a lot of pots, seeing many flops. Nadim's approach paid off when he tangled in a three-bet pot with Sam Soverel who eventually called Nadim's all-in on a turn. Soverel had just a third pair and a gutshot straight draw and Nadim's top pair dodged a lethal damage as he stacked a big double to take over the lead.
Meanwhile, Bonomo kept handling his big stack with an excellent precision, picking his spots with a pinpoint accuracy. Other contenders were making moves as well with the 30-second shot clock keeping the tournament at an entertaining pace. PokerGO viewers could watch the dramatic battles with the hole cards up.
Soverel was eventually the first player to leave the table as he couldn't mount a comeback after the loss to Nadim. Stephen Chidwick finished him off in a fair race, beating Soverel's sevens with ace-jack.
However, Chidwick ended up being the next casualty. A few unfortunate collisions significantly wounded his stack and Chidwick put his last nine big blinds in play when his king-jack was dominated by David Peters' king-queen.
It was Nadim still guarding the pole position at the time but Peters was getting more involved in the action with his stack growing to a more comfortable position.
The fact that Justin Young didn't double his short stack certainly helped Peters and Bonomo whose game plan could shift a little away from the ICM. Bonomo took care of Young, raise-calling a 15-big blind shove with king-queen suited. Young was a hair ahead with ace-seven but a king on the flop sent him packing.
Peters was the shortest stack among the final three but he patiently cruised his chips until he found himself on the better side of a cooler, getting a full double from Nadim. Peters flopped a set versus top two and while both players slow-played their hands, the river brought the inevitable fireworks.
Peters was still trailing his two remaining rivals but he narrowed the gap and even took over the lead for a moment before facing off with Bonomo in a key pot.
They had been to many of the blind-versus-blind battles before and Bonomo had the advantage of a better position. Most of the pots between the two heavyweights ended in small contests but the 131st hand on the final table was a different one.
Peters limp-called with six-five suited and flopped an open-ended straight draw. After a checked flop, Bonomo hit a top pair on the turn but Peters took the betting lead. Bonomo called and Peters hit his own pair on the river but it was only a third pair. He checked and Bonomo over-shoved, puzzling Peters. He eventually pulled off a call only to see Bonomo claiming the pot worth two-thirds of all chips in play.
That looked to be the decider, even more so when Bonomo knocked out Peters on the following hand. He entered the heads-up as a three-to-one chip leader over his less experienced opponent.
But Nadim was ready to fight for the win as hard as he could. He was one card away from being eliminated when he over-shoved with a bottom pair only to run into a top pair but the river not only saved him but also catapulted to the lead.
Poker gods were fair to Bonomo and rescued him once as well when he was all-in with two pair against the same two pair but holding a worse kicker. The river brought a chop and the final match would continue on for a few more dozens of hands.
It was a case of many double ups for Nadim who bounced back from five big blinds at one point, scoring three doubles in a span of just six hands.
But Bonomo tackled his rival again when they clashed in a massive cooler. Nadim had no chance to escape as he looked down at ace-king. Bonomo, however, held the bullets and the chips naturally went in preflop. Bonomo's aces held strong and he finally busted Nadim in the next hand, the 183rd of the final table.
"You put me in some really tough spots, man," Bonomo said to Nadim, praising him for his aggressive approach. "I enjoyed it," Nadim replied.
US Poker Open - Event #1: $10,000 No Limit Hold'em results:
| Position | Player | Country | Prize |
| --- | --- | --- | --- |
| 1 | Justin Bonomo | United States | $190,400 |
| 2 | Boutros Nadim | Lebanon | $136,000 |
| 3 | David Peters | United States | $88,400 |
| 4 | Justin Young | United States | $68,000 |
| 5 | Stephen Chidwick | United Kingdom | $54,400 |
| 6 | Sam Soverel | United States | $40,800 |
| 7 | Cary Katz | United States | $34,000 |
| 8 | Andy Park | United States | $27,200 |
| 9 | Jake Schindler | United States | $20,400 |
| 10 | Anthony Zinno | United States | $20,400 |
Justin Bonomo is the first winner at the US Poker Open but there are seven more tournaments to find their champions so make sure you tune back to PokerGO for the cards-up final table broadcast and to PokerNews for the live coverage of the series.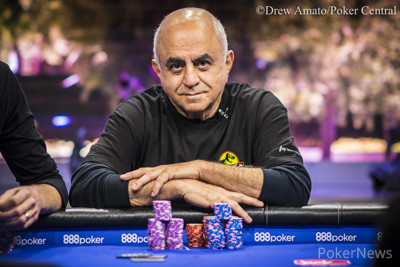 Hand #182: Boutros Nadim peeled
and limped, hoping to get action from Justin Bonomo. He got it indeed as Bonomo looked down at nothing less than the
. Bonomo raised it up to 360,000, Nadim fired back with an 820,000 three-bet and then called off Bonomo's all-in.
The
runout stayed firmly at Bonomo's side as he climbed back to a big lead.
Hand #183: Bonomo shoved with
for just under 1.2 million and Nadim decided to put his last 10 big blinds in play, turning up
"I don't mind to take clubs," Nadim said before the flop was dealt.
The dealer helped him only partially, revealing the
flop.
The
, however, brought some extra outs for Nadim who now had a straight draw. "Always a sweat," Bonomo smiled.
The river card was the
, leaving Bonomo's hand ahead. The first US Poker Open winner shook his hands with Nadim, congratulating him to a great performance.
"You put me in some really tough spots, man," Bonomo said to Nadim. "I enjoyed it," Nadim replied. He picked up $136,000 for his runner-up finish while Bonomo took the $190,400 first prize and an early lead for the overall title.
Level:

28
Blinds:

60,000/120,000
Ante:

120,000
Hand #178: Boutros Nadim raised to 300,000 on the button with
and Justin Bonomo called with
. The flop came
and Bonomo check-folded to a single bet from Nadim.
Hand #179: Bonomo limped in with
and Nadim checked his option with
. The flop came
and Nadim checked with the only heart in his hand. Bonomo fired 100,000 and Nadim elected to fold.
Hand #180: Nadim folded
on the button giving Bonomo a walk.
Hand #181: Bonomo limped with
and Nadim checked his option with
. The flop came
and Nadim led out for 300,000, inducing a fold from Bonomo.
Hand #173: Justin Bonomo raised to 200,000 with
and Boutros Nadim folded
in the big blind.
Hand #174: Nadim gave Bonomo another walk.
Hand #175: Bonomo raised to 200,000 with
and Nadim jammed with
. Bonomo asked for a count and when he was informed that it was 1.65 million, he called.
Nadim liked the
flop, saying: "Ok, that's fine by me."
"Do you want the queen of spades?" Bonomo offered a sweat. Nadim replied with an uncertain "Hmmmm".
The turn
gave a chance to Bonomo but the
river was harmless for Nadim who doubled yet again.
Hand #176: Nadim raised to 450,000 with queen-eight and won the pot.
Hand #177: Bonomo limped with
and Nadim found pocket queens again. He decided to check and trap Bonomo, letting him see the
flop. Nadim then led out 300,000 but Bonomo had no more business in that hand.
Hand #169: Bonomo raised from the button and Nadim quickly folded his big blind.
Hand #170: Boutros Nadim went all in with
for 550,000 and Justin Bonomo quickly called with
. The flop came
and Nadim picked up a straight flush draw. The turn brought the
, giving Nadim a straight. Bonomo was left drawing to a three to chop the pot, but the
on the river secured the double up for Nadim.
Hand #171: Bonomo announced all in with
and Nadim folded
in the big blind.
Hand #172: Nadim limped in with
and Bonomo shoved all in with
. Nadim quickly called and it was a race situation. The flop came
and Bonomo was still out front with his pair of fives. However, the
hit the turn and Nadim made a pair of kings. The
on the river gave Nadim another double up to pull the stacks closer to even.
Hand #164: Justin Bonomo completed with
and Boutros Nadim checked. Nadim's
caught no piece of the
flop and he check-folded to Bonomo's min-bet.
Hand #165: Bonomo received a walk.
Hand #166: Bonomo called and Nadim checked. The flop fell
and Nadim check-called 100,000 with his
. Bonomo was just ahead with
and he fired another barrel on the
turn. Nadim couldn't pay the 300,000 and let the pot go to Bonomo.
Hand #167: Another walk for Bonomo.
Hand #168: In a quick fashion, Bonomo limped
and called when Nadim shoved with
.
Bonomo observed a chop possibilities on the
flop as another five would discard the kickers. The
turn opened a straight draw for Nadim but the
stayed with Bonomo whose stack was counted at 3,075,000. He's now an overwhelming chip leader while Nadim is left with just under six big blinds.
Hand #159: Boutros Nadim folded
on the button while Justin Bonomo took the walk with pocket queens.
Hand #160: Bonomo limped in with
and Nadim checked with
. The flop came
and Nadim shipped all in, prompting a fold from Bonomo.
Hand #161: Nadim folded his button again and Bonomo picked up the pot.
Hand #162: Bonomo just called with
and Nadim checked his
. The flop came
and Nadim led out for 275,000 with his flush draw. Bonomo called with top pair and the
landed on the turn. Nadim checked this time and Bonomo checked behind. The river was the
and Nadim fired 500,000. Bonomo used up one of his time extensions before making the call. Nadim tabled his flush and stepped out into the lead.
Hand #163: Nadim continued to fold his button and Bonomo received his third straight walk.
Hand #154: Justin Bonomo limped with
and Boutros Nadim checked his options with
. Nadim overbet the
flop, firing 450,000. Bonomo opted for a double raise and Nadim folded.
Hand #155: Nadim found only five-high and folded his small blind.
Hand #156: Bonomo limped with
and Nadim looked down at
, raising to 300,000. Bonomo jammed and Nadim snap-called.
"I hope I'm going to make it this time," Nadim said before the dealer revealed the
board. The turn card sealed it for Nadim who doubled to 3.2 million to narrow the gap. Bonomo was still ahead with 3.6 million.
Hand #157: Nadim open-shoved his
, forcing a fold from Bonomo.
Hand #158: Bonomo limped with
but folded his pair when Nadim declared all-in again, this time with
. "I don't do nitting," Nadim declared. The stacks are now virtually identical.