Alyssa MacDonald: Shove, Sip, Double

Level 6 : 200/400, 50 ante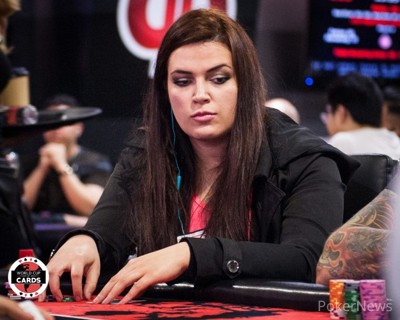 Alyssa MacDonald raised to 1,000 from middle position and got a call from Jeff Cormier in late position. Lucas Drolet was in the hijack and raised to 2,400. MacDonald and Cormier both called.
The flop came
and all three players checked to the
on the turn. Action was on MacDonald and she paused for a moment before shoving her stack of 9,750 in the middle. Cormier went into the tank, staring back at MacDonald several times. Eventually, she calmly took a sip of her beer and waited for Cormier to act. After about a minute, he tossed out some chips to call. Drolet mucked.
MacDonald tabled
for a set of threes, and Cormier was left drawing dead with
. The river was the
for the extra needle, and MacDonald doubled through.