Event Info
| | |
| --- | --- |
| Buy-in | 1,650 CAD |
| Prize Pool | 400,000 CAD |
| Players | 191 |
Level Info
| | |
| --- | --- |
| Level | 28 |
| Blinds | 30,000 / 60,000 |
| Ante | 10,000 |
$1,650 CPPT World Cup of Cards
Day 3 Completed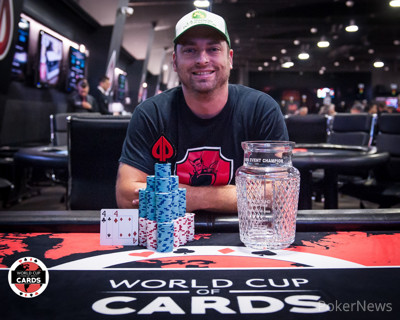 Four days of poker are in the books and Luc Bellerive has taken down the $1,650 Card Player Poker Tour World Cup of Cards event for a payday worth $98,000! He defeated Tam Ho in a heads-up battle lasting for about an hour of play.
Ho pocketed a nice sum worth $67,500 for his runner-up finish for his second-best live cash. His top score was earlier this year for $71,670 after coming in 4th place in the World Poker Tour Main Event right here at the Playground Poker Club. Ho also took down a tournament in June for $9,000, bringing his total live earnings over $150,000 now.
In the final hand, the two players got their chips in the middle before the flop with Ho holding two queens, up against Bellerive's pocket fours. The cards had other plans though, as the flop brought a four and Bellerive held on to win the hand and the tournament.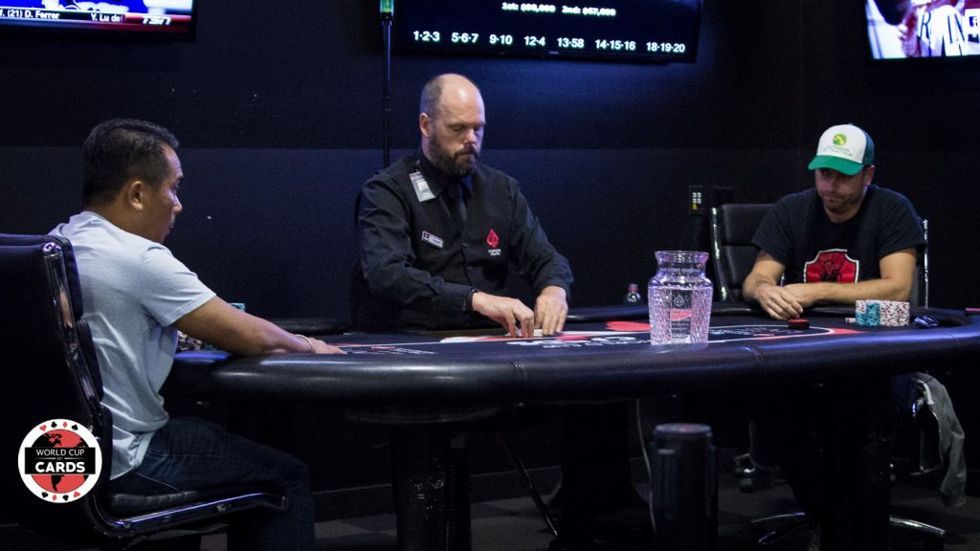 Bellerive has now booked his first live tournament win for his fifth-ever cash. Before today, his overall earnings were just over $6,000, so this was most definitely a big day for the Quebec native. Bellerive is a recreational player and talked a bit about his career in general. "I play cash and tournaments but I'm not a professional. I play with my friends, they are all professionals. I learn a lot from them and I try to do my best and sometimes it works. I own a microbrewery in Quebec. So I'm a businessman."
When asked about how he was feeling about his win Bellerive said "Tired, but I'm good. Happy!" He went on to comment about his winnings and said "I just bought a cabin so it's going to help me to pay it and I'll have fun with some of it."
This event attracted 76 entries on Day 1a and 115 on Day 1b for a total of 191 across two starting flights for a guaranteed prize pool of $400,000! A total of 24 players were paid out a minimum of $3,600, but it was the $98,000 that everyone was really after.
Day 2 concluded on Sunday with nine levels of play before 43 players whittled down to just the final eight. Ninth place finisher Michael Malm ($9,850) was the start-of-day chip leader but was unable to add a CPPT title to his World Series of Poker title. Jonathan Marrie was the one to burst the bubble after nine hands of hand-for-hand play, midway through the day, and it was Matthew Paplyk who had his kings cracked by queens to send the final 24 players in the money. Players dropped steadily and the final table of 10 came together with a few levels to go in the night.
Day 3 picked up at 2:30 p.m. today with eight runners gunning for glory, and lasted about five hours and five levels of play.
Final Table Results
| Place | Player Name | Country | Prize (CAD) |
| --- | --- | --- | --- |
| 1 | Luc Bellerive | Canada | 98,000 |
| 2 | Tam Ho | Canada | 67,050 |
| 3 | Stuart Taylor | Canada | 40,000 |
| 4 | Jonathan Marrie | Canada | 24,210 |
| 5 | Tristan Bergeron | Canada | 18,700 |
| 6 | Ha Van Nguyen | Canada | 15,480 |
| 7 | Robert Laberge | Canada | 13,190 |
| 8 | Sam Chartier | Canada | 11,520 |
| 9 | Michael Malm | Canada | 9,850 |
In addition to the final-table finishers, some familiar faces to make the final 24 in the money included Thomas Lefort (11th place - $8,490), Patrick Braga (12th place - $8,490), Jean-Philippe Piquette (16th place - $5,970), and William Blais (22nd place - $3,600).
As expected, many notables took shots in the field and the ones who were unable to get their hands on a piece of this massive prize pool included partypoker Team Pros Kristen Bicknell and Natalia Breviglieri, Mike Leah, Marc Etienne Mclaughlin, Scott Montgomery, Dustin Melanson, Andrew Watt, Pablo Mariz, David Guay, Ruben Perceval, Rodney Ramalho, Alyssa MacDonald, Steven Kerr, Carter Swidler, David Ormsby, Ami Alibay, Laurence Grondin, and Alexandre Lavgine.
Final Table Action
Two players were eliminated late on Day 2, with Jake Labonte being the first to go in 10th place ($8,490). His pocket nines were no good as he ran into tens and made an early exit on the final table. Michael Malm was also eliminated on Day 2 after losing a big chunk to Tam Ho after folding in a big pot on the river. He eventually got his remaining chips in with queen-deuce of clubs but was unable to improve against ace-ten.
The remaining eight players came back a little later than expected on Day 3, beginning at 2:30 p.m. Ho came out gunning and eliminated Sam Chartier in the first several minutes of the day. Chartier picked up two queens but was unlucky enough to run into Ho's aces and he settled for 8th place ($11,520).
Just a few short hands later, Robert Laberge opened the pot and faced a three-bet from the small blind from a blazing hot Ho. Laberge immediately shipped in 22 big blinds and Ho called after a few seconds of thought. They were flipping, with Laberge holding king-queen and Ho holding two jacks. Laberge turned a king but Ho rivered a set to send his opponent packing in 7th place ($13,190).
As soon as the second level of the day went up, so did the aggression. Ho opened from under the gun and faced a three-bet from Ha Van Nguyen. Ho piled his chips in the middle and Nguyen couldn't fold. Ho tabled aces and was disappointed to see he was in rough shape with jacks. The board ran out dry and Nguyen settled for 6th place ($15,480). A few minutes later, Tristan Bergeron moved all-in with his short stack and it was Stuart Taylor who woke up to a couple of ladies on the button. Bergeron held king-jack and was unable to improve, but he pocketed $18,700 for his 5th place finish today.
It wasn't long before Jonathan Marrie picked up ace-queen and got his chips in the middle against Bellerive. Marrie was well ahead but had to fade a flush draw against Bellerive's king-nine of diamonds. The flush came right away on the turn and Marrie was the 4th place finisher for a payout of $24,210.
The remaining three players discussed the possibility of a deal but the numbers weren't making everyone happy so play continued. Bellerive extended his lead to hold more than half of the chips in play, but Ho chipped away and stole that lead quickly after. Three-handed play lasted almost three hours before Stuart Taylor chipped away and slid into second in chips but quickly lost most of them to Ho. He raised it up and faced a three-bet jam from Ho. Taylor snap-called with two red aces and Ho sheepishly tabled nine-five of hearts. Ho ended up flopping two pair and backed into a flush for the extra needle. Taylor was left with crumbs and ended up getting it in with pocket nines, only to get rivered by Ho after his ace-three off-suit improved.
Heads-up play began with Bellerive having 2,950,000 chips to Ho's 2,7500,000. Ho built it up fast but Bellerive found some timely spots and took the lead back. Eventually Bellerive binked a two-outer at the right time to seal the deal and win the whole thing.
As always, thanks for following along as the PokerNews team reported all of the action from start to finish. Keep checking back as the action continues to heat up at the Playground Poker Club in beautiful Kahnawake, Quebec in Canada for the duration of the 2017 World Cup of Cards!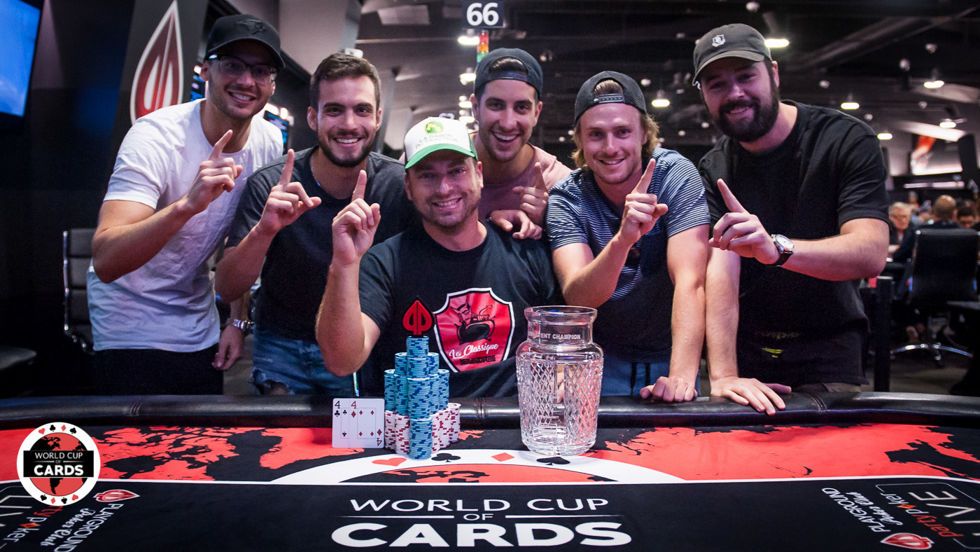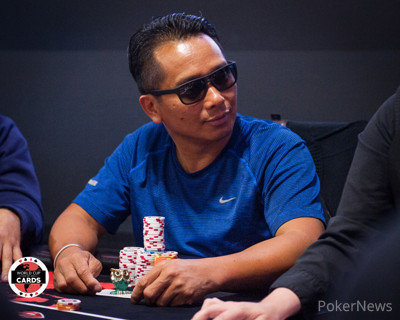 Shortly after Tam Ho lost a large chunk of his chips, he limped in on the button. Luc Bellerive raised all-in and Ho snap-called, setting the trap perfectly.
Tam Ho:

Luc Bellerive:
It appeared as though the tides would turn again and the chip lead would shift once more. A four on the
flop left Ho drawing slim and Bellerive faded the
on the turn and the
on the river to claim the final pot of the tournament.
Ho takes home $67,050 for his runner-up finish while Bellerive earns a top prize of $98,000 and the Champion's trophy.
| | | | | | |
| --- | --- | --- | --- | --- | --- |
| Luc Bellerive | | | | 5,700,000 | 1,810,000 |
| Tam Ho | | | | Busted | |
Luc Bellerive raised to 200,000 on the button and Tam Ho quickly moved all-in. Bellerive tanked for about a minute but eventually tossed in a single chip to call.
Bellerive was at risk with
but was well ahead of Ho's
.
The board ran out
and Bellerive held to double.
Bellerive holds a big lead over Ho, but there's plenty of play left.
| | | | | | |
| --- | --- | --- | --- | --- | --- |
| Luc Bellerive | | | | 3,890,000 | 1,825,000 |
| Tam Ho | | | | 1,810,000 | -1,825,000 |
Level:

28
Blinds:

30,000/60,000
Ante:

10,000
The final two players are taking a 15-minute breather before getting back to it.
Luc Bellerive battled back a bit, but Tam Ho still holds a sizable lead.
| | | | | | |
| --- | --- | --- | --- | --- | --- |
| Tam Ho | | | | 3,635,000 | -215,000 |
| Luc Bellerive | | | | 2,065,000 | 215,000 |
WIth about 1,000,000 chips in the pot of a
board, Tam Ho bet 500,000 and Luc Bellerive check-called.
Ho tabled
, making a flush on the turn, and Bellerive mucked.
| | | | | | |
| --- | --- | --- | --- | --- | --- |
| Tam Ho | | | | 3,850,000 | 1,100,000 |
| Luc Bellerive | | | | 1,850,000 | -1,100,000 |
Heads-up play has begun, with Luc Bellerive holding a tiny chip lead over Tam Ho.
Levels will now drop to 30 minutes a piece until a winner is crowned! Both players are guaranteed $67,050 with the winner taking home $98,000, the trophy and all of the glory that comes with it. Good luck, players!
| | | | | | |
| --- | --- | --- | --- | --- | --- |
| Luc Bellerive | | | | 2,950,000 | |
| Tam Ho | | | | 2,750,000 | |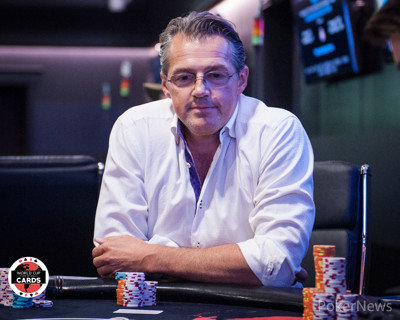 Stuart Taylor shoved all-in for 335,000 on the button and Tam Ho snap-shoved from the small blind. Luc Bellerive tank-folded.
Taylor was at risk with
, up against Ho's
.
The flop came
and Taylor was in the clear. The dealer put the
on the turn and it looked like Taylor was going to double-up but the
hit the river. Ho cheered and Taylor was eliminated in 3rd place.
| | | | | | |
| --- | --- | --- | --- | --- | --- |
| Luc Bellerive | | | | 2,950,000 | -150,000 |
| Tam Ho | | | | 2,750,000 | 335,000 |
| Stuart Taylor | | | | Busted | |
The chips have shifted sides again. Instead of Stuart Taylor taking a huge pot and sending Tam Ho to the rail, Ho overcame huge odds to double through and leave Taylor with less than 10 big blinds.
Taylor opened to 125,000 from the small blind and snap-called Tam Ho's three-bet jam.
Ho:

Taylor:
Ho ran into a huge hand and needed a miracle to survive. The
flop was just what Ho needed. Ho even improved to a flush as the board ran out
and raked in a huge double up.
| | | | | | |
| --- | --- | --- | --- | --- | --- |
| Tam Ho | | | | 2,415,000 | 915,000 |
| Stuart Taylor | | | | 435,000 | -665,000 |