$1,650 8-Game Dealer's Choice
Day: 2
$1,650 8-Game Dealer's Choice
Day 2 Completed
Level 15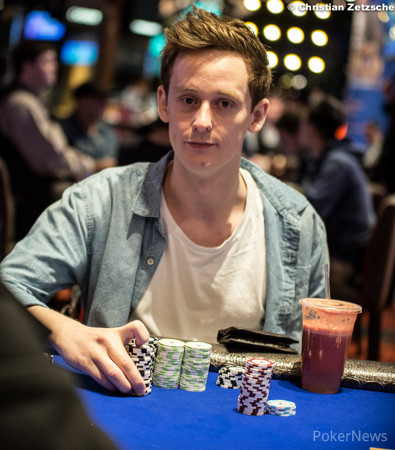 The final table of Event 6: AU$1,650 8-Game Dealer's Choice has been reached with Rory Young leading the final six players.
What started yesterday afternoon with 89 players and a AU$133,500 prizepool, just 19 players reached the penultimate day with the aim of reaching an elusive World Series of Poker Asia-Pacific final table.
Although play started slowly, it quickly picked up once Stephen Woodhead reduced the field to just three tables. Michael Guzzardi, overnight chip leader Gary Benson, Stuart Rutter and Jeff Madsen all fell to the rail before the two-table redraw before Jeff Gross lost a big flip against his buddy and new chip leader Brian Rast. Frank Kassela then found himself in a world of pain against Jason Gray to be eliminated next before hand-for-hand play began.
Lasting into the next level, eventually it would be local player Srdjan Brkic becoming the bubble boy when Sam Khouiss rivered two-pair in Seven-Card Stud Hi-Lo to guarantee the final nine to be in-the-money. Shivan Abdine (9th), Michael Wang (8th) and Samuel Ngai (7th) all then found themselves watching from the rail to leave the final table as follows:
With Young holding the chip lead with 102,300, he still has some work to do as this final table is filled with talented players. WSOP bracelet winner Brian Rast sits in second with 96,400 while youngster David Zhao sits with 89,000 as Australian poker stalwarts Sam Khouiss and Jason Gray also remain.
| Seat | Name | Country | Chip Count |
| --- | --- | --- | --- |
| 1 | Sam Khouiss | Australia | 58,300 |
| 2 | Jason Gray | Australia | 23,400 |
| 3 | Rory Young | Australia | 102,300 |
| 4 | Brian Rast | USA | 96,400 |
| 5 | George Danzer | Germany | 34,100 |
| 6 | David Zhao | Australia | 89,000 |
However the story of this final table is how close George Danzer is away from recapturing the lead in the WSOP Player of the Year as he needs to finish fourth or better to overtake Brandon Shack-Harris.
The PokerNews Live Reporting Team will be on hand to provide continuos hand-for-hand live updates of the final table once it recommences at 12:10 p.m. local time on Friday from Crown Melbourne's Studio 3. Make sure to stay locked to PokerNews.com as we crown the Event 6: AU$1,650 8-Game Dealer's Choice Champion!
Level 15
Player
Chips
Progress

Rory Young

102,300

4,300

Brian Rast

96,400

-14,600

David Zhao

89,000

24,000

Sam Khouiss

58,300

3,300

George Danzer

34,100

4,100

Jason Gray

23,400

-2,400
Level 15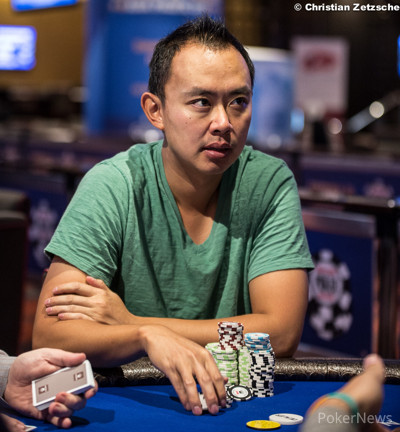 2-7 Triple Draw
David Zhao raised the hijack to 4,000 and Samuel Ngai called all-in for 4,000 in the cutoff. Brian Rast also called in the big blind and drew two as Ngai asked for three and Zhao drew one. Zhao bet and Rast check-called before drawing two along with Ngai while Zhao asked for just one.
Again Zhao bet out, but on this occasion Rast folded and Ngai stood pat as Zhao asked for one more.
Ngai:

Zhao:
With Ngai needing to fade any jack, ten, nine, eight, six or three, Zhao squeezed out the
and slammed it on the table to eliminate Ngai in 7th place for an AU$5,934 payday.
Level 15
2-7 Triple Draw
Brian Rast limped and George Danzer raised in the hijack with Sam Khouiss calling on the button along with Rast. Rast and Khouiss drew two as Danzer drew one and bet with both players calling before the draw repeated and Danzer bet again; this time with only Khouiss calling.
The final draw saw Danzer stand pat as Khouiss drew one, and after the German bet out 4,000, Khouiss raised to 8,000 and Danzer called.
Khouiss tabled his
for a number three to scoop the pot from Danzer.
Level 15
The cards are back in the air.
Level: 15
2,000-4,000 Limits, 500-1,000 Blinds
Level 14
The remaining seven players are heading on a 15-minute break.
Level 14
2-7 Triple Draw
David Zhao opened the button and Samuel Ngai three-bet the small blind with Zhao calling. Both players drew two and Ngai bet and Zhao called. The second draw saw both players draw one with Ngai betting and Zhao calling. Both players stood pat on the final draw and Ngai check-called a bet.
Zhao tabled his
and Ngai mucked while slipping to 4,100 in chips.
Level 14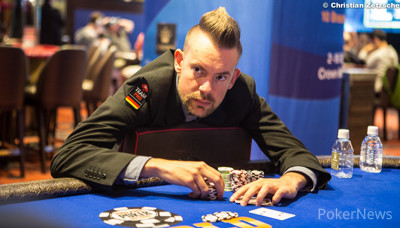 With George Danzer now reaching the money and on the verge of making the final table here in Event 6, it's time to take a closer look at how the WSOP Player of the Year race is faring.
Brandon Shack-Harris currently sits with 806.7 points and is 44.5 points ahead of Danzer who sits with 762.2 points.
Although there are several big events on the schedule, this is probably the best chance for Danzer to capture the lead back if he can finish fourth or better.
However, any result by Danzer that isn't a top four finish will close the gap significantly as the following table shows:
| Finishing Place | Points | Points Ahead/Behind |
| --- | --- | --- |
| 1st | 110 | 65.5 |
| 2nd | 77 | +32.5 |
| 3rd | 55 | +10.5 |
| 4th | 48.4 | +3.9 |
| 5th | 41.8 | -2.7 |
| 6th | 36.3 | -8.2 |
| 7th | 30.8 | -13.7 |