$1,650 8-Game Dealer's Choice
Day: 1
$1,650 8-Game Dealer's Choice
Day 1 Completed

Level 10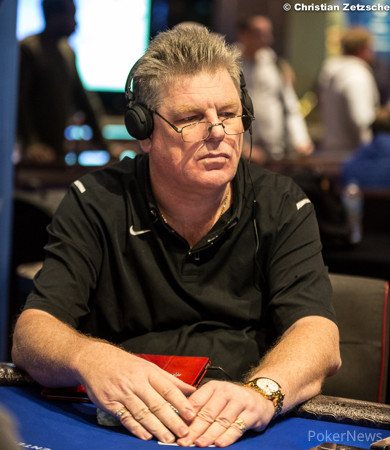 Day 1 of the AU$1,650 8-Game Dealer's Choice from the 2014 World Series of Poker Asia-Pacific has come and gone. A total of 89 entries were tallied in this one, the sixth event of the series, and at the end of the day, just 19 remained. Finishing atop the pack was Australian Poker Hall of Fame member Gary Benson with 38,025 in chips.
The first day of play in this one proved to be full of fun and lots of different playing styles. Players had the option to pick one of eight games when it was their turn to do so, and everyone was having a good, competitive time on the felt. After Level 8, the prize pool was announced and it was made known that AU$42,720 would be awarded to the winner, plus the coveted WSOP gold bracelet.
Of those to enter and bust were David Gorr, Jonathan Karamalikis, Mohsin Charania, Ami Barer, Daniel Negreanu, Jeff Lisandro, Scott Clements, Phil Hellmuth, Jackie Glazier, Antonio Esfandiari, and current WSOP Player of the Year leader Brandon Shack-Harris. While Shack-Harris busted from this event, he did retake the Player of the Year lead from George Danzer after finishing sixth in the AU$1,650 No-Limit Hold'em Terminator event earlier in the day. But, Danzer still remains in this one and will be taking 32,275 in chips forward to Day 2 to make a run at jumping back in front of Shack-Harris. That puts Danzer fourth overall.
Some of the notable players remaining are Brian Rast, Jeff Gross, Jeff Madsen, Michael Guzzardi, Frank Kassela, and Jason Gray. They'll be back on Thursday for Day 2 that will begin at 12:30 p.m. local time.
Be sure to stay tuned to PokerNews as we'll bring you continued coverage from this event and all others from the 2014 WSOP Asia-Pacific.
Level 10
Player
Chips
Progress

Gary Benson

38,025

10,025

Frank Kassela

36,225

14,225

Benjamin Benoit

35,650

-10,350

George Danzer

32,275

15,275

Jeff Madsen

32,075

4,075

Michael Wang

29,175

7,175

Sam Khouiss

24,875

2,875

Rory Young

21,300

11,300

Samuel Ngai

20,925

8,425

Stuart Rutter

20,775

-8,225

David Zhao

17,175

4,175

Victor Teng

16,375

1,875

Brian Rast

16,200

3,700

Shivan Abdine

14,025

2,525

Stephen Woodhead

13,925

-5,075

Michael Guzzardi

11,875

3,875

Jeff Gross

10,725

-8,275

Jason Gray

9,400

-3,600

Srdjan Brkic

5,325
Level 10
The tournament director has just announced that there will be six more hands until play concludes for the night.
Level 10
2-7 Triple Draw
Sam Khouiss raised and Eric Sclavos called. Both players drew one and Sclavos bet out 600 with Khouiss raising. Sclavos called and both players stood pat with Sclavos check-calling a bet before both players stood pat again and Sclavos check-called 1,200.
Khouiss tabled his
for a number three to win the pot.
Level 10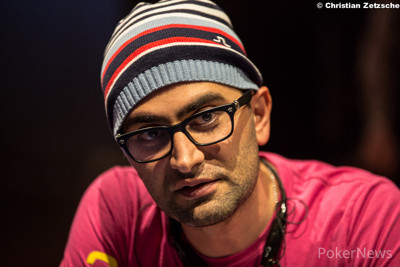 Seven-Card Stud Hi-Lo
Stuart Rutter had the bring-in and Antonio Esfandiari completed before Shivan Abdine raised and both Rutter and Esfandiari both called. On fourth street, Esfandiari bet, Abdine raised, Rutter called and Esfandiari moved all in with both players calling.
Fifth street saw Abdine bet and Rutter call before Rutter led on sixth and seventh with Abdine calling each time.
Rutter:
/
/

Esfandiari:
/
/

Abdine:
/
/
Rutter tabled his
for a flush and a seven-six low while Abdine tabled his
/
for trips.
With Esfandiari holding his
, he slowly squeezed out the
for just two pair, and consequently was sent to the rail.
"Stupidest poker game in the history of mankind!" announced Esfandiari to the PokerNews reporter before concluding, "you can quote me on that!"
Level 10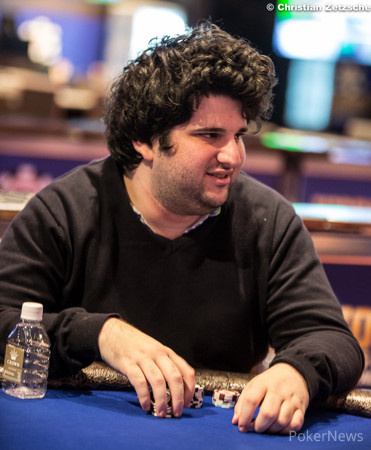 With around 11,000 in the middle and the board reading
we found Daniel Levy and Victor Teng checking to Benjamin Benoit who bet out 5,500. Levy snap-called all in for 5,250 and Teng folded.
Levy:

Benoit:
"Don't let me be drawing dead!" announced Levy as he rolled over his set although it was impossible for him to be drawing dead.
With Benoit needing to hit a king to send Levy to the rail, that is exactly what would happen as the
completed the board to send Levy to the rail and Benoit up to 46,000.
As Benoit raked in the pot, Teng whispered to Michael Guzzardi that he folded pocket kings.
Level: 10
600-1,200 Limits, 150-300 Blinds
Level 9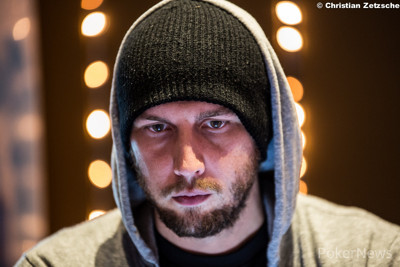 Pot-Limit Omaha
Brandon Shack-Harris opened to 700 from under the gun and was called by the player on his immediate left before Daniel Levy called in the big blind to see a
flop fall.
Shack-Harris moved all in for his lat 1,125 and Levy called to put the current leader in the WSOP Player of the Year race at-risk.
Shack-Harris:

Levy:
The turn and river of the
and
saw Levy make a runner-runner straight to end Shack-Harris' tournament early as Levy climbed to roughly 10,500.
Level 9
No-Limit Hold'em
Frank Kassela opened the cutoff to 700 and Jeff Gross shoved all in for 9,050 with Kassela quickly calling.
Kassela:

Gross:
The board ran out
and Gross doubled through to 19,000.