Holz and Klinger Fall, Krastev Leads Final 6 With Bichon Hunting His Second WPT Title

Level 24 : 12,000/24,000, 4,000 ante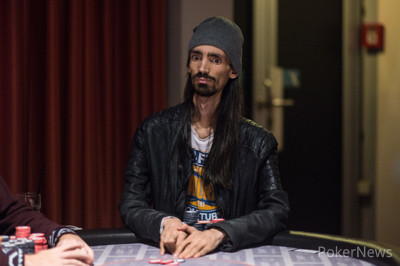 Day 4 of the partypoker World Poker Vienna Main Event started with seventeen players. Amongst those seventeen players were a lot of big names.
A lot of them would fall before the bagging and tagging started 10 hours later.
Master Classics of Poker Amsterdam champion David Boyaciyan was the first to go on the fourth day. The Dutchman, the only player from The Netherlands to enter the event, was crippled late on Day 3 when his aces got sucked out on by Jitka Seidler and he started out as one of the shorties. He shoved early on with pocket treys and got called by Gaelle Baumann with queen nine. Baumann made a flush on the turn and Boyaciyan was sent packing in 17th place for €7,550.
After Peter Jaksland hit the rail in 16th place (€7,550), it was time for Austria's all time money leader Josef Klinger to go. He started out as second in chips on Day 4 but got quite unlucky to go in 15th place. First it was Koutoupas doubling through Klinger by sucking out with top pair against his's better top pair, and not much later Koutoupas doubled again when he made a flush against Klinger's top pair and flush draw. Klinger also doubled Baumann when Baumann spiked a nine on the turn after getting it in before the flop with nines against Klinger's jacks.
With just a couple big blinds left for Klinger, Koutoupas finished the job. Koutoupas made a full house with his nine ten against Klinger's ace six and that was it for the number one on Austria's all time money earned list. His first cash since 2010 was worth €8,750.
After Hans- Joachim Hein busted in 14th (€8,750), it was another big name making his way to the rail. EPT champion, Unibet Open winner and Aussie Millions runner up Frederik Brink Jensen first lost a remarkable hand against Gaelle Baumann where he folded to a 10,000 all in bet after having put in 105,000 before the flop. Baumann had shown her hand (aces) by accident and Jensen didn't want to commit 10,000 more after the dealer had spread the three-three-eight flop. Jensen lost his last chips to Andreas Freund with ace king to five seven, Freund made a straight.
Jan-Eric Schwippert got eliminated in 12th place (€10,650) and next up on the elimination list was Fedor Holz. Holz was the chip leader at the start of the day and was on top of the leader board for most of the tournament. The German high stakes pro, WCOOP winner for $1.3 million and Mega Poker Series and EPT side event winner was running over everyone for the first three days. As good as the first three days were, so bad was the fourth day.
He lost pot after pot, more than often having to fold to aggression by his opponents. Where Klinger, who started out second in chips, lost most of his chips doubling players up, Holz didn't really lose any huge pots. He mostly just bled chips, having to fold so often. In his last hand he got it in with ace six against the ace queen of Vladimir Krasted and neither player hit. Hols left in 11th place for €10,650.
Krastev would continue to crush souls and dreams on table 30, but the next elimination would happen over on table 28. Jitka Seidler, the last qualifier still alive, had a good run but it ended when she got queen jack all in against Konstantinos Nanos's jacks. A board full of blanks later and just one lady remained; Gaelle Baumann.
With Seidler's departure, the tournament was down to 9 players and the two tables were combined to one. Rumen Nanev was the next to go. He had gotten short and pushed with king seven. Vladimir Krastev scalped the Bulgarian with a straight on the river.
After Gerlad Karlic busted in 8th (kings in a four bet pot against ace ten with an ace on the flop), it took just half an hour more to lose the last player for the day. And it would be a very unlucky bust out for Pascal Hartmann to conclude the day.
Again it was Vladimir Krastev responsible. The two Austrians got their chips in before the flop. Both had ace king; Hartmann had hearts, Krastev had diamonds. Two diamonds on the flop and a diamond on the turn and Hartmann had to get up and leave.
"Sums up how I run in live poker" Hartmann concluded with a disappointed voice and hanging shoulders.
Just like that, the tournament was done for the day and the final six players started bagging. There's 1:13:07 remaining on the clock in level 24 (12,000/24,000 with 4,000 ante). Andreas Freund will have the button in the first hand tomorrow, Sotirios Koutoupas will be in the small blind and Gaelle Baumann in the big blind. The remaining six players are guaranteed €29,500.
| Seat | Player | Chip Count | Big Blinds |
| --- | --- | --- | --- |
| 1 | Vladimir Krastev | 2,379,000 | 99 |
| 2 | Thomas Bichon | 593,000 | 25 |
| 3 | Konstantinos Nanos | 1,386,000 | 58 |
| 4 | Andreas Freund | 521,000 | 22 |
| 5 | Sotirios Koutoupas | 1,327,000 | 55 |
| 6 | Gaelle Baumann | 382,000 | 16 |
| Position | Player | Country | Prize |
| --- | --- | --- | --- |
| 1 | | | €150,000 |
| 2 | | | €103,000 |
| 3 | | | €65,000 |
| 4 | | | €49,000 |
| 5 | | | €35,500 |
| 6 | | | €29,500 |
| 8 | Gerald Karlic | Austria | €19,500 |
| 9 | Rumen Nanev | Bulgaria | €14,350 |
| 10 | Jitka Seidler | Austria | €10,650 |
| 11 | Fedor Holz | Germanu | €10,650 |
| 12 | Jan-Eric Schwippert | Austria | €10,650 |
| 13 | Frederik Brink Jensen | Denmark | €8,750 |
| 14 | Hans- Joachim Hein | Germany | €8,750 |
| 15 | Josef Klinger | Austria | €8,750 |
| 16 | Peter Jaksland | Denmark | €7,550 |
| 17 | David Boyaciyan | The Netherlands | €7,550 |
After level 24 the levels will be cut down to one hour. Reporting starts at 1 p.m. local time. The live stream starts half an hour later with hole cards up.