Event Info
| | |
| --- | --- |
| Buy-in | €3,000 |
| Prize Pool | €911,881 |
| Players | 318 |
Level Info
| | |
| --- | --- |
| Level | 34 |
| Blinds | 125,000 / 250,000 |
| Ante | 25,000 |
Main Event
Day 4 Completed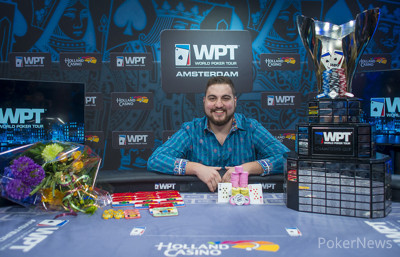 The final table of the 2016 World Poker Tour Main Event was headlined by Anthony Zinno. The last three times he had been on the final table, he won the event outright. This could become his record-setting fourth time doing so, so people from all over the world tuned in to to see what how he'd do.
To say it was all about Zinno wouldn't be fair, though, as five hungry and talented players tried just as hard to walk away the champion. The best position going in was for chip leader Andjelko Andrejevic, who brought 67 big blinds to the table, while Senh Ung started out the shortest with 16 big blinds.
It wasn't Ung first to go, though. That was the lone Dutchman, Hans Bosman, who had a catastrophic start. He lost just about half his stack to Anthony Zinno in the first hand when he ran two pair into a higher two pair, and then Bosman made his exit just a couple minutes later when he lost a flip with ace-king to Zinno's tens.
Ung followed him out the door. He had started out as the short stack and didn't get things going. Right after Bosman left, Ung got it in with tens against the ace-jack of Andrejevic and did not hold after a jack popped up on the flop.
Andrejevic extended his lead busting Ung, but dropped a big part of his chips when he lost with kings all in against Zinno's ace-five in a preflop clash. Andrejevic flopped top set, but Zinno made broadway on the river to double up.
Emrah Cakmak's stack dwindled the entire day, and he was forced to make a move with ace-six, pushing all in from the button. Tomas Fara woke up with ace-jack in the big blind and called. A board full of blanks later, the tournament was down to just three players.
With the stacks now a bit deeper, it took some time to get to the heads-up portion. Eventually it would be Zinno next to go. The three-time WPT champion found himself a bit short and pushed over a button raise with ace-deuce. In the big blind was Fara and he had aces and re-shoved. When a deuce hit, Zinno still had a chance on the turn, but the river was a blank and Zinno left his first-ever WPT final table without receiving the trophy.
The lead changed multiple times during heads-up play, but even when he was the shorter stack, it seemed like Andrejevic was always in control. Even after losing pots that could've ended it all, he kept his composure and didn't seem too fazed by the temporary departure of his luck.
Winning multiple smaller pots, Andrejevic retook the lead and ended it all not much later. He pushed all in with eight-seven and Fara called with king-nine. An eight on the flop helped Andrejevic take the lead and the turn and river didn't change anything.
Andjelko Andrejevic was crowned the 2016 World Poker Tour Amsterdam champion and took home the €200,000 first-place prize, as well as the ticket for the WPT Tournament of Champions event at the end of the season, worth an additional $15,000.
| Position | Player | Country | Prize |
| --- | --- | --- | --- |
| 1 | Andjelko Andrejevic | Serbia | €200,000* |
| 2 | Tomas Fara | Czech Republic | €143,300 |
| 3 | Anthony Zinno | United States | €90,460 |
| 4 | Emrah Cakmak | France | €67,300 |
| 5 | Senh Ung | United Kingdom | €50,518 |
| 6 | Hans Bosman | Netherlands | €40,396 |
*Includes WPT Tournament of Champions ticket worth $15,000.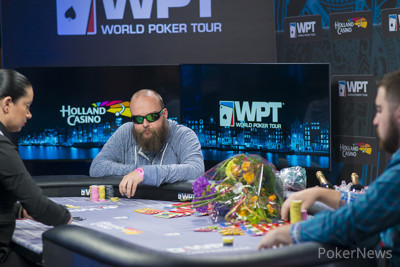 Andjelko Andrejevic moved all in from the button with
to put the pressure on Fara. Tomas Fara glanced at his cards, saw
, and made the call.
The 5,450,000 pot meant if Fara would double, he would once again retake the chiplead.
The
flop hit Andrejevic though, and Fara was looking for a king, nine or runner runner. The
on the turn took away his nines but gave him the sevens as outs. The river
completed the board and just like that it was all over.
Tomas Fara finished runner up for €143,300.
| | | | | | |
| --- | --- | --- | --- | --- | --- |
| Andjelko Andrejevic | | | | 9,540,000 | 4,770,000 |
| Tomas Fara | | | | Busted | |
Level:

34
Blinds:

125,000/250,000
Ante:

25,000
Tomas Fara limped in with
and Andjelko Andrejevic bumped it up to 500,000 with
. Fara made the call and the two saw a flop of
and Andrejevic bet 575,000 with his gutshot and two overs. Fara folded his own gutshot.
Andjelko Andrejevic first made a good laydown with second pair, and lost a bit more when he decided to bluff into the second pair of Tomas Fara. The two are about even now, with 24 big blinds.
| | | | | | |
| --- | --- | --- | --- | --- | --- |
| Tomas Fara | | | | 4,770,000 | 2,280,000 |
| Andjelko Andrejevic | | | | 4,770,000 | -2,280,000 |
Tomas Fara shoved
and moved all in for 2,575,000. Both commentators were convinced Andjelko Andrejevic would call, but in the end he folded his
.
Level:

33
Blinds:

100,000/200,000
Ante:

25,000
A short break for the players. Back in 15 minutes.
Tomas Fara on the button made it 350,000 with the
and Andjelko Andrejevic called with
.
The flop came
and Andrejevic checked. Fara bet 375,000 and Andrejevic check raised to 850,000. Fara made the call.
The
on the turn saw Andrejevic bet 750,000. Fara called.
With the
completing the board, both players checked. The 3,950,000 pot went to Andrejevic.
| | | | | | |
| --- | --- | --- | --- | --- | --- |
| Andjelko Andrejevic | | | | 7,050,000 | 2,590,000 |
| Tomas Fara | | | | 2,490,000 | -2,590,000 |