WPT, partypoker Release World Online Championships Schedule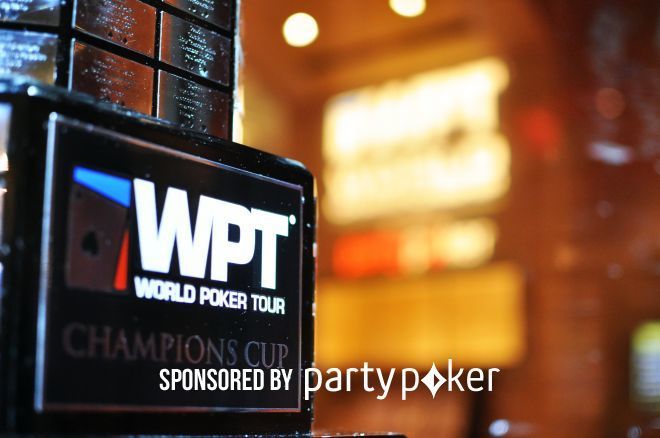 As summer heats up heading into July and August, the poker action on partypoker will follow suit with the blockbuster World Poker Tour World Online Championships.
Already tagged with a head-turning guarantee of $100 million, the full schedule dropped on Friday for players to see how the money breaks down throughout the big events in the series.
Two $10M Guarantees
The series will run July 17 through Sept. 8 and sport 12 numbered events, some of which are broken down into smaller "mini" and "micro" events to run alongside the heftier buy-ins.
Only about $58 million in guarantees is delineated in the released schedule, and a PokerNews inquiry as to the exact make-up of the remaining $42 million has yet to be answered at the time of writing. Update: A WPT rep informed PokerNews the rest of the guarantees will come from side events, the schedule for which have yet to be released but will appear "in the coming weeks."
The two biggest guarantees belong to Event #10: $25,500 WPT World Championship High Roller and Event #7: $10,300 WPT World Championship Main Event. Each promises $10 million in prize money.
There's also a $102,000 WPT World Championship Super High Roller that sports a $5 million guarantee. The massive buy-in will be no real surprise considering partypoker recently hosted the Super High Roller Bowl Online at the same price point and managed to draw 50 entries. An identical number will be needed to meet this guarantee.
Download partypoker to start your journey to a WPT title!
partypoker's Signature Style With WPT TOC Seats Added
partypoker has been bringing its own flavor to recent tournament series, and WPT World Online Championships will be no different.
In an effort to promote fairness and continue its mission of providing the most level playing field in online poker, partypoker has pledged single reentry on all no-limit hold'em championship events, limited late registration and use of real names so everyone knows who they're playing against.
partypoker has made itself the online partner and host for a number of recent live events and recently teamed with the WPT for the inaugural WPT Online Series, which met most of its guarantees and ran to great success. It drew more than 2,100 entries in its championship event and 3,554 entries in its WPTDeepStacks event.
Furthermore, the WPT will be promising five WPT Tournament of Champions seats, valued at $15,000 apiece, for select winners in the WPT World Online Championships. More details will likely be released in the coming weeks as to how these seats can be won.
Both WPT and partypoker are also set to host Twitch streams highlighting the big moments and key hands so poker fans can follow along.
WPT World Online Championships Full Schedule
| Date | Event # | Tournament | Guarantee |
| --- | --- | --- | --- |
| July 18 | 1 | $33 WPT Micro World Championship Pot Limit Omaha Hi-Lo Day 1a | $50K |
| | 1 | $3,200 WPT World Championship Pot Limit Omaha Hi-Lo Day 1a | $500K |
| | 1 | $320 WPT Mini World Championship Pot Limit Omaha Hi-Lo Day 1a | $150K |
| July 19 | 1 | $33 WPT Micro World Championship Pot Limit Omaha Hi-Lo Day 1b | $50K |
| | 1 | $3,200 WPT World Championship Pot Limit Omaha Hi-Lo Day 1b | $500K |
| | 1 | $320 WPT Mini World Championship Pot Limit Omaha Hi-Lo Day 1b | $150K |
| July 20 | 1 | Event #1 Day 2s | |
| July 21 | 1 | Event #1 Day 3s | |
| July 25 | 2 | $3,200 WPT World Championship Pot Limit Omaha Day 1a | $1M |
| | 2 | $320 WPT Mini World Championship Pot Limit Omaha Day 1a | $300K |
| | 2 | $33 WPT Micro World Championship Pot Limit Omaha Day 1a | $100K |
| July 26 | 2 | $3,200 WPT World Championship Pot Limit Omaha Day 1b | $1M |
| | 2 | $320 WPT Mini World Championship Pot Limit Omaha Day 1b | $300K |
| | 2 | $33 WPT Micro World Championship Pot Limit Omaha Day 1b | $100K |
| July 27 | 2 | Event #2 Day 2s | |
| July 28 | 2 | Event #2 Day 3s | |
| July 29 | N/A | $1,100 WPT Shooting Stars for Charity [PKO] Day 1 | $500K |
| July 30 | N/A | $1,100 WPT Shooting Stars for Charity [PKO] Day 2 | $500K |
| Aug. 1 | 3 | $3,200 WPT World Championship 8-Max Day 1a | $3M |
| | 3 | $320 WPT Mini World Championship 8-Max Day 1a | $1M |
| | 3 | $33 WPT Micro World Championship 8-Max Day 1a | $300K |
| Aug. 2 | 3 | $3,200 WPT World Championship 8-Max Day 1b | $3M |
| | 3 | $320 WPT Mini World Championship 8-Max Day 1b | $1M |
| | 3 | $33 WPT Micro World Championship 8-Max Day 1b | $300K |
| Aug. 3 | 3 | Event #3 Day 2s | |
| Aug. 4 | 3 | Event #3 Day 3s | |
| Aug. 8 | 4 | $3,200 WPT World Championship Knockout Day 1a | $3M |
| | 4 | $320 WPT Mini World Championship Knockout Day 1a | $1M |
| | 4 | $33 WPT Micro World Championship Knockout Day 1a | $300K |
| Aug. 9 | 4 | $3,200 WPT World Championship Knockout Day 1b | $3M |
| | 4 | $320 WPT Mini World Championship Knockout Day 1b | $1M |
| | 4 | $33 WPT Micro World Championship Knockout Day 1b | $300K |
| Aug. 10 | 4 | Event #4 Day 2s | |
| Aug. 11 | 4 | Event #4 Day 3s | |
| Aug. 15 | 5 | $3,200 WPT World Championship 6-Max Day 1a | $3M |
| | 5 | $320 WPT Mini World Championship 6-Max Day 1a | $1M |
| | 5 | $33 WPT Micro World Championship 6-Max Day 1a | $300K |
| Aug. 16 | 5 | $3,200 WPT World Championship 6-Max Day 1b | $3M |
| | 5 | $320 WPT Mini World Championship 6-Max Day 1b | $1M |
| | 5 | $33WPT Micro World Championship 6-Max Day 1b | $300K |
| Aug. 17 | 5 | Event #5 Day 2s | |
| Aug. 18 | 5 | Event #5 Day 3s | |
| Aug. 22 | 6 | $1,100 WPT Mini World Championship Main Event Day 1a | $5M |
| | 6 | $109 WPT Micro World Championship Main Event Day 1a | $1M |
| Aug. 23 | 6 | $1,100 WPT Mini World Championship Main Event Day 1b | $5M |
| | 6 | $109 WPT Micro World Championship Main Event Day 1b | $1M |
| Aug. 24 | 6 | Event #6 Day 2s | |
| Aug. 25 | 6 | Event #6 Day 3s | |
| Aug. 26 | 6 | Event #6 Day 4s | |
| Aug. 29 | 7 | $10,300 WPT World Championship Main Event Day 1a | $10M |
| Aug. 30 | 7 | $10,300 WPT World Championship Main Event Day 1b | $10M |
| Aug. 31 | 7 | Event #7 Day 2 | |
| Sept. 1 | 7 | Event #7 Day 3 | |
| Sept. 2 | 8 | $33 WPT Micro World Championship Heads Up [No Late Reg, 1024 Cap] Day 1 | $20K |
| | 8 | $3,200 WPT World Championship Heads Up [No Late Reg, 256 Cap] Day 1 | $500K |
| | 8 | $320 WPT Mini World Championship Heads Up [No Late Reg, 512 Cap] Day 1 | $100K |
| | 7 | Event $7 Day 4 | |
| Sept. 3 | 8 | Event #8 Day 2s | |
| Sept. 5 | 9 | $3,200 WPT World Championship Mix-Max Day 1a | $3M |
| | 9 | $320 WPT Mini World Championship Mix-Max Day 1a | $1M |
| | 9 | $33 WPT Micro World Championship Mix-Max Day 1a | $300K |
| | 10 | $25,500 WPT World Championship High Roller Day 1a | $10M |
| Sept. 6 | 9 | $3,200 WPT World Championship Mix-Max Day 1b | $3M |
| | 9 | $320 WPT Mini World Championship Mix-Max Day 1b | $1M |
| | 9 | $33 WPT Micro World Championship Mix-Max Day 1b | $300K |
| | 10 | $25,500 WPT World Championship High Roller Day 1b | $10M |
| Sept. 7 | 9 | Event #9 Day 2s | |
| | 10 | Event #10 Day 2 | |
| | 11 | $102,000 WPT World Championship Super High Roller Day 1 | $5M |
| Sept. 8 | 9 | Event #9 Day 3s | |
| | 10 | Event #10 Day 3 | |
| | 11 | Event #11 Day 2 | |
| | 12 | $320 WPT Mini World Championship Turbo | $300K |
| | 12 | $3,200 WPT World Championship Turbo | $1M |
| | 12 | $33 WPT Micro World Championship Turbo | $100K |