Marvin Rettenmaier Doubles Up Through Robert Mizrachi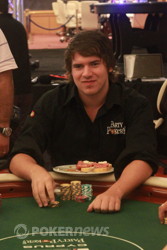 Marvin Rettenmaier decided to give last night's beach party a miss so that he felt refreshed today and it has certainly worked for him and appeased the Poker Gods.
Robert Mizrachi opened to 21,000 under the gun and the action passed around to Sam El Sayed in the cutoff. He called, putting the action onto Rettenmaier. The young German checked his cards before making it 60,000 to play and it was now up to Mizrachi to act.
Mizrachi put in a further raise, making it 165,000 to play, folding out El Sayed but Rettenmaier moved all-in for 330,000 in total. Mizrachi called and the cards were turned onto their backs.
Mizrachi:

Rettenmaier:
What a time to wake up with aces! The
flop kept Rettenmaier in front and when the turn and river were the
and
respectively, Rettenmaier doubled up to 660,000 and he is back in business here in the Main Event.