Event Info
| | |
| --- | --- |
| Buy-in | $5,000 |
| Players | 154 |
Level Info
| | |
| --- | --- |
| Level | 19 |
| Blinds | 12,000 / 24,000 |
| Ante | 3,000 |
$5,150 Circuit Championship Main Event
Day 3 Completed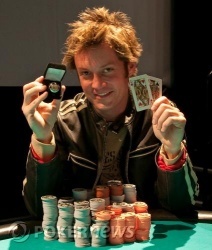 That's all she wrote, folks. After just under six hours of play at the final table, Kai Landry has emerged on top as the winner of the first Circuit Championship of 2009.

It certainly wasn't an easy road for Landry. Play began three days ago with 153 players standing in his way. He picked through the field with surgical precision though, rarely making a false step. Coming into Day 3 here, Landry was in the middle of the pack with 375,000. Managing to fight his way into the final three, our champ found himself with just barely more than ten big blinds after losing a huge race against David Dao.

Not to worry for Landry though. He would claim Matt Stout as the third place finisher when his pocket sevens managed to win a race against Stout's overcards. It wasn't long after that before he delivered the final blow, putting David Dao all in, fading his opponent's few outs, and sending him to the rail as runner up.

This series of events at Harrah's Tunica was a resounding success. The sixty tables in the tournament room were jammed full of players for more than two weeks. The tournament staff here is one of the best out there, and they consistently did everything possible to create an appealing and successful tournament series. The series as a whole drew 11,764 players, generating a prize pool of $3,788,335. The Championship itself attracted more than 150 players, putting nearly $900,000 up for grabs.

After three days of hard work, the lion's share of that cash will belong to Kai Landry. In addition, he has earned an $11,000 entry to the 2009 WSOP Main Event. And don't forget the bling; Landry has already tried on his beautiful diamond-laced gold ring, and it was a fine fit indeed.

That's it for us here in Mississippi. Congratulations to Kai Landry, 2009 WSOP-C Harrah's Tunica champion!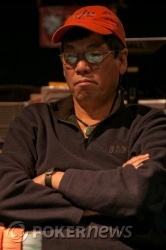 Both players saw a cheap flop of
. The flop was checked around.
The turn fell the
and Landry bet out 50,000. Dao then raised to 150,000. Landry then moved all-in. Dao made the call.
Landry:
Dao:
Dao had a royal flush draw. He would need a diamond to win the hand and double up or a queen to split the pot.
The river fell the
and Kai Landry is the winner!
David Dao finished in 2nd place and will take home $117,744 for his strong finish.
David Dao - 790,000
Kai Landry - 2,290,000
Kai Landry limped into the pot from the button, and David Dao elected to raise. He made it 124,000 to play, and Landry came along to the flop.
The first three cards off the deck were
. Dao checked, and Landry kept the pressure on with another 150,000 chips. Waving both hands forward in that familiar gesture, Dao announced, "All in." Quickly, Landry called, putting his own tournament life in jeopardy.
Showdown:
Landry:
Dao:
In fine shape for a double up, Landry stood to sweat his fate. The turn and river were safe for him, coming
and
respectively. He does indeed double up, essentially trading chip stacks with Dao.
Jimmy Sommerfeld decided to test us to see if we were paying attention. Jimmy announced, "and they are both all in." Multiple bloggers jumped up from their seats to see the action. What they were met with was the dealer washing the cards and the crowd roaring with laughter.

Yes, I was one of those bloggers.

After we went back to our seats, Matt Stout came down and jokingly said, "Who the hell messed up my interview?" He then told us how he was in the middle of his interview and had jumped down from the podium to check the action. He then wished the players good luck. One of his buddies told him, "at least you now have time to get to FTOPS."
We are now heads up. This is how the chip counts look going into heads-up play.

David Dao: 1.48 million
Kai Landry: 1.6 million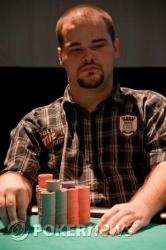 A raising war ensued between Matt Stout and Kai Landry preflop and when the smoke cleared, Kai Landry had moved all in against Matt Stout and Stout called.
Landry:
Stout:
Board:
The stacks were counted down after the hand. Landry had 708,000 in chips and Stout had 697,000. As a result, Matt Stout became our 3rd place. Stout will take home $73,590 for his fantastic run.
Preflop, Kai Landry moved all in for 339,000 and Matt Stout made the call.
Stout:
Landry:
Stout wished Landry good luck as they saw the flop of
. Stout was still in the lead. Landry called for a "ten ball" and the turn fell the
. This gave Landry outs for a flush and Stout said, "Oooh. Spicy."
The river fell the
to fill out Landry's flush and to double him up to 760,000 chips.
Level:

19
Blinds:

12,000/24,000
Ante:

3,000