$5,150 Circuit Championship Main Event
Day 1 Completed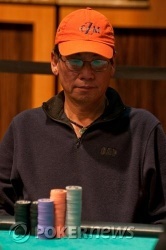 Day 1 of this $5,150 WSOP-C Championship started with 154 entrants looking to take their shot at the $183,984 top prize and championship circuit ring. Many pros entered today's field and at the end of the day, Gavin Smith, Matt Stout, Kathy Liebert, and "Captain" Tom Franklin are among those left in the running.

The unofficial chip leader at the moment is David Dao with 291,700 chips. Matt "Allinat420" Stout is right behind him with 255,500. Players will return tomorrow at 2 p.m. CST and we will play down to the final nine.

Chip counts and seating assignments will be available later tonight. Be sure to join us tomorrow as we march to the money and then to the final table at this WSOP Circuit Championship.
We have lost our final player of the evening, setting up the return of our 27 remaining players tomorrow. The field buzzed right though the last few eliminations without bothering to even slow down at all for hand-for-hand play.
Jordan Morgan just eliminated an unknown opponent. According to Morgan, the board read
and Morgan's opponent moved all in. Morgan made the call and showed
for queens full.
Mike Leah mentioned that Morgan's opponent had a lower full house, but it was not mentioned what he held.
After the hand, Morgan moved up to 75,000 in chips.
Jordan Morgan raised to 5,500 preflop and Gavin Smith reraised to 14,000 total. After tanking for a bit, Morgan made the laydown.
Smith showed
.
When you're hot, you're hot.
Level:

12
Blinds:

1,500/3,000
Ante:

400
Matt Stout is the life of the party over at Table 4 now. He has seldom been without a smile on his face in the last two levels, and he has his whole table in good spirits.
Well, almost his whole table. Working with a short stack of just 10,300, a player moved all in from early position.
"I can't even think about how many times I'm going to have to double you up," joked Stout from the big blind. When the action folded around to him, he glanced briefly at his cards before putting in the extra amount, having his man covered by a mile.
Showdown:
Stout:
Opponent:
"I kinda hope you win this," Stout admonished as the all-in player stood from his chair. With the betting closed, and one player's tournament life hanging in the balance, the dealer ran out the board:
. Both players made the straight on the board, but Stout's king played on the top end, and he claims another victim.
"I'm sorry," apologized Stout. "I run so good. I run unreal."
No joke, Matt.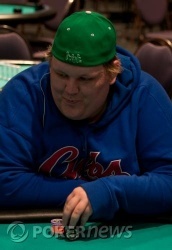 In the course of two hands, Matt Stout became one of the chip leaders after eliminating Jason Potter.
Jason Potter raised to 6,500 and Stout reraised to 21,000. Potter then moved all in for 44,000 and Stout made the call.
Stout held
and Potter
. Stout flopped a set of sixes and rivered a full house to eliminate Potter and to move up to 230,000 in chips.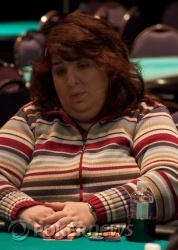 Sabyl Landrum has been hovering a bit under average most of the day, and she has been all in several times in the past level or three. We caught up with her again as she open-shoved all in from middle position for just about 35,000. Action folded to Matt "Allinat420" Stout, and he made the call with his big stack, putting the charming Landrum at risk of elimination.
Showdown:
Landrum:
Stout:
The board failed to improve Landrum, and she has been eliminated here close to the end of Day One.
Over at the table with Jason Potter, Sabyl Landrum, Kathy Liebert, and Matt Stout, the conversation at the beginning of the level centered on the amount of play in this event.

Liebert stated that there is plenty of play in the beginning, but later on there isn't as much room to play. Landrum stated that this seemed to be the tendency with many of the events, not just at this circuit event, but at other WSOP-C events as well.

Right now, the average stack is $85,556.