Main Event
Day 3 Completed
Level 32 : 50,000/100,000, 10,000 ante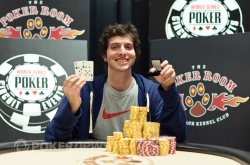 Today was the concluding day of the World Series of Poker Circuit Main Event in Palm Beach as the field played down from 24 players to a winner. It was a tournament of firsts. It was the first time a WSOP-branded event was held at a non-casino property. It was the first time a dog track hosted a major poker tournament of any kind. And it would end up being the first time a Circuit ring was awarded to a player younger than 21.
The day dawned with three tables still in play, and it took about seven hours to shrink the field down to the requisite nine. When the final table finally began, the action came at a fairly brisk pace. Thomas Aprea had just over 10 big blinds to start the final table, but a half hour and a couple of double-ups later, he was in second place with 50 bigs in front of him. A little over an hour into the final, Gerald Timmons got his money in with
with a chance to triple up. Thomas Aprea isolated with ace-jack following the
flop, and the
on the river meant another pot for Aprea and the first elimination of the final table.
Overnight chip leader Jesse Okonczak was getting short on chips by that time, and he took his stand with
. Riordan looked him up with
, and a board full of blanks ushered Okonczak out in eighth place. Moments later, Dave MacDonald fell in seventh when his
could not catch up to Aprea's
. Well, it caught up momentarily on the
flop, but the
turn reversed the tides once again, and the
river sent MacDonald to the cashier.
It was just another few hands before another all-in-and-a-call, and this time it was Jon Brody. He shoved with
, and it looked like he was set to double as Riordan tabled the dominated
. Despite Brody pleas for, "No ten," the dealer peeled one right off on the flop, and the
board was the last one of Brody's day. Ryan Leneghan went out in fifth place, getting his last 1.65 million chips into the pot with his
dominated by Buchanan's
. Buchanan's chips didn't last long, though, and he was next to exit in fourth place. Buchanan took his
up against Riordan's
to no avail.
Mike Morton was the short stack with less than 13 big blinds when four-handed play began, but he was a man on a mission for the remainder of the final table. During four- and three-handed play, Morton seized control of the table. He doubled through Riordan with
against
, and he doubled through him again (
>
) on the very next orbit. That got him close to 3 million in chips, and he kept on attacking Riordan. A couple hands later, Morton and his
flushed their way to another big pot to pull his stack over 4.4 million and right on the heels of Riordan's. There was a war brewing between the two men, and the big one came in due time. On a board of
, Riordan led the betting on the flop and turn. When the river came, he shoved in with
, but Morton's
had hit the river even harder. That 7.5 million-chip pot turned the tides in favor of Morton, and Riordan was playing from behind for the first time all day.
Thomas Aprea had done some good work through the middle stages of the day to make it to three-handed play, but that's where his run ended. His pocket fours ran right into Riordan's pocket fives to send him off in third, setting the stage for the heads-up match that seemed inevitable for the last half of the day.
It was Morton and Riordan heads up for the ring, and there was no pussyfooting around. Million-chip bets were flying around the table, and it wasn't long before another massive pot unfolded. Riordan had about 5 million chips when he got his money in on the turn of a
board with
, and he was in the lead. Morton's
had plenty of outs to end the tournament right there, but the river
swung the match back into Riordan's favor in a big way.
Just a few hands later, Morton shoved the rest of his chips in with
on a
flop. Riordan called him down with
. The pair of sevens managed to hold for Riordan as the
turn and
river filled out the final board of the day.
With that, John Riordan becomes the youngest player ever to win a WSOP-C gold ring at the tender age of 19. We'll have to wait two years to see him play another major tournament in the U.S., but if today's performance is any indication, he'll be ready to make some waves when the time comes.
Our congrats go out to Riordan on a fine show here in Palm Beach this week. That wraps up our coverage for this stop, but the Circuit is headed to Atlantic City next, and we're headed there to continue the story. We hope you'll join us from Caesars March 11-13.
Until then, all that's left is goodnight.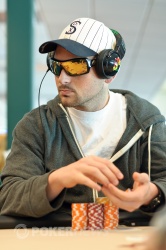 John Riordan raised to 200,000 on the button and Mike Morton defended his big blind.
The flop came down
and Morton checked. Riordan bet 250,000 and after a few moments, Morton announced all in for roughly 3.1 million. Riordan sighed, going deep into thought for about 30 seconds. "Call," he said confidently. He turned over
, holding the lead against Morton's
.
The
turn card brought no help to Morton, nor did the
river card. Morton's excellent day, starting in 22nd place out of 24 players, has come to an end with a runner-up performance.
Level 32 : 50,000/100,000, 10,000 ante
John Riordan made it 250,000 from the button again, and Mike Morton defended his big blind once again.
The dealer spread out a flop of
, and Morton checked. It was eerily similar to the previous pot as Riordan's 325,000-chip bet was check-raised again, this time to 900,000. Riordan called again, and that brought them to the
turn. Morton has a penchant for firing chips around in this heads-up match, and he announced an all in to put his opponent to the ultimate test. Riordan spent a few minutes in the tank as he considered the decision for his last 3.84 million chips, shooting the occasional glance up at his opponent to try and help his thought process.
After some time, Riordan called, and a pot of 10 million chips was up for grabs. Riordan's
was in the lead, but Morton's
had plenty of outs to end the tournament right there.
River:
That's a blank, and it sends the biggest pot of the tournament to Riordan. He's got those 10 million chips now, leaving the other 4.2 million for Morton.
Level 32 : 50,000/100,000, 10,000 ante
On the button, John Riordan opened to 250,000, and Mike Morton called to see a flop.
It came
, and Morton rapped the table. Riordan continued out with a bet of 325,000, only to see his opponent check-raise to 800,000 straight. Riordan called.
The turn
drew checks from both players, and the
filled out the board. Morton took his cue to bet, and he did so in a big way, announcing a wager of 2 million. Riordan could not call, and he returned his cards to the muck, dropping back to abot 5.4 million.
Level 32 : 50,000/100,000, 10,000 ante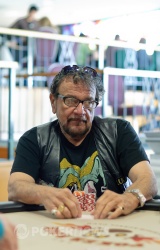 On the button, John Riordan made it 200,000 to go, and Thomas Aprea three-bet all in for about 1.25 million from the small blind. Riordan made the call with the covering stack, and Aprea was in bad shape to stay alive.
Showdown
Riordan:

Aprea:
There was nothing on board to help Aprea's cause as the dealer ran out
. Fours are no good, and Aprea has been sent to the exit in 3rd place, good for just shy of $100,000.
Level 32 : 50,000/100,000, 10,000 ante
From the button, Mike Morton made it 200,000 to go, and John Riordan three-bet to 525,000 in the small blind. When the flop came
, a continuation bet of 525,000 was good enough for Riordan to take the pot.
Level: 32
Blinds: 50,000/100,000
Ante: 10,000
Level 31 : 40,000/80,000, 10,000 ante
Small blind Thomas Aprea raised to 215,000, and Mike Morton defended his big. It's an unenviable position for Aprea. In any event, the flop came out
, and both men checked. The check-check flop has been a recurring theme at this final table. Those checks led them to the
turn, and now Aprea fired his delayed continuation bet, overbetting the pot with 500,000. Morton called, and Aprea checked to him after the
river. Morton took his cue to make the same 500,000-chip bet, and his opponent could not call, sending his cards back to the dealer face-down.
Morton - 9.1 million
Aprea - 1.625 million
Level 31 : 40,000/80,000, 10,000 ante
Mike Morton has won five of the six pots since that monster (all small ones), and he's chipped up well over 8 million in the process.