Main Event
Day 3 Completed

Level 32 : 50,000/100,000, 10,000 ante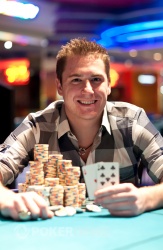 It took three long days for the WSOPC Harveys Lake Tahoe Main Event to come to a close and it's Bryan Schultz who took down the ring and $111,812 prize. Schultz had to fight his way past 326 other players to claim the title. He also earned a seat in the $1 million freeroll National Championship.
Daniel Lowery and Schultz played heads up for just over one level. When they began they agreed to up the blinds to 50,000/100,000 with a 10,000 ante to speed up the play with their very deep stacks. A decisive hand occured when Schultz scored a double up with a diamond flush on a
against Lowery's
.
The very next hand would be the last for Lowery after being left with only 800,000. He got all his chips in the middle holding
. Schultz had
and nervously watched the dealer lay out the board. It went
and Schultz's pair of nines clinched the win.
Schultz score three knockouts at the final table. He sent Ron Segni, Jim Atwood and David Clark all to the payout desk. Lowery knocked out two players himself: Hank Czarnecki and Joe Fernandez.
Next up on the WSOPC schedule is Harrah's Atlantic City December 1 - 12. Follow all the WSOPC action live on Pokernews.com!
Final Table Payouts
| | | |
| --- | --- | --- |
| Position | Player | Prize |
| 1st | Bryan Schultz | $111,812 |
| 2nd | Daniel Lowery | $69,132 |
| 3rd | Ron Segni | $50,210 |
| 4th | Hank Czarnecki | $37,087 |
| 5th | Jim Atwood | $27,843 |
| 6th | David Clark | $21,234 |
| 7th | Joe Fernandez | $16,448 |
| 8th | Chris Clark | $12,932 |
| 9th | Casey McCarrel | $10,320 |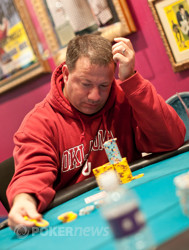 Down around 700,000, Daniel Lowery committed the last of his chips to the pot before the flop with
. Unfortunately for him, Bryan Schultz woke up with an ace, and his
was plenty good enough to go with. Lowery was at risk for the first time today, and he needed to catch up to stay alive.
He did catch up. The flop brought him a pair as it came rolling out
, but there was still some sweating to do. If Schultz could find a six, nine, jack, or ace, he'd be the champ.
Turn:
That was a blank, and it put Lowery one card from doubling back into contention. But he could not fade the river. The
peeled off, and it seals the deal for both players.
It's elimination for Lowery, sent to the rail as the runner-up. That's worth nearly $70,000, and that's a fine consolation prize for three days' work.
For Schultz, it's time to celebrate and pose for a few photos.
We're not certain of the preflop action, but it looks like Bryan Schultz raised to 200,000 from the button and Daniel Lowery three-bet to 600,000. Whatever led up to it, though, Schultz ended up shoving all in for 2.86 million total, and Lowery made the call for all the chips! He'd like what he saw, too, as he had Schultz dominated.
Showdown
Schultz:

Lowery:
The two rails came to life and pressed in around the table as they tried to catch a sight line for this huge flop. It did not disappoint. The dealer spread out a whale of a
, and Schultz was drawing live to the straight flush! He didn't have to wait long to find an out:
Turn:
!
Schultz's rail erupted in celebration, changing their chant from, "Diamond! Diamond!" to "Hold! Hold!" Now it was Lowery drawing, and he needed to find a diamond on the river to lock up the title. Ultimately, he'd fall short.
The river brought the blank
, and Lowery's trip aces were no good. Almost all of his chips have been flushed away, and he's now left with just 800,000 with which to try and mount a comeback.
Level 32 : 50,000/100,000, 10,000 ante
Daniel Lowery raised to 250,000 from the button, and he and Bryan Schultz took a
flop. It went check-check, and the
landed on fourth street. Now Schultz led out with 250,000, and Lowery wasted no time matching the bet. The river came the
, and now Schultz slowed back down with another check. That was Lowery's cue to bet 250,000 of his own chips, and it won him the pot with no showdown.
That loss knocked Schultz down to about 2.2 million, but he'd get it right back on the next hand. Now it was he opening to 225,000 from his button, and Lowery defended to see the
flop. Schultz continued out with 300,000, and Lowery nearly beat him into the pot, check-calling to go to the
turn. Lowery checked again, and Schultz loaded up and fired another 600,000 at the pot, leaving about a million behind. He got a bit of a stare from across the table, but Lowery could not call. He surrendered, and the duel is back to where it began once again.
Level 32 : 50,000/100,000, 10,000 ante
Daniel Lowery controlled the early orbits of this heads-up duel, allowing him to grow his chip lead a bit. But Bryan Schultz has fought back.
From the button, Lowery raised to 225,000, and Schultz three-bet shoved. Lowery folded quickly.
On the next hand, it was Schultz opening to 225,000, and Lowery came along with the call. The flop came
, and Schultz's 300,000-chip continuation bet was matched quickly. That brought them to the
river, and Lowery checked again. Shultz announced his all in once again, and Lowery considered for a moment this time before surrendering.
That brings the match pretty much back to where it began once again.
Level 32 : 50,000/100,000, 10,000 ante
The two men have just decided among themselves that they'd rather not play an incredibly deep-stacked heads-up battle right now. They asked for permission to increase the blinds, and they were told they can pretty much do whatever they wish in that regard. They were cautioned, however, that there is to be no chip dumping.
They've settled on playing 50,000/100,000 with a 10,000-chip ante, skipping three full levels on the structure.
I believe we here at PokerNews have a new pair of favorite players!
Level: 32
Blinds: 50,000/100,000
Ante: 10,000
Level 28 : 20,000/40,000, 5,000 ante
Our two remaining players have returned to the felt, and the cards have gone flying again.
The two men have stepped away for a quick break to grab a drink and talk some business. We'll be right back with the final showdown, and the battle will stack up thusly: