Congratulations to Ryan Stevenson, Winner of the 2013 WSOP Circuit Harrah's Tunica Main Event ($204,795)!

Level 35 : 70,000/140,000, 20,000 ante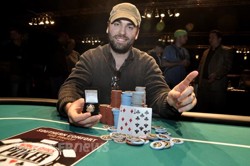 After two starting flights, 666 total entrants, and a roughly 11-hour final table, the 2012-13 World Series of Poker Circuit Harrah's Tunica Main Event has officially crowned a champion. Ryan Stevenson had a roller coaster of a final day but ultimately emerged victorious when he bested Norman McKeldin heads up to take down the title, the seat to the WSOP National Championship, and the $204,795 in first-place prize money. On his road to the title, Stevenson asserted his dominance at the table by eliminating players in sixth through second place before finally grabbing hold of the championship.
Not only was this event a success for the players participating, but also for the circuit stop itself. Last year this event pulled in a grand total of 647 runners and it was able to surpass that with 666 players ponying up the entrance fee to participate. The prize pool was just $1,000 shy of one million as it came in at $999,000.
WSOPC Harrah's Tunica Main Event Final Table

| Seat | Player | Chips |
| --- | --- | --- |
| 1 | Jerry Barlow | 800,000 |
| 2 | James Watkins | 980,000 |
| 3 | Michael Sanders | 3,055,000 |
| 4 | Ryan Stevenson | 1,505,000 |
| 5 | Jonathan Cary | 460,000 |
| 6 | Norman McKeldin | 1,035,000 |
| 7 | David Kruger | 505,000 |
| 8 | Andrew Rothfolk | 4,575,000 |
| 9 | Mark Maletic | 400,000 |
Andrew Rothfolk began the final table as the chip leader but it was eventual champion Stevenson who came out firing. Stevenson's aggressive approach to the early stages of the final table proved to be remarkably successful as his stack kept growing and growing.
The first casualty of the final table was David Kruger. Kruger saw his tournament come to an end when he moved his short-stack all in holding
. He was called by Rothfolk's
and the flop came down
. Kruger failed to improve on the subsequent streets and he was forced to settle for ninth place and a $19,161 payday.
Jerry Barlow found his demise a few hands later when he open-shipped his last 550,000 all in from middle position with
. McKeldin looked him up with
and was able to hold as the best hand, making certain that Barlow was the eighth-place finisher.
Mark Maletic was the next player to go. Maletic entered play as the short stack and made a fair point of doubling his short stack within the first two orbits without ever seeing a flop. Eventually, however, Maletic shipped all in for his last 545,000 from under the gun. Action folded all of the way around to table to McKeldin who announced a call. The rest of the table folded and the hands were tabled.
Showdown
Maletic:

McKeldin:
Maletic was in great shape to find a double up and it looked even better after the flop brought
. Fourth street spelled disaster for Maletic, though, as it was the dreaded
which gave McKeldin two pair and the lead in the hand. The
finished the board, giving McKeldin a full house and sending Maletic to the rail in seventh place. Maletic took home $30,789 for his run.
The sixth-place finisher was James Watkins. His fall came when Stevenson opened with a raise from early position. Watkins three-bet out of his small blind and Stevenson replied by four-betting him all in. Watkins called for his tournament life with
and was racing against Stevenson's
. Stevenson found the lead with a pair of jacks on the flop and never looked back. Watkins, on the other hand, exited the tournament area and pocketed $39,790 in winnings.
Jonathan Cary also fell at the hands of Stevenson when he moved his short stack all in before the flop with
. Stevenson woke up with
and a run out of
ensured that Cary would finish in fifth place.
During four-handed play, Stevenson and Michael Sanders engaged in a series of pots with each other. Most notably, Stevenson took a huge chunk of Sanders' stack when both players hit trip nines. Stevenson ended up out-kicking Sanders to take down the pot. He put the nail in Sanders' coffin when Sanders open shipped all in with
. Stevenson called and tabled
. Neither player paired on the board and Stevenson's ace-high was enough to put Sanders on the rail with fourth-place money in his pocket.
Three-handed play then proceeded to last a grueling four and a half hours with all three players trading the chip lead back and forth. During this time Stevenson found himself at extreme disadvantage with only around 800,000 in chips. By the end of the level, however, he was commanding the table once more with over 6.6 million. After an insane series of hands, it was Day 3 starting chip leader Rothfolk who was the next to exit. Rothfolk raised all in from the button for his last 2 million in chips and Stevenson called out of the small blind.
Rothfolk showed
but was ultimately behind the
of Stevenson. The dealer flipped over a board of
and Rothfolk was eliminated in third place. He took home $92,947 in prize money.
After the behemoth of a three-handed session, heads up went by in a breeze. In fact, it only took one hand for Stevenson to clinch the title.
With the blinds at 70,000/140,000/20,000, McKeldin had the button and opened with a raise. Stevenson called out of the big blind and the flop brought
. Stevenson tapped the table and passed the action to McKeldin.
"All in," said McKeldin. His all in was for 4.545 million.
"Why so much?" asked Stevenson before ultimately deciding to call.
McKeldin:

Stevenson:
Stevenson was ahead for now with his pair but any diamond, ace, or king would catapult McKeldin into the lead. The turn brought exactly that. The
dropped down and the rail let out a collective gasp. Suddenly the tables were turned and it looked as if McKeldin would double up and heads up play would go on. The dealer tapped the table and dealt the river.
The
!
McKeldin was eliminated in second place in a flash at the hands of Stevenson's two pair. He took home $126,723 for his efforts.
WSOPC Harrah's Tunica Final Table Payouts

| Place | Player | Prize |
| --- | --- | --- |
| 1 | Ryan Stevenson | $204,795 |
| 2 | Norman McKeldin | $126,723 |
| 3 | Andrew Rothfolk | $92,947 |
| 4 | Michael Sanders | $69,121 |
| 5 | Jonathan Cary | $52,098 |
| 6 | James Watkins | $39,790 |
| 7 | Mark Maletic | $30,789 |
| 8 | Jerry Barlow | $24,136 |
| 9 | David Kruger | $19,161 |
The team here at PokerNews extends its most sincere congratulations to Ryan Stevenson for conquering the field of 666 players to take down the title. That does it from Tunica, Mississippi. Make sure to stay tuned as we continue to provide the latest updates from the WSOP Circuit. Next stop: Las Vegas. Until then!