Main Event
Day 3 Completed

Level 32 : 40,000-80,000, 10,000 ante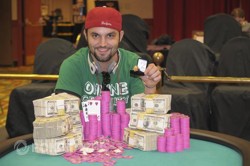 After three long days, a hard-fought final table, and an intense heads-up battle culminating in a truly gutsy call, Adam Teasdale of Marinette, Wisconsin has claimed the latest WSOP Circuit Main Event title here at Harrah's Resort Atlantic City, topping a field of 616 entries to win the ring and $194,040 first prize.
Just 26 players made it through the first two days to today's final day of play, and it took a little over six hours for them to work their way down to the final nine. By that point Terry Grimes had won enough big pots to push into the chip lead, just ahead of Aaron Overton, Pete Rios, Sung Kim, and Teasdale.
After Sung Kim knocked out Trevor Deeter in ninth, Grimes took out the next two players, eliminating Ed Modlin in eighth, and Barry Leventhal in seventh.
Teasdale then knocked out Overton in sixth when the latter jammed with
, Teasdale called with
, Overton turned a ten, then Teasdale rivered an ace.
That actually marked the second time on Monday Teasdale had nearly been crippled but ultimately knocked out an opponent, his elimination of Travell Thomas in 19th earlier in the day with
versus Thomas's
being the other.
The remaining five would battle for two more hours before the next three eliminations came in rapid succession, during which stretch Teasdale assumed the chip lead.
Grimes had been open-shoving all in fairly frequently during the final table, then did so again following a
flop with pocket eights only to have Teasdale call his bet holding a jack for trips. Teasdale's hand held, and Grimes was out in fifth.
Just moments later Teasdale took care of Kim in fourth, using
to better Kim's
. Then came a huge three-way all-in between the final trio in which Woelfel held
, Teasdale
, and Rios
. An ace came among the community cards to give Woelfel the best hand, and Rios was eliminated in third.
That big hand gave Woelfel a slight chip lead to start heads-up play, remarkable to consider given how he'd begun Day 3 sitting in 24th of the final 26. However, Teasdale would soon retake the advantage from Woelfel and increase it steadily as they played through an hour-and-a-half of cautious, well measured poker. Then as the clock was edging toward two in the morning, the final hand took place.
Teasdale had about a 2-to-1 chip lead when the hand began with Teasdale calling a Woelfel three-bet preflop, then calling a flop continuation bet with the board showing
. The
on the turn saw Woelfel checking, Teasdale taking a stab, and after a lengthy pause Woelfel jamming all in.
Teasdale tanked for several minutes, his intense search of the situation ultimately yielding a call, and his opponent instantly complimented him for finding it. Teasdale had but
for queens and fours, but was in excellent shape versus Woelfel's
. A third queen then came on the river, and Teasdale had ended Day 3 just as he had started it — at the top of leaderboard, this time with all of the chips.
| Place | Name | Prize |
| --- | --- | --- |
| 1st | Adam Teasdale | $194,040 |
| 2nd | Wade Woelfel | $120,018 |
| 3rd | Pete Rios | $87,762 |
| 4th | Sung Kim | $65,124 |
| 5th | Terry Grimes | $49,000 |
| 6th | Aaron Overton | $37,376 |
| 7th | Barry Leventhal | $28,903 |
| 8th | Ed Modlin | $22,656 |
| 9th | Trevor Deeter | $18,000 |
Congratulations to Teasdale who in addition to the first prize and ring gains an entry into the $1 Million WSOP National Championship in May 2013!
Thanks for following our coverage here at PokerNews, and see you later this month for the next WSOP Circuit Main Event at Harrah's Rincon!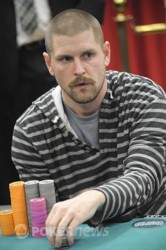 Adam Teasdale opened to 170,000 on the button and Wade Woelfel three-bet to 410,000 from the big blind. A call from Teasdale landed a
flop to the board.
Woelfel fired 380,000, Teasdale called, and the
hit the turn. This time Woelfel checked it to Teasdale who bet 460,000. After about three minutes in the tank, Woelfel re-raised all in.
Teasdale immediately began to squirm in his chair and count through his chips. Woelfel remained still in his seat as Teasdale began saying a number of things, chief among them being "this would be a sick call." Teasdale asked for a count and upon learning it was 3.64 million, Teasdale announced "I've got to call you," after about five minutes total.
"Good call," replied Woelfel, who tabled
.
Teasdale jumped out of his seat and showed
for queens and fours.
"Deuce deuce deuce," Teasdale called for, needing to dodge an ace, six, or five on the river.
The
landed on the river, sealing the deal for Teasdale and ending Woelfel's run in second place.

"Uh oh... 40-80...!!!"
So said Wade Woelfel with wide eyes and mock terror at the conclusion of the previous level, and Adam Teasdale chuckled in response. The exchange was in reference to the level concluding and blinds about to increase to 40,000/80,000 — a jump, sure, but when Level 32 began they were still playing with stacks of about 60 and 90 big blinds, respectively.
Thus it wasn't surprising to see the pace continue to be slow after play resumed following the break. We did finally see one hand go to the river just now, one that began with Teasdale raising to 170,000, Wade calling, and the flop coming
. Both checked, then checked again after the
turn.
The river was the
. Woelfel checked once more, and when Teasdale fired 250,000, Woelfel let his hand go.
Level: 32
Blinds: 40,000/80,000
Ante: 10,000
The players are on a 15-minute break.

Wade Woelfel raised to 130,000, Adam Teasdale called, and the flop came
. Both checked. The turn brought the
and two more checks.
The river was the
. This time Teasdale pushed out a bet of 185,000, and after some thought Woelfel called the bet. Teasdale turned over
for fives and eights, and Woelfel mucked.
Adam Teasdale opened to 130,000 on the button and Wade Woelfel defended his big blind.
The flop came down
. Both checked to see the
turn where they checked again. When the
river fell, Woelfel bet 145,000.
Teasdale called, but mucked when Woelfel tabled
for queens and jacks.

Woelfel just raised to 130,000 from the button, then saw Teasdale reraise to 320,000. Woelfel came back with a four-bet to 810,000, and Teasdale let it go.

Adam Teasdale raised to 130,000 from the button, and Wade Woelfel called. The flop came
. Woelfel checked, Teasdale bet 150,000, and Woelfel called. The pair then checked down the
turn and
river.
Woelfel showed
for aces and eights, and Teasdale mucked.