Faro Leads The Day 1b Pack; Crews Remains Overall Leader for Day 2
Level 9 : 300-600, 75 ante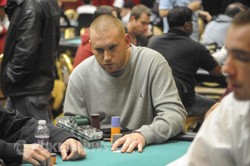 Day 1b has come to a close with 130 players remaining from the unofficial 236 who took part in this evening's affair. Leading the way from the night session is Gregory Fishberg with 11,750, followed by Tim Faro with 101,200, putting them fourth and seventh place overall entering tomorrow's Day 2. Unofficially, the total field stands at 601 players and 322 will be returning, with end-of-Day 1a leader T.J. Crews the overall leader with 141,900.
Others who survived Day 1b include Chris Klodnicki (92,900), Chris Reslock (83,100), Will Failla (63,500), Aaron Massey (33,900), Victor Ramdin (24,500), and Dwyte Pilgirm (21,600).
Registration remains open until the start of play on Day 2 for players who did not enter both Day 1a and 1b. Among those who failed to make it through on both flights were Matt Glantz, Kurt Jewell, Sirous Jamshidi, and Josh Brikis.
Day 2 will commence at noon local time tomorrow and will last until either a final table is reached or until 2:00am.
Until then, good night from Atlantic City!