Petr Setka Bags the Lead at the End of Day 1A

Level 12 : 600/1,200, 200 ante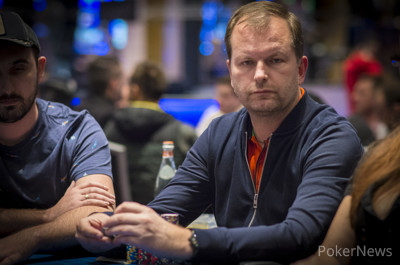 Day 1A of the €1,650 Main Event at the King's Casino in Rozvadov has come to an end. Petr Setka, from the Czech Republic, bagged the chip lead as one of just two players over 200,000 chips.
Setka went about his business quietly throughout the day and emerged as the leader in the last level of play. He was on his second bullet of the day after losing a devastating pot earlier on with
against his opponent's
.
There were a total of 198 entries to take to the felt today, in what was an action-packed day inside the Poker Arena. After a long 12 levels of play, only 72 players survived to advance to Day 2 on Sunday. Ben Bensimhon (169,200) held the chip lead for the majority of the day, also on his second bullet after being eliminated in the early stages. However, he ran a triple barrel bluff in the last few hands of the night that didn't pan out for him.
There were many notables fortunate to find a bag at the end of the day, including Phil Hellmuth (35,500) who only entered with a couple of hours remaining in the evening. Other notables to advance to Day 2 include Piotr Zawadzki (201,600), Laszlo Toth (186,100), Catalin Pop (165,500), Brandon Cantu (141,500), Fabrice Soulier (117,100), Daniele Primerano (52,000), Vitaly Lunkin (51,100), and Markus Kuhnen (47,000).
A few of those that were eliminated throughout the course of the day were Jeff Lisandro, Erez Hamerov, and Tom Holke.
A full list of those moving on to Day 2 will be posted when it becomes available. The action will resume on Saturday at 2:00 PM with Day 1B of the WSOP Circuit Main Event in Rozvadov.
Player
Chips
Progress

Petr Setka

219,400

Piotr Zawadzki

201,600

85,200

Lászlo Toth

186,100

186,100

Ben Bensimhon

169,200

-32,300

Catalin Pop

165,500

38,000

Jaroslaw Sikora

147,000

100,600

Francisco Morgado Lopes

145,000

145,000

Zbyněk Kores

143,600

143,600

Brandon Cantu

141,500

76,500

Michal Mrakes

140,000

140,000

Michal Stipsky

138,500

138,500

Guido Garnies

126,100

126,100

Adriano Scagnetti

126,100

-2,900

Anatoly Chen

125,300

125,300

Fabian Gumz

124,500

71,200

Oliver Wulf

117,800

117,800

Fabrice Soulier

117,100

63,600

Martin Kabrhel

115,100

115,100

Hossein Ensan

115,000

30,800

Viacheslav Belyaev

114,300

114,300

Sergei Petrushevskii

107,400

57,400

Krzysztof Dulowski

104,800

104,800

Mateusz Dziewonski

104,400

104,400

Majid Ejlal Noubarian

104,100

72,100

Muhamet Perati

103,600

103,600

Piotr Wiecek

102,700

102,700

Stanislaw Miadzel

101,000

101,000

Van Tiep Nguyen

98,600

68,600

Daniel Nietrzebka

89,000

89,000

Martin Weiemann

88,000

88,000

Michael Brandau

85,600

85,600

Erik Sturkenboom

81,600

81,600

Pierre Chris Mothes

80,700

80,700

Peter Paul Bstieler

79,700

79,700

Tomasz Litewka

77,700

8,500

Silviu Togui

76,000

76,000

Claduio Di Giacomo

76,000

76,000

Krzysztof Slabik

72,300

72,300

Erol Günenc

70,400

70,400

Carloí Savinelli

69,600

69,600

Jaromír Hanel

68,000

68,000

Michael Sklenicka

63,700

63,700

Daniel Smiljkovic

63,200

63,200

Massimilliano Patroncini

62,100

62,100

Oleksandr Sadovyi

53,900

-23,600

Morgan Bonnaud

53,500

53,500

Daniele Primerano

52,000

-15,000

Sergiy Seredyuk

51,300

51,300

Vitaly Lunkin

51,100

4,000

Jan Ramík

50,600

50,600

Nesrin Can

47,200

47,200

Markus Kuhnen

47,000

4,700

Langar Oghabian

45,300

45,300

Kamphues Lars

45,300

45,300

Vojtech Ruzicka

44,700

14,700

Anatoly Korochenskiy

40,000

33,000

Ivan Kruljac

39,800

39,800

Vincenzo Bianco

38,800

38,800

Boaz Meiri

37,800

37,800

Phil Hellmuth

35,500

5,500

Pavel Plesuv

34,700

34,700

Akser Osak

33,800

12,800

Ricardo Chauriye

33,500

33,500

Frank Schreiber

29,100

29,100

Andre Difelice

27,200

11,200

Raphael Wimmer

24,000

24,000

Štefan Vágner

22,200

22,200

Abbas Moradi

22,200

22,200

Quoc-Thanh Lam

21,400

21,400

Antonino Karman

18,500

18,500

Martin Bartos

17,100

17,100

Robert Gunter Jr

15,000

15,000