Main Event
Day 3 Completed
Level 33 : 100,000/200,000, 200,000 ante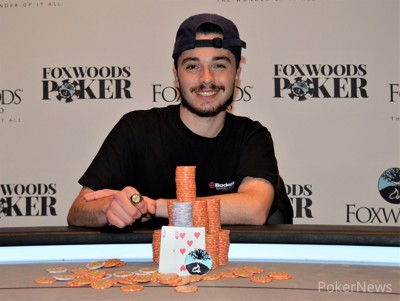 The third stop of the 2019/20 World Series of Poker Circuit crowned a new champion at Foxwoods in the $1,700 Main Event as Justin Carey emerged victorious, denying Maurice Hawkins his fourteenth gold ring. Carey outlasted a field of 468 entries to take down the biggest piece of the pie, pocketing $143,293 along with a his second career ring, and a seat into the 2020 Global Casino Championship.
Carey is a native of Somerville, Massachusetts and only logged his first tournament result in January of 2018. Although he may be new to the game he showed great resilience and an overall calmness throughout the entire event.
"It's awesome. I feel like I played really, really well the entire tournament," he said. "On Day 2, I had a couple of bumps where I lost some really big pots, I just stayed focused and just played the best I could."
"I thought I played almost perfect at this final table," he added. When talking about his success, Carey credits the company he keeps. "I've made friends with a lot of poker players that are better than me, and they've helped me a lot with my game."
Carey came into heads-up play against Hawkins, the all-time Circuit leader with 13 rings, with an almost five-to-one lead. Hawkins chipped away and took a big lead himself, but Carey eventually got the job done.
"I just wanted to crush Maurice really bad," admitted Carey after denying Hawkins a record-extending ring.
Final Table Results
| Place | Player | Hometown | Prize (USD) |
| --- | --- | --- | --- |
| 1 | Justin Carey | Somerville, Massachusetts | $143,293 |
| 2 | Maurice Hawkins | Coral Springs, Florida | $88,557 |
| 3 | David Plotkin | Chicago, Illinois | $64,663 |
| 4 | Andrew Ostapchenko | Carlsbad, California | $47,859 |
| 5 | Dan Chalifour | Spofford, New Hampshire | $35,947 |
| 6 | Gregory Nerenberg | Lake Success, New York | $27,297 |
| 7 | Joseph Rudy | United States | $21,058 |
| 8 | Ralph Macri | Redding Connecticut | $16,449 |
| 9 | Sean Thomson | Worcester Massachusetts | $13,079 |
Final Table Action
The final day started off exactly how Day 2 ended, with guns blazing and chips blasting into the middle. Sean Thomson showed no fear as he sat down to his first big blind and was instantly faced with a raise from Hawkins. Thomson elected to play, calling down on every street, including a pot-sized bet on the river. Hawkins tabled a full house, dominating the two pair of Thomson who was now the short stack of the table and would take an exit just a few hands later against the jacks of Joseph Rudy.
Ralph Macri took charge through the next round of play as he played in almost every pot, jumping from average to short stack and back again in just a matter of hands. Macri said he pot-committed himself preflop with queen-jack against the pocket aces of Andrew Ostapchenko, doubling Ostapchenko while moving back into the short-stack role again. Macri moved his remaining chips all in on the next hand with ace-queen and was called by the ace-jack of Hawkins. The flop ran out jack-high and the rest is history as Macri was eliminated in eighth place.
Just hands after Macri was eliminated it was Rudy putting himself at risk. Rudy opened from under the gun and David Plotkin moved all in. Rudy called with his Big Slick and was in excellent shape as Plotkin turned over ace-jack. The first four cards ran out clean and Rudy only needed to dodge a johnny on the river to secure a double up. Lady luck had other plans for Plotkin as the jack landed on the felt, eliminating Rudy from the tournament on a disgusting river.
Plotkin took his newly acquired chips and jumped in multiple pots, finding himself on the losing end of the majority. Plotkin fell back down to under fifteen bigs and elected to shove from the button with king-nine of spades. Gregory Nerenberg called the all-in with his ace-ten of clubs and was ahead until a runner-runner straight came down, sending a double to Plotkin that left Nerenberg short.
Carey started to really climb during the six-handed portion of the tournament and would be the executioner when Nerenberg shoved his remaining stack all in. Nerenberg's ten-eight was dominated by the Carey who was holding ace-eight and failed to improve as he took an exit in sixth place.
Over two hours of back-and-forth play passed before another player took an exit. Dan Chalifour began the day atop the leaderboard and had been there throughout the first five levels of the day without ever really falling in the standings. However, three hands with Ostapchenko was the demise of Chalifour's tournament life.
The first saw Chalifour with cowboys against the queens of Ostapchenko and the board shifted the lead on every street, but in the end, Ostapchenko took down the first pot with a rivered full house, leaving the start of the day chip leader short. Chalifour doubled the very next hand through Ostapchenko and the two pushed it all-in again for the third hand in a row with Chalifour holding two overs to Ostapchenko's pair of fours. The board ran out dry and Chalifour headed to the payout desk in fifth place.
Ostapchenko held the lead at the start of five-handed play but his stack quickly depleted, doubling Carey and Hawkins up almost simultaneously. Ostapchenko then found himself at the bottom of the food chain and in need of a double. The California native moved the last of his chips into the middle with pockets sixes, only to run into the higher pair of nines of Hawkins. Ostapchenko failed to land a six and he was eliminated from the tournament in fourth place for a respectable $47,859.
Three-handed play began with Carey leading the way, Plotkin close on his tail, and Hawkins sitting as the short stack. Plotkin opened from the button, Carey three-bet him and Plotkin called to see the ten-high flop. Carey check-raised all-in and Plotkin obliged. Carey tabled top two pair and Plotkin sighed as he turned over pocket aces. The board failed to improve Plotkin as he was eliminated in third place for $64,663.
Heads-up play started with Carey sitting atop a monster pile of chips and Hawkins in need of some love. Hawkins instantly drew first blood from his opponent and elected to turn up the pressure soon after, pushing his way into the lead over the span of many small pots. Carey fell to the danger zone and didn't seem phased as he fought his way back into contention, taking the lead back from Hawkins.
Once Carey had the lead it never was returned to the 13-time ring winner as Hawkins dropped down to just fifteen blinds before calling his remaining chips all in with ace-queen against the ace-eight of Carey. An eight-high flop rolled out, shifting the lead to Carey and Hawkins failed to catch up as he was eliminated in second, receiving $88,557 for his efforts.
Andrew Lauer Wins Casino Championship
The other player to capture a 2020 Global Casino Championship seat while at the WSOP Circuit Foxwoods stop was Andrew Lauer, who finished atop the leaderboard with 122.5 points after amassing $44,073 in earnings.
That included winning Event #2: $600 NLH 6-Handed for $14,058 and his third gold ring. He also finished sixth in Event #5: $600 NLH for $3,495, 16th in the Main Event for $7,090, and third in the $3,250 High Roller for $19,430.
"It feels amazing. I can only play a few events so when I came down I said the six-max is the one," Lauer said after the win. "The third one was kind of elusive. I got heads-up down in Florida – didn't get it. Made a couple of other final tables – couldn't get it. So, to actually get it feels amazing. Gotta keep going for more though – get four and five."
WSOPC Foxwoods Ring Winners
| Tournament | Entries | Prize Pool | Player | Prize |
| --- | --- | --- | --- | --- |
| Event #1: $400 NLH | 207 | $68,310 | Andrew Heckman | $16,566 |
| Event #2: $600 NLH 6-Handed | 92 | $47,380 | Andrew Lauer | $14,058 |
| Event #3: $600 NLH | 1,754 | $903,310 | Bob Ricciuti | $134,413 |
| Event #4: $400 NLH Turbo | 322 | $106,260 | Max Wiosna | $23,664 |
| Event #5: $600 NLH | 156 | $80,340 | Michael Zaino | $21,050 |
| Event #6: $400 NLH One-Day | 237 | $78,210 | Luke Graham | $18,364 |
| Event #7: $400 Omaha Hi/Lo 8 or Better | 124 | $40,920 | Darrell Lee | $11,143 |
| Event #8: $400 Monster Stack | 443 | $146,190 | Donald Devish | $29,969 |
| Event #9 $1,700 Main Event | 468 | $709,020 | Justin Carey | $143,293 |
| Event #10: $600 NLH | 141 | $72,615 | Kevin Lutz | $19,476 |
| Event #11: $3,250 High Roller | 44 | $132,000 | Dave Stefanski | $47,652 |
| Event #12: $250 NLH | 256 | $51,200 | Sean Carlson | $11,771 |
| Event #13: $400 NLH Turbo | 101 | $33,330 | Mark Amaral | $9,523 |
| $250 Seniors Event | 464 | $92,800 | Scott Robbins | $18,811 |
| $250 Ladies Event | 117 | $23,400 | Ashley Haller | $6,466 |
This wraps it up for the PokerNews coverage of the Main Event in Foxwoods, but tune into the High Roller as the final two are battling it out. Next stop is at the Ameristar Casino in the St. Louis area, where there will be full coverage of the $1,700 Main Event, so tune in for all of the action.
Level 33 : 100,000/200,000, 200,000 ante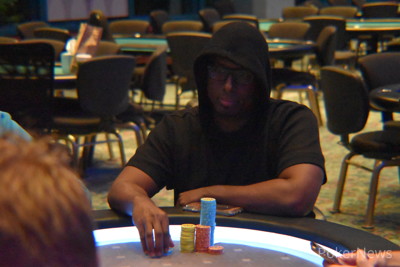 Justin Carey moved all in from the button and Maurice Hawkins snap-called for his last 2,850,000. The two tabled their cards in what could be the last hand of the night.
Maurice Hawkins:

Justin Carey:
The dealer fanned out
on the flop and Hawkins instantly stood up as Carey took the lead with his flopped eight.
A
landed on the turn and Hawkins needed a lady to keep his night going.
The river peeled off a
, failing to improve Hawkins as he was eliminated just one player short of ring number 14.
Level 33 : 100,000/200,000, 200,000 ante
Maurice Hawkins opened to 500,000 from the button, Justin Carey defended his big blind and the dealer fanned out
on the flop.
Carey check-called a bet of 200,000 from Hawkins and the
peeled off on the turn. Both players checked to the
river card and checked again to showdown. Carey tabled
for king-high and Hawkins mucked, sending another pot to the chipleader.
Level 33 : 100,000/200,000, 200,000 ante
Maurice Hawkins opened to 550,000 from the button and Justin Carey moved all in. Hawkins released and Carey took down the pot, adding yet another chunk of Hawkins stack to his own as he battles back.
Level 33 : 100,000/200,000, 200,000 ante
Justin Carey checked his big blind after Maurice Hawkins limped the button and the dealer spread out
on the flop. Both players checked to the
turn card and Carey then bet 200,000.
Hawkins called and the
hit the felt as a river card. Carey bet 700,00 and Hawkins quickly raised to around 1,550,000. Carey snap-folded, sending the pot to Hawkins.
Level: 33
Blinds: 100,000/200,000
Ante: 200,000
Level 32 : 80,000/160,000, 160,000 ante
Maurice Hawkins continues to apply pressure on Justin Carey, pushing him to his limits as he grinds down his stack.
Level 32 : 80,000/160,000, 160,000 ante
Maurice Hawkins used aggression to chip away at the stack of Justin Carey, evening out the fight and just hands after he took down a monster.
The turned board read
and there was around 800,000 in the middle. Hawkins checked to Carey, he bet 325,000 and Hawkins check-raised to 1,270,000.
Carey called after a moment of thought and the
completed the board. Hawkins instantly pushed in 2,100,000 and Carey folded, sending the biggest pot of heads-up play thus far to Hawkins.
Level 32 : 80,000/160,000, 160,000 ante
Justin Carey opened to 425,000 from the button, Maurice Hawkins pushed all of his chips into the middle, totaling around 3,500,000. Carey thought for a moment buit in the end, let the hand go to Hawkins.