The second stop of the 2019/20 World Series of Poker Circuit season has drawn its curtains and Billy Cashwell reigned victorious in the 1,057-strong $1,700 Main Event at Harrah's Cherokee Casino Resort. Cashwell came from behind to defeat Forrest Raleigh and capture his first WSOP Circuit ring along with $271,234.
When asked how it felt to win the title, Cashwell was at a loss for words: "Great. I've been out here for a while."
The North Carolina native has been playing for quite some time with his recorded cashes dating back to 2006. Cashwell came close to winning the same event back in 2017 when he finished in seventh place for his largest score of over $50,000, but now he has a new story to talk about.
In the final hand of the night, Raleigh pushed all in for his remaining 14 big blinds on the button and was called by the pocket fives of Cashwell. Despite Raleigh pairing up on the turn, Cashwell made a straight and the river was just a formality before Cashwell's arms went in the air.
With his first six-figure score under his belt, Cashwell says he plans on traveling outside of Cherokee in the future.
"Maybe a few more stops on the circuit," he said. That will include his return back to the Harrah's Cherokee in 2020 for the Global Casino Championship for the invite-only tournament as he's now got a seat as the result of his victory.
Final Table Results
| Place | Player | Hometown | Prize (USD) |
| --- | --- | --- | --- |
| 1 | Billy Cashwell | Stedman, North Carolina | $271,234 |
| 2 | Forrest Raleigh | Lawrenceville, Georgia | $167,637 |
| 3 | Thomas Alcorn | United States | $126,188 |
| 4 | Dann Turner | Cleveland, Ohio | $95,847 |
| 5 | Brad Albrinck | Cincinnati, Ohio | $73,467 |
| 6 | Martin Kozlov | Lysterfield, Australia | $56,832 |
| 7 | Rodney Seymour | Atlanta, Georgia | $44,373 |
| 8 | Shawn McClanahan | Abingdon, Virginia | $34,971 |
| 9 | Robert Georato | Naples, Florida | $27,822 |
Day 3 Action
The final day of the tournament began with 20 players returning to their seats and the action was slow-moving to begin the day. Only one player was eliminated in the opening level and 16 players still remained at the first break. Coming back from the break, Maurice Hawkins was one of the short stacks and got his chips in the middle with a small pair. Dann Turner called with ace-queen and spiked a queen on the river to deny Hawkins a shot at his 14th circuit ring.
It took until the level before the dinner break to reach the final table and Dinh Ba was the first to hit the rail to set up the official final nine. Thomas Alcorn appeared to be a runaway train with all of the chips and his momentum continued to eliminate Robert Georato in ninth place. Georato's shove for eight big blinds with pocket queens was called by Alcorn's queen-jack. Alcorn hit a runner-runner straight to climb to 10 million chips.
Shawn McClanahan was also sitting around eight big blinds and finally decided to stick the last of his chips in the middle with queen-three suited in the big blind. He was up against the king-jack from Turner and was unable to find any help on the board. That was when the tides turned for Alcorn as he lost consecutive monster pots to Raleigh, who took over a massive chip lead heading into the dinner break.
Once the players returned, Rodney Seymour sent a double up to Martin Kozlov which left him just one big blind. He was unable to spin it up from there and bowed out in seventh place. The double up didn't help Kozlov out for long as the blinds caught up with him as well. Despite flopping top pair, Kozlov was unable to hold on versus Raleigh's flush draw, leaving only five players left in the tournament.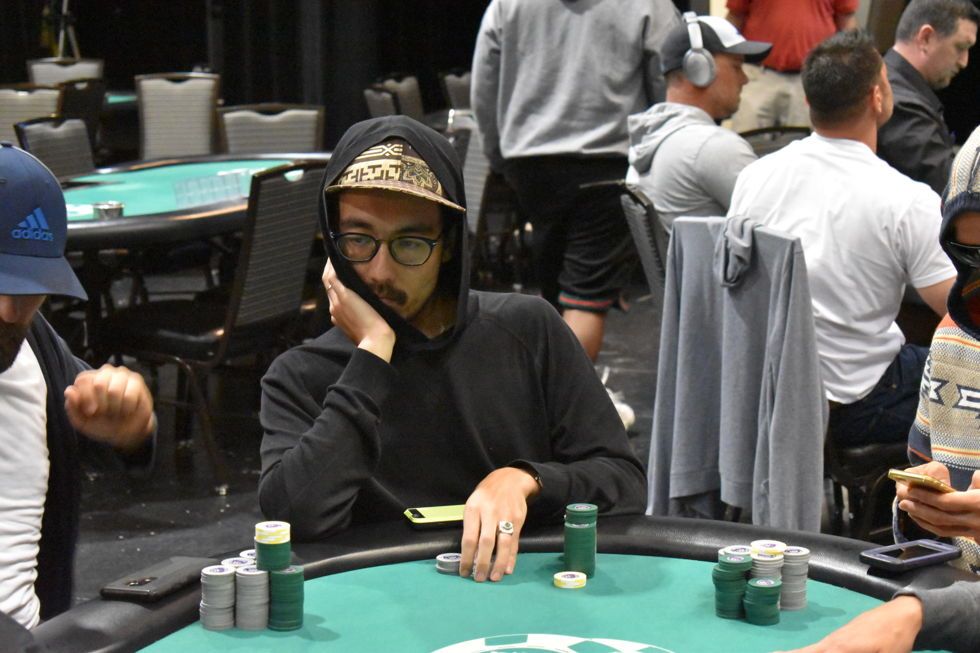 Brad Albrinck maneuvered his short to the best of his ability and laddered his way up a few pay positions. Finally picking up a pair of fives to go all-in with, Albrinck ran smack-dab into Alcorn's pocket jacks. Albrinck couldn't find the two-outer he was looking for and headed to the payout desk in fifth place. That left Turner on the short stack at the table and he was eventually all in for around six big blinds. He had the opportunity to triple up with calls from Alcorn and Raleigh. However, Alcorn flopped a set of sevens and Turner couldn't hit a heart on the river to make a flush.
The final three players decided to play some big pots with each other which led to a failed bluff attempt from Alcorn. Raleigh picked him off with trip aces and the next hand all of the chips got in the middle. Alcorn had a small pocket pair against two Broadway cards from Raleigh. When Raleigh made a full house on the turn, Alcorn was drawing dead which left Raleigh as a comfortable chip leader going into heads-up action.
Raleigh held on to the lead throughout much of the heads-up battle as he slowly picked away at Cashwell's blinds. Cashwell twice got all of his chips in the middle behind but managed to run out a win in one hand and chopped the other after being dominated. That turned the tables to set up a big comeback victory. Cashwell flopped top two pair and Raleigh turned a smaller two pair which sent Cashwell soaring into the chip lead for the first time. Just moments later, Cashwell's rail was celebrating his victory as things wrapped up after 11 hours of play.
Here's a look at all those who captured bracelets at Harrah's Cherokee:
| Event | Entries | Prize Pool | Winner | Prize |
| --- | --- | --- | --- | --- |
| Event #1: $400 Double Stack NLH | 813 | $268,290 | Eric Salazar | $48,618 |
| Event #2: $400 NLH | 2,766 | $912,780 | Tyler Phillips | $123,216 |
| Event #3: $400 NLH One-Day | 701 | $231,330 | Alex Duvall | $43,480 |
| Event #4: $600 NLH | 442 | $227,630 | Zachary Caldwell | $46,669 |
| Event #5: $400 NLH 6-Handed | 476 | $157,080 | Shadrach Tercy | $31,594 |
| Event #6: $600 Pot-Limit Omaha | 229 | $117,935 | Nicholas Mandikos | $27,907 |
| Event #7: $400 NLH | 1,667 | $550,110 | Joshua Martin | $83,373 |
| Event #8: $250 NLH | 523 | $104,600 | Emil Bise | $21,061 |
| Event #9: $1,125 NLH | 328 | $328,000 | Andrew Kelsall | $72,618 |
| $1,700 Main Event | 1,057 | $1,601,355 | Billy Cashwell | $271,234 |
| Event #11: $400 NLH One-Day | 408 | $134,640 | Bradley Batt | $28,177 |
| Event #12: $400 NLH One-Day | 545 | $179,850 | Jesse Jones | $34,986 |
| Event #13: $400 NLH Double Stack | 443 | $146,190 | Irene Carey | $29,968 |
Thanks to his win in Event #12: $400 NLH One-Day for $34,986, a runner-up finish in Event #9: $1,125 No-Limit Hold'em, and another small cash, Jesse Jones won the title of Casino Champion at Harrah's Cherokee. That means he also secured a seat into the 2020 Global Casino Championship.
That concludes PokerNews' coverage from the WSOPc Harrah's Cherokee but there are still plenty of tournaments taking place all around the world. The next WSOP Circuit stop will take place at Foxwoods Casino and we'll be back to capture the action from both the High Roller and Main Event.