Event Info
| | |
| --- | --- |
| Buy-in | €1,700 |
| Prize Pool | €1,103,500 |
| Players | 650 |
Level Info
| | |
| --- | --- |
| Level | 34 |
| Blinds | 150,000 / 300,000 |
| Ante | 300,000 |
Main Event
Day 3 Completed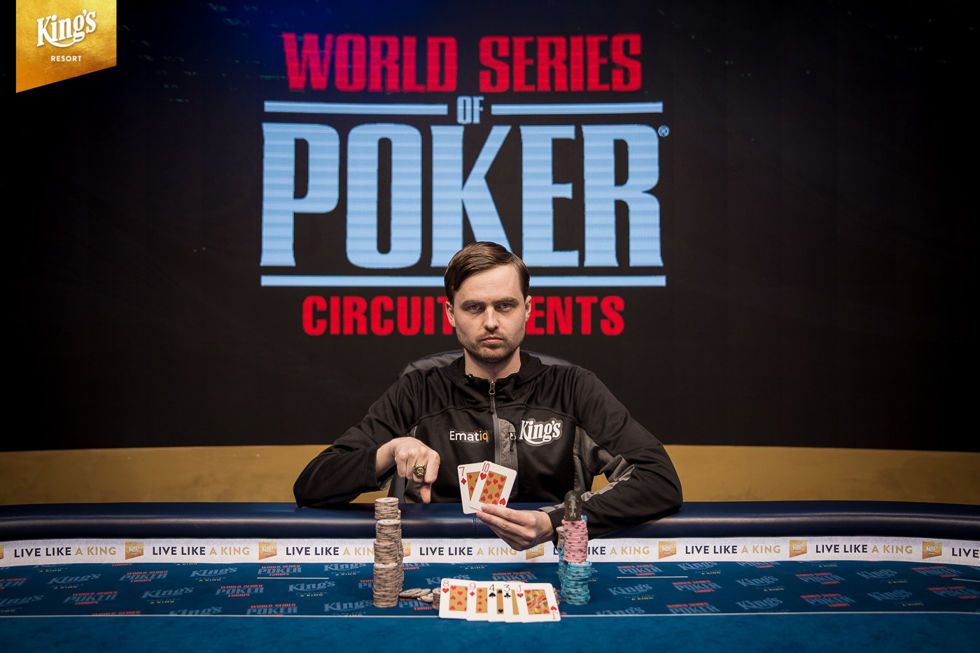 After almost seven levels of play, Martin Kabrhel has been crowned as the WSOP International Circuit Rozvadov €1,700 Main Event Champion. For his efforts over the past days, Kabrhel walked away with €190,000, a World Series of Poker Europe Main Event ticket, and his fifth WSOP Circuit Ring. The Main Event attracted 650 entries in total over the first 14 levels of registration which didn't surpass the guaranteed prize pool of €1,103,500.
Kabrhel's previous four rings and two bracelets were all won here at the King's Resort in Rozvadov, the Czech Republic and this cash is his second biggest here in what can be called his home town casino. This cash will take him over $8 million in live tournament cashes, according to the Hendon Mob, of which more than half has been won in WSOP events.
Another notable player who reached the final table is Martin Mulsow who finished in sixth place. Other players who made it through to the final day include Abdelhakim Zoufri, Marek Blasko and Gaga Gotsadze.
Final Table Results
| Place | Player | Country | Prize (EUR) | Prize (USD) |
| --- | --- | --- | --- | --- |
| 1 | Martin Kabrhel | Czech Republic | € 190,000* | $213,349 |
| 2 | Harry Ross | United Kingdom | € 110,000* | $123,518 |
| 3 | Jakub Oliva | Czech Republic | € 80,000* | $89,831 |
| 4 | Andreas Heider | Germany | € 64,500* | $72,426 |
| 5 | Robert Skopalik | Czech Republic | € 50,780* | $57,020 |
| 6 | Martin Mulsow | Germany | € 39,777* | $44,665 |
| 7 | Daniel Smiljkovic | Germany | € 29,951* | $33,632 |
| 8 | Raz Alon | Israel | € 20,881* | $23,447 |
* plus a WSOPE Main Event Ticket worth €10,350
Today's Action
At 2 PM local time, 23 players returned to the felt and the action was jam-packed from the start. As there were quite a few short stacks coming into the day, the all-in and calls kept coming in. Mulsow was the first one to double up when his pocket eights held against the ace-king of Paul van Oort. Milad Izadmousa was the shortest stack of all and found two double-ups within the first twenty minutes. Blasko did the same in the meantime over on one of the other tables. But the first elimination occurred about thirty minutes after play started when Salih Atac shoved with ace-four and was called by Raz Alon who had pocket jacks.
Patrice Brandt was next to go when he ran his ace-eight into the aces of Blasko. Less than ten minutes later, Gotsadze had to leave the stage even though he came into the day second in chips. Gotsadze four-bet shoved with pocket eights and was called by Jakub Oliva who held ace-king and turned the higher pair to take Gotsadze out. Vazha Kometiani and Simone Agnoletto were eliminated after him.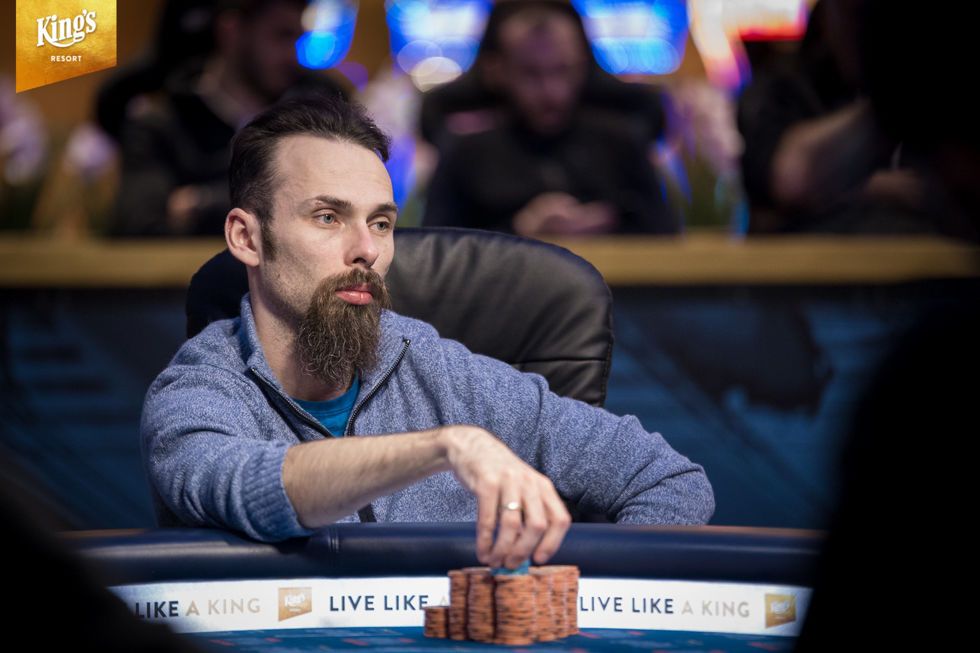 Tomasz Kozub was eliminated in a pot worth almost 6 million when in a three-bet pot the flop read ten-four-trey, Kozub continued with a bet which was called by Oliva who then also called Kozub's shove on the jack on the turn. Kozub had pocket queens but Oliva was ahead with two pair. Kozub bricked the river and was sent to the rail. Pierre Christensen won the PLO High Roller last week for his first WSOP Circuit Ring and could be heard from anywhere in the room when he doubled up as the Danish players were all shouting "Laba Laba" whenever one of them won a hand. Christensen couldn't win his last all-in with jack-nine when he was called by Oliva who held king-nine.
The field was reduced to the final two tables with Oliva in the chip lead. Serial Rozvadov-casher Blasko was sent to the payout desk shortly after the first break when Kabrhel managed to river a pair of jacks. A few minutes later, Pascal Roumier by the Day 2 chip leader Daniel Smiljkovic. Wissam Turkie burst the bubble last night when he eliminated Moreno Plozza in a straight flush over nut-flush situation but was sent home in 14th place by Kabrhel. 2017 WSOP Circuit Rotterdam High Roller winner Zoufri busted to Smiljkovic with jack-nine against Smiljkovic's ace-five. They both flopped a pair with Smiljkovic holding the higher one but Zoufri picked up a flush draw on the turn. Unfortunately for him, it never materialized.
Then it was time for Izadmousa to pick up his payout when his ace-ten couldn't win against the king-jack of Kabrhel. With eleven players left, there was a bubble as only the top ten players would be collecting a WSOPE Main Event ticket. Van Oort would be unlucky bubble boy in that sense as his pocket jacks were beaten by the ace-king of Kabrhel who hit trip kings in the end. Daniel Nielsen was eliminated by Harry Ross who held aces. Nielsen's pocket eights didn't give him any extra "laba laba" either and that was the end for the Danish contingent for today.
The unofficial final table started with an average of 36 big blinds but only three players had more than that. Oliva and Kabrhel both had more than double average after claiming most of the eliminations to their belt. Less than fifteen minutes after all remaining players were moved to the feature table, Philipp Luetkemeier was sent away in a three-way all-in pot. Robert Skopalik came out victorious with his pocket aces against the ace-queen of Luetkemeier and the tens of Oliva.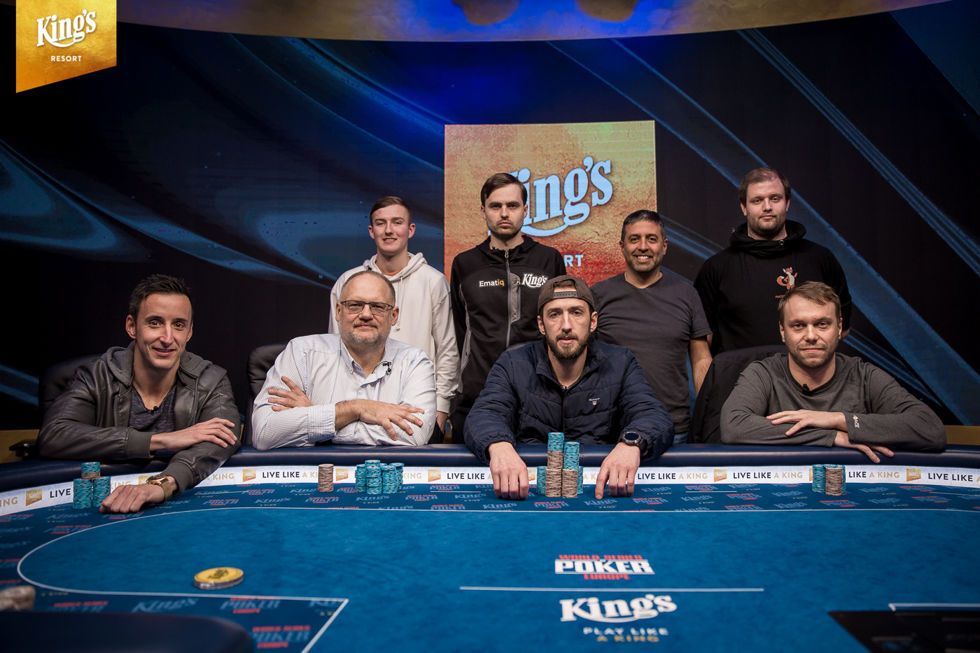 The Final Table Action
With eight players left, Alon busted with pocket nines against the tens of Kabrhel. And then it went quiet for a while, also thanks to the 30-minute dinner break in between. Almost two hours after Alon had busted, Smiljkovic, the Fuchsbau team member, couldn't win against Kabrhel either with his pocket kings. Kabrhel's ace-deuce found a deuce on the flop and an ace on the turn to deal the final blow to the German player.
The double-ups kept coming in for the short stacks but Mulsow got his last four big blinds in with queen-jack and Andreas Heider held pocket eights and they stayed ahead throughout the board. Kabrhel kept on putting pressure on the table and Skopalik called Kabrhel's shove with queen-trey for his last three big blinds. Kabrhel rivered a pair of tens to eliminate Skopalik in fifth place. Oliva doubled up three times before Heider failed to win his last all-in with king-nine while Kabrhel held ace-eight. Oliva then found his Waterloo when his was almost forced all-in on the big blind and called Kabrhel's bet on the river with his last remaining chips with two pair. But Kabrhel's flush was too good.
The heads-up affair between Ross and Kabrhel didn't last long. Ross first doubled up to about three big blinds but a few hands later it was really over for Ross. Kabrhel limped in with ten-seven to try and keep the game friendly and Ross checked with six-five. On the eight-nine-four flop, Ross threw in his last big blind and Kabrhel called with the open-ended straight draw. The turn gave Ross a straight draw too but jack on the river gave Kabrhel the nut-straight to close out the tournament for his fifth ring the first-place prize. Kabrhel and Ross hugged it out, posed for pictures with everyone who wanted to and then went their own way.
This concludes the coverage for the 2019 WSOP International Circuit festival here in Rozvadov. The PokerNews live reporting team want to thank you for following the updates and we'll see you in the summer during the 50th anniversary of the World Series of Poker in Las Vegas!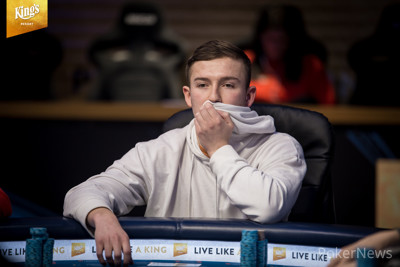 Martin Kabrhel found
on the button and decided to limp in. Harry Ross opted to check with
.
The flop came
on which Ross shoved for his last 300,000 or so. Kabrhel called.
Kabrhel had an open-ended straight draw while Ross needed some help.
The turn was the
which now gave Ross the deuce as an extra out to double but the
gave Kabrhel the straight to eliminate Ross in 2nd place for €110,000 and the WSOPE Main Event ticket. Kabrhel walks away with his fifth WSOP Circuit ring and €190,000 plus the WSOPE Main Event ticket which is to be used in October.
A full recap of today's action is to follow.
| | | | | | |
| --- | --- | --- | --- | --- | --- |
| Martin Kabrhel | | | | 32,500,000 | 975,000 |
| Harry Ross | | | | Busted | |
Harry Ross shoved for 375,000 on the button and Martin Kabrhel called.
Harry Ross:

Martin Kabrhel:
The board ran out
for Ross to flop a pair of treys to double up.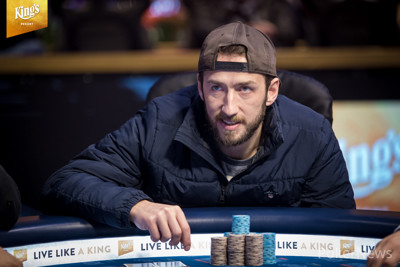 Martin Kabrhel found
on the button after considering all his options decided to limp in. Harry Ross found
in the small blind and opted to fold. Jakub Oliva held
in the big blind and decided to check.
The flop came
, they both checked through to the
on the turn which they both checked again. The river completed the board with the
to give Kabhrel a flush. Kabrhel bet and Oliva called with two pair, fives and fours, but saw he was not winning and was eliminated in third place.
| | | | | | |
| --- | --- | --- | --- | --- | --- |
| Martin Kabrhel | | | | 31,525,000 | 3,400,000 |
| Jakub Oliva | | | | Busted | |
Martin Kabrhel put in a bet to put both of his opponent all-in and Harry Ross called in the small blind for 275,000.
Harry Ross:

Martin Kabrhel:
The board ran out
for Ross to hit a flush on the river to stay alive.
| | | | | | |
| --- | --- | --- | --- | --- | --- |
| Jakub Oliva | | | | 1,325,000 | -1,650,000 |
| Harry Ross | | | | 825,000 | -575,000 |
Martin Kabrhel has been putting the pressure on Jakub Oliva and Harry Ross by putting them all-in most of the time but no showdowns have taken place over the past twenty minutes.
| | | | | | |
| --- | --- | --- | --- | --- | --- |
| Martin Kabrhel | | | | 28,125,000 | 4,125,000 |
| Jakub Oliva | | | | 2,975,000 | -3,750,000 |
| Harry Ross | | | | 1,400,000 | -375,000 |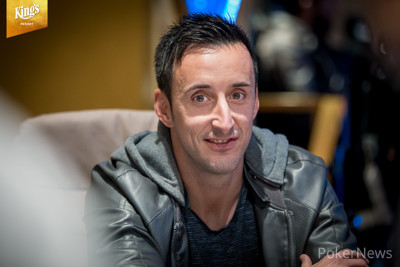 Martin Kabrhel put 10 million in to put the blinds all-in from the button and only Heider called to put his tournament life at risk from the big blind.
Andreas Heider:

Martin Kabrhel:
The board ran out
for them both to flop a pair with Kabrhel ahead with the higher pair of aces throughout the rest of the board to eliminate Heider in fourth place.
| | | | | | |
| --- | --- | --- | --- | --- | --- |
| Martin Kabrhel | | | | 24,000,000 | 2,125,000 |
| Andreas Heider | | | | Busted | |
Level:

34
Blinds:

150,000/300,000
Ante:

300,000
| | | | | | |
| --- | --- | --- | --- | --- | --- |
| Martin Kabrhel | | | | 21,875,000 | 375,000 |
| Jakub Oliva | | | | 6,725,000 | -500,000 |
| Andreas Heider | | | | 2,150,000 | -2,000,000 |
| Harry Ross | | | | 1,775,000 | 775,000 |