Event 17 - $1,000 Ladies No Limit Holdem
Days: 1
Event 17 - $1,000 Ladies No Limit Holdem
Day 1 Completed
Play has been suspended for the day. We will continue our coverage of this event from 2pm PDT.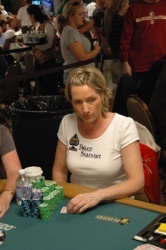 Katja Thater has run her stack up to 90,000.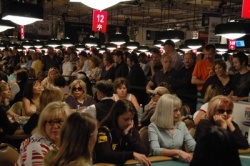 There are lots of "Ooohs" and "Aaahs" coming from the Ladies event as players are busted out. There is a lot of camaraderie between the ladies. It has been a long day and the tension has definitely been relieved now they are in the money and the end of the day is near.
Kathleen Gliva has just taken down a 32,000 pot, taking her stack to just over 130,000.

Heavily dominated holding A-Q against an all-in player's A-K, she got very lucky when a queen flopped to give her the pot, and the chip lead.
90th - Avelyn Navarro
91st - Katherine Jacobson
92nd - Donna Dicrescento
93rd - Judy Ghilotti
94th - Tonia Williams
95th - Sylvia Sanchez
96th - Amber Chatwin
97th - Lana Maier
98th - Danette Cicillini
99th - Gioia Shelden
We will play for another 40 minutes, until 2am PDT, when play will cease for the evening. We will resume coverage from 2pm PDT tomorrow.
Level: 11
Blinds: 1,000/2,000
Ante: 300