Event 42 - $1,000 Seniors No-Limit Hold'em World Championship
Day 1 Completed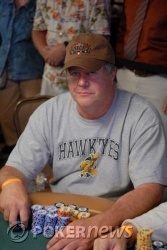 220 players have made it through to Day 2 of Event 42, $1,000 Seniors No-Limit Hold'em World Championship. The overnight leader following the ten levels of Day 1 play is Duane Gerlman at 139,800 in chips. The top ten also includes 'Captain' Tom Franklin and Men 'The Master' Nguyen, with the complete top ten as follows:

Duane Gerleman 139,800
Steve Fager 101,700
Dale Eberle 86,200
Tom Franklin 84,100
Men Nguyen 81,500
Dempster Ross 75,800
Avery Cardoza 73,100
Ralph Wetterhahn 70,800
Gregory Alston 69,000
Lonnie Boeding 68,500

Action moves to the Brasilia Room tomorrow for this event's 2pm PDT Day 2 restart. We'll have the latest from the scene, first as the players move through the 198-player money bubble, then as they close in on a final table.
Day 1 of this Seniors World Championship started with 2,218 players hungry to take their place in WSOP history. History was made as this event will mark the largest turnout for a seniors event ever. 220 players will return tomorrow to take their shot at a payday, and possibly a final table. Duane Gerleman finishes the day as the apparent day one chip leader.

Action will resume tomorrow at 2 p.m. in the Brasillia room. Join us tomorrow for all the exciting action.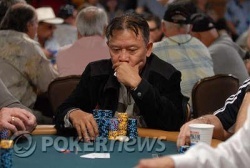 Men "The Master" Nguyen has ended the day on a high note, after cracking his opponent's pocket aces on the final hand of the day.
Nguyen was all in with
against his opponent's
. The board ran out
to give Nguyen the straight, much to the shock of his opponent and the other players on the rail.
His opponent trudged off to the exit in dismay, as Nguyen will carry plenty of momentum into day two with over 80,000 chips!
Lee Grove has just doubled up late in the day with
against an opponent's
when the board ran out
. Grove will end play with around 18,000 chips.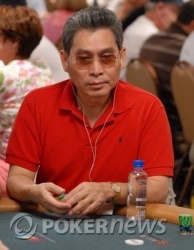 Tony Ma raised it up preflop to 3,600 and found one caller. The flop came
and Ma moved in for his last 10,000. His opponent made the call and tabled
as Ma held the lead with
.
The turn was a scary one for Ma as the
gave his opponent additional flush outs, but the river was the
and Ma doubles through to sit with around 30,000 chips.
Marsha Waggoner was all in preflop and received a call. Waggoner held
and her opponent held
. The board helped neither player and Waggoner doubled up to 23,000.
Men "The Master" Nguyen has claimed another victim holding
on a board of
. His opponent held
but couldn't better Nguyen's straight as he eliminated within sight of a Day 2 berth.
"The Master" is now up to 82,000 and will be in great shape to make a deep run in this event tomorrow.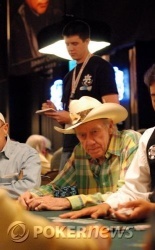 PokerNews field reporter Neil Fray (pictured here) stands 6' 6" tall and when he arrived to check out the action at Amarillo Slim's table, the following conversation took place:

Slim: "How tall are you?"

Fray: "Six foot, six"

Slim: "You play basketball?"

Fray: "Ya."

Slim: "Think you can beat an old man at shooting free throws?"

Another player at the table then chimed in, "That sounds like a prop bet to me."

For the next couple of minutes the table drilled Fray about his free throw percentages in high school and about his free throw ability in general.

Slim then told the table, "How much you want to put up? I bet I can put up more than any of you. The kid gets 10% of the winnings."

Nobody has taken Slim up on the bet as of yet, but the discussion at the table continues.
Level:

10
Blinds:

600/1,200
Ante:

100