Event 45 - $50,000 H.O.R.S.E. World Championship
Day 3 Completed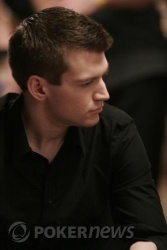 The WSOP has now released official end-of-Day-3 chip counts for the 24 players remaining in Event 45, the $50,000 H.O.R.S.E. World Championship. Michael DeMichele leads the way with 1,351,000 in chips, with Barry Greenstein and Daniel Negreanu close behind. The 24 remaining players, in chip-count order:

Michael DeMichele 1,351,000
Barry Greenstein 1,311,000
Daniel Negreanu 1,226,000
Ralph Perry 1,043,000
Scotty Nguyen 1,033,000

Lyle Berman 939,000
Patrick Bueno 806,000
David Bach 801,000
Doyle Brunson 777,000
Michael Mizrachi 701,000

Joseph Michael 647,000
Matt Glantz 521,000
Erick Lindgren 485,000
Mike Wattel 474,000
Raymond Davis 438,000

Andy Bloch 421,000
Farzad Bonyadi 365,000
Gabe Kaplan 360,000
Brandon Adams 290,000
Edwin Ting 261,000

Huck Seed 190,000
James Mackey 151,000
Phil Ivey 145,000
Chad Brown 81,000

Day 4 action in Event 45 begins at 3pm PDT on Saturday. First, the 24 players will work down to the 16-player money bubble, and then from there it's more play, down to the eight-player final.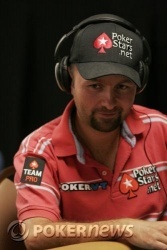 Having reached 24 players and our final three tables, play has stopped for the night with one hour and 20 minutes remaining in Level 17. Action will resume tomorrow at 3 p.m., and we'll play down to a final table of eight.

Michael DeMichele, Daniel Negreanu, and Barry Greenstein lead the field with over a million in chips each. Huckleberry Seed, Chad Brown, and Phil Ivey are the short stacks. Official chip counts and seating assignments will be posted as soon as they become available.

Join us tomorrow at 3 p.m. PDT for continuing coverage of the $50,000 H.O.R.S.E. event. From the Rio in Las Vegas, that's a wrap!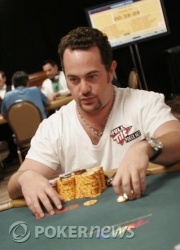 Razz:
David Oppenheim: (X-X)
(X)
Mike Wattel: (X-X)
(X)
Mike Wattel completed on third street and David Oppenheim called. Oppenheim led out on every street and was called down. On seventh, Oppenheim bet out all but his last 1,000 chip and Wattel raised. A visibly distressed Oppenheim tanked for several minutes over the call, bending and flicking his cards in anguish before finally tossing the chip in.
Wattel showed
in the hole for a 7-6 low and Oppenheim mucked. After the hand, Wattel was up to 465,000.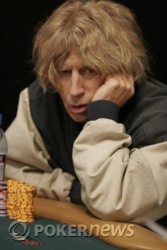 Razz:
A short-stacked Mickey Appleman was all in on third street against Raymond Davis. When all the cards were dealt, Raymond's hand was almost bulletproof as he ended up with a (X)
.
Appleman was drawing dead by sixth street and stood up and walked away. He finished with a (
) (
) (
)
and was eliminated.
With just 26 players remaining, here is how the players are seated.

Table 1

Seat 1: Patrick Bueno
Seat 2: Ralph Perry
Seat 3: Mickey Appleman
Seat 4: Doyle Brunson
Seat 5: Brandon Adams
Seat 7: Raymond Davis
Seat 8: Joseph Michael

Table 2

Seat 1: Chad Brown
Seat 2: Farzad Bonyadi
Seat 3: Barry Greenstein
Seat 4: James Mackey
Seat 5: Daniel Negreanu
Seat 6: Gabe Kaplan
Seat 7: Erick Lindgren

Table 3

Seat 1: Lyle Berman
Seat 2: Matt Glantz
Seat 4: Scotty Nguyen
Seat 5: Edwin Ting
Seat 6: David Bach
Seat 7: Huckleberry Seed

Table 4

Seat 1: Phil Ivey
Seat 2: Mike Wattel
Seat 4: Michael DeMichele
Seat 5: Michael Mizrachi
Seat 6: David Oppenheim
Seat 7: Andy Bloch
Level:

17
Blinds:

0/0
Ante:

0
Cards are back in the air.
Play will resume in 20 minutes.
Razz:
David Oppenheim: (
)
(
)
Andy Bloch: (
)
(
)
Oppenheim was all in vs. Bloch on fourth street and made 10-4-3-2-A, besting Bloch's J-8-7-5-3 to double his stack to 152,000.