Event 48 - $2,000 No Limit Hold'em
Day: 1
Event 48 - $2,000 No Limit Hold'em
Day 1 Completed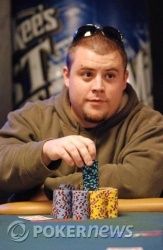 After the opening day's action in Event 48, $2,000 No-Limit Hold'em, 198 players remain, all of whom have now made it into the money. Day 2 will see the winnowing down of the field to the final table, with Eric Crain a leg up on the other 197 would-be finalists. Craig is stacked at 253,500 in chips entering Day 2 play. Here are the top ten players from Day 1 action:

Eric Crain 253,500
Sergey Rybachenko 214,700
Sean McCabe 206,600
Vincent Dulac 181,100
Denis Limon 178,000
Kham-Ar Aythavone 131,300
Gerald Watterson 126,600
Marco Johnson 124,700
Van Dung Nguyen 123,900
Guy Gorelik 120,000

Play resumes at 2pm PDT on Saturday in the Brasilia Room. Join us here at PokerNews for the latest reports.
2,317 players started this $2,000 NL event. We have 198 players who will return tomorrow to make their march to the final table. Eric Crain finishes as the apparent Day One chip leader, but several players are right on his heels. Action will resume tomorrow at 2 p.m. PDT in the Brasilia Room. Join us here for all the exciting action.
In a shocking display of reckless aggression at the bubble, the following hand occurred:

An early-position player raised to 4,400 and Vincent Dulac raised to 16,400. Dulac's opponent then reraised all in and Dulac instantly called.

Dulac held
and his opponent held
.

The board came
and Dulac's opponent went home as our bubble boy.

After the hand, Dulac moved up to 180,100 in chips.

There are two sayings that are very applicable to poker. The first is, "Aggressive poker is winning poker." The other is, "Speed kills."
We're now offically on the bubble with 199 players remaining. The next player eliminated will go home with nothing but a story to tell as the other 198 players will sleep well knowing that they are guaranteed at least $3,795.
Sean McCabe raised it up preflop to 4,500 from under the gun before Alan Jaffray moved all in over the top for 35,000. McCabe quickly called as a player asked him, "Do you have aces?"

The answer was, "Yup" as he tabled
. Jaffray sighed in disbelief knowing that he had just been severely cold-decked with his
.

The board landed
and McCabe moves up to 190,000 as Jaffray is eliminated from the event.
Kirill Gerasimov was all in preflop and called by the big blind. Gerasimov had
and his opponent
.

Board:


The turned three allowed Gerasimov to double up to 30,000 in chips.
Bryan Devonshire had all of his chips in the middle with his tournament life on the line but was holding
to be in good shape against his opponent's
.

The board arrived
to make Devonshire a full house to double up to 44,000.
Level: 11
Blinds: 800/1,600
Ante: 200
Players have returned from break.