Event 9 - $1,500 No-Limit Hold'em / Six-Handed
Day 2 Completed
The WSOP has now released the official chip counts for Saturday's final table in Event #9, $1,500 No-Limit Hold'em / Six-Handed. John Conkright leads the way into the final, which begins at 2pm PDT. The six finalists:

John Conkright 997,000
Michiel Brummelhuis 883,000
Rep Porter 732,000
Nathan Templeton 449,000
Devin Porter 357,000
Anthony Shilyuk 310,000
With the elimination of Dave Zand in seventh place, the final table of Event #9 - $1,500 No-Limit Hold'em / Six-Handed is set. Returning tomorrow will be:

John Conkright
Michiel Brummelhuis
Rep Porter
Nathan Templeton
Anatoly Shilyuk
Devin Porter

The final table starts at 2 pm PT. Join us!
Short-stacked Dave Zand moved all in in the big blind with
and was called by Devin Porter, who raised preflop with
.
The board brought no help to Zand and he was out in seventh.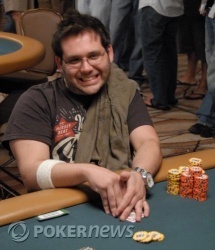 Dave Zand is on life support. After Nathan Templeton raised to 28,000 from the cutoff, Zand (on the button), Devin Porter, and John Conkright all made the call. A highly coordinated flop of
came down, and the table tensed for fireworks.
Porter checked to Conkright, who bet 100,000. Templeton folded over to Zand, who raised to 325,000. Porter, who later said he folded A-J, agonized for about 20 seconds before folding. Conkright quickly jammed the rest of his stack in the middle and Zand, with about 200,000 behind, made the call.
Conkright:
Zand:
Trips for Conkright against Zand's open-ended straight flush draw. The turn
made a full house for Conkright, but Zand was still drawing live to a straight flush. The river
made him a straight, but it wasn't enough.
After counting down Conkright's stack and paying him off, Zand is left with only 30,000 in chips.
For the final seven, seat assignments and chip counts are as follows:

1 - Dave Zand - 585,000
2 - Devin Porter - 304,000
3 - John Conkright - 510,000
4 - Rep Porter - 660,000
5 - Michiel Brummelhuis - 740,000
6 - Anatoly Shilyuk - 350,000
7 - Nathan Templeton - 565,000
With four players remaining on one table and three on the other, play has now consolidated to one seven-handed table. Once we lose one more player, we are done for today.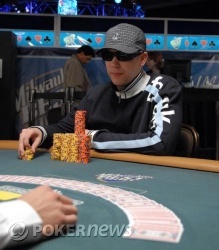 We missed the preflop action, but John Conkright was all in against Kevin MacPhee. Conkright held the red queens; MacPhee held the black eights. There was no help for MacPhee on a board of
, and after the dealer counted down Conkright's stack, MacPhee was left with only 70,000.
"You've been a thorn in my side all day," MacPhee said to Conkright. "Nice hand."
The remainder of MacPhee's stack went in the middle a few hands later on a jack-high flop. His
was behind Nathan Templeton's pocket kings and did not improve. MacPhee earned $36,442 for his exploits.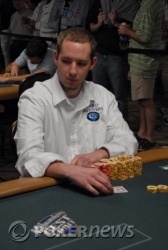 Andrew Fegan, a CardRunners.com intern playing in his first WSOP event, was eliminated in ninth place by Rep Porter.
Fegan, who is working the booth for the website, was out-kicked in a big hand against Rep Porter.
Fegan raised 28,000 before the flop and was called by Porter. The flop came
and Porter checked to Fegan who bet 35,000. Porter called. The turn was the
and Fegan shoved his last 150,000 and got a call from Porter, who showed
to Fegan's
. The
came on the river and Fegan was out in ninth.
Fegan's internship pays around $250 a week. He'll take $28,006 for two days of work.
Level:

17
Blinds:

5,000/10,000
Ante:

1,000