How Loh Can You Go?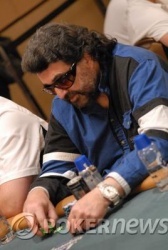 Paul Loh raised from late position to 1,500. Paul "Eskimo" Clark made it 4,000 from the small blind and Loh called.

The flop came down
with two diamonds. Clark checked and Loh bet 5,000. Clark then raised to 11,000. Loh announced, "All in," and Eskimo made the call.

Clark:

Loh:


According to some players at the table, the turn was a blank and then the river smacked another queen on the board for Loh.

"That's just sick. That's just sick," said Eskimo as he got up and left the tournament area.