39th Annual World Series of Poker Main Event
Day: 6
39th Annual World Series of Poker Main Event
Day 6 Completed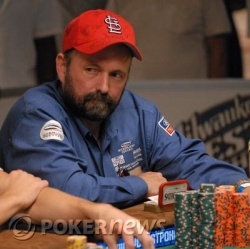 With only 27 players' chip stacks to confirm, WSOP officials have quickly compiled the official chip counts as of the end of Day 6. Dennis Phillips, stacked at 11,910,000, holds a narrow lead over Craig Marquis, with PokerNews' own Tiffany Michelle in third. The complete standings after Day 6 play:

Dennis Phillips 11,910,000
Craig Marquis 11,460,000
Tiffany 'Hot Chips' Michelle 9,755,000
Peter Eastgate 9,325,000
Kelly Kim 8,840,000
David 'Chino' Rheem 8,280,000
Gert Andersen 6,740,000
Paul Snead 6,600,000
Chris Klodnicki 6,245,000
Toni Judet 5,000,000
Ivan Demidov 4,965,000
Nicholas Sliwinski 4,925,000
Joe Bishop 4,855,000
Brandon Cantu 4,740,000
Darus Suharto 4,510,000
Scott Montgomery 4,320,000
Owen 'ocrowe' Crowe 3,800,000
Albert Kim 3,675,000
Ylon Schwartz 3,655,000
Jason Riesenberg 3,405,000
Anthony Scherer 2,385,000
Dean Hamrick 2,375,000
Tim Loecke 2,280,000
Aaron Gordon 1,790,000
Niklas Flisberg 1,330,000
Phi Nguyen 1,020,000
Michael Carroll 1,015,000

Day 7 of the WSOP Main Event will see these 27 players battle down to the last nine, who will then return in November for the finale. Action resumes at noon PDT from the Amazon Room at the Rio, and PokerNews will be on hand with the latest big hands and bustouts. Day 7 seat assignments will be posted within the hour in the "Day 7" blog.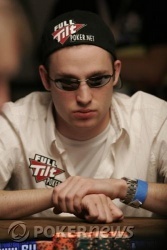 Exactly 6,844 players -- amateurs and professionals, rookies and grizzled veterans, from 21 to 95 years of age -- put up $10,000 and took their shots at the 2008 WSOP Main Event. Most of them went home empty-handed with nothing more than a few stories to tell. 666 of them left the Rio with at least some cash in their hands. Now only 27 remain, each of them boasting a nearly quarter-million dollar guaranteed payday.

The two marquee names left in the tournament both saw their Main Event come to an end today. Phil Hellmuth made his exit in 45th place when A-Q failed him for the fourth year in a row, while Mike Matusow was eliminated in 30th place when his A-J flopped trips, but could not fade the nine on the turn that made Paul Snead a full house.

Also eliminated today were top online players Garrett "GBecks" Beckman, Adam "Roothlus" Levy, and David "Raptor" Benefield.

Craig Marquis ended the night as the chip leader with over 11 million, with Dennis Phillips close behind. Tiffany Michelle holds the third spot with a 9.9 million stack.

As always, official chip counts and seating assignments will be posted as soon as they become available.

Join us tomorrow for our final day of WSOP Main Event Coverage, where the field will thin from 27 players to the "November Nine" who will return this fall to play down to a winner.

From the Rio in Las Vegas, that's a wrap!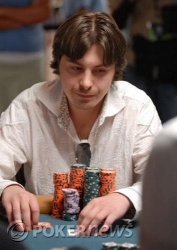 Nicholas Sliwinski and Nikolay Losev have been sparring all night long and their final confrontation is our final hand of the night. Again the action was folded around to Sliwinski in the small blind, and this time he chose to simply call. Losev was having none of that--he raised to 775,000. Sliwinski then moved all in, meaing Losev had to decide whether to call for his last 700,000.

After tanking a bit Losev made the call, and his
were up against Sliwinski's
. Losev had two live cards but the board ran out
and Nikolay Losev was our last elimination of the night, finishing in 28th place. When play resumes tomorrow Sliwinski will have a 4.9 million stack waiting for him.
Peter Eastgate opened for 235,000, Tim Loecke called from the cutoff and Nikolay Losev called from the small blind. The flop was
. Losev checked, Eastgate bet 375,000, Loecke called and Losev folded. The turn was the
. Eastgate bet 675,000 and Loecke mucked his cards. Eastgate raked in the pot.
The action was folded around to Nicholas Sliwinski in the small blind and he raised to 240,000. Nicolay Losev moved all in for 3.25 million and Sliwinski said, "If I'm going home, I'm going home." He called, and found that his
was indeed ahead of Losev's
.

The flop came
and the turn the
. "Don't do me dirty," Sliwinski said to the dealer, and on the river the
fell and Sliwinski's hand held up. He now sits with 3.45 million while Losev is down to 1.66 million.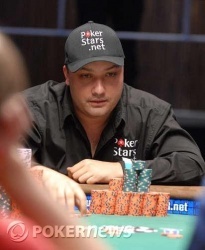 Ivan Demidov raised to 225,000 from middle position and Joe Bishop called from the cutoff. When action got to Cristian Dragomir in the small blind, he moved all in for just over 1,500,000.

Demidov folded but Bishop called instantly. The players showed:

Bishop:

Dragomir:


Dragomir was in bad shape and needed help from the community cards to stay alive. After multiple dramatic pauses for the sake of the television cameras, the board finished
and Dragomir's hand was second-best. He was eliminated in 29th place and pushed his chips over to Bishop, who now sits on about 3,800,000 in chips.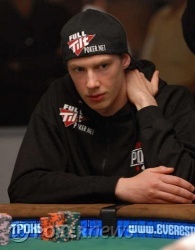 Craig Marquis opened with a raise to 225,000 and David Rheem made the call. Aaron Gordon then moved all in for 755,000 in total with both opponents making the call.

With two live players, the board of
was checked down, with Gordon showing
as the best hand! He triples up to about 2.7 million to stay alive!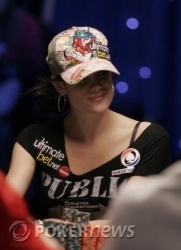 Albert Kim opened with a raise under the gun to 225,000 and Tiffany Michelle made the call in middle position.

The table folded and the two saw a flop of
. Kim checked and Michelle fired out 350,000. Kim made the call.

The turn was the
and Kim checked again to Michelle who bet out 500,000. Kim beat her into the pot to make the call.

The river of the
was checked down by both players. Michelle showed
to take down the pot. She is now up to over 8.5 million chips.
Level: 28
Blinds: 40,000/80,000
Ante: 10,000