Event 23 - $10,000 World Championship No Limit Deuce to Seven Draw
Day 2 Completed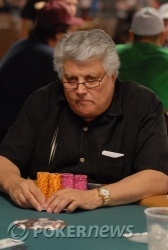 57 players returned to the Amazon Room this afternoon to play down to a final table of seven. Well, we didn't exactly get there as ten players still remain in Event #23, and play has been halted with 37 minutes remaining in Level 19.

Defending champion Mike Matusow was eliminated earlier in the day along with a list of poker luminaries including Phil Ivey, Howard Lederer, Freedy Deeb, Daniel Alaei, and Andy Bloch. Though Roland De Wolfe entered the day as the chip leader, he finished up as the short stack, with 102,000 remaining. The Day 2 chipleader title lies with Vince Musso, who will return tomorrow with 765,500. Remarkably, Steve Sung made his way into the final ten, despite starting the day with only 6,100 in chips.

Here's a look at how our final ten stack up:

Vince Musso 765,500
Ville Wahlbeck 487,000
John Juanda 387,000
Nick Schulman 300,000
Archie Karas 264,500
Steve Sung 212,500
David Benyamine 139,000
Justin 'BoostedJ' Smith 122,500
Michael Binger 108,000
Roland de Wolfe 102,000

After a rousing protest from some exhausted players, our start time will be at 2 p.m. tomorrow rather than 1. Join us then for continuing coverage and until then, from the Rio in Las Vegas, good night and good luck.
John Juanda opened for 30,000, Hertzel Zalewski moved all in for 86,500 on the button and Juanda called. Juanda was pat while Zalewski drew one.

Juanda turned up T-8-7-6-4. Zalewski paired his seven on the draw for 7-7-4-3-2 and hit the rail in 11th place.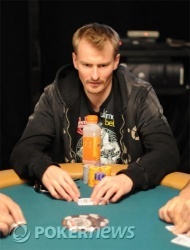 We finally had a little spot of excitement on Orange 76. Michael Binger moved all in before the draw for 96,000 and was called in position by Archie Karas. Each player drew one and then opened their hands.

Binger: 7-6-4-3
Karas: 7-5-4-2

Binger opened first, pulling a ten. Karas didn't bother to sweat his card. He just flipped it, revealing a pairing deuce. The dealer pushed Binger the pot, doubling him up to about 210,000.
Level:

19
Blinds:

5,000/10,000
Ante:

3,000
23 more minutes of play before we bag and tag.
It appears that option B has won. We'll be back in five.
Vince Musso is the outsider at his table. He's doing his best to make friends (and maybe gather some information and reads).

"Where's everybody from?" Musso asked. The answers were:

Justin Smith - Florida
Steve Sung - Bakersfield, CA
Nick Schulman - New York
Roland de Wolfe - London
David Benyamine - "French Las Vegas"

A few minutes later, Nick Schulman asked David Benyamine, "Did you know Huck's Jewish?" When Benyamine replied no, Schulman added, "Yeah. 100%."

Not much else doing on Orange 77. Roland de Wolfe has reraised all in a few times with no call.
The dealers are still dealing, the players are still betting, but all the verbal activity over the last ten minutes has involved a debate over whether:

a) They should play to the end of the level and take the regularly scheduled 20-minute break.

b) They should play to the end of the level and take an abbreviated 5-minute break

c) They should stop for the night altogether at the end of this level

d) They should play past 3 a.m. until we reach the final table

We'd love to tell you what has been decided but the debate is... ongoing.
Det. T.J. Cookier may not be on the case, but David Benyamine is!

Benyamine just asked the floor exactly what the procedure was when last week's deuce-to-seven event got down to nine players. The answer? They played one table of four and another of five and moved a player between tables every half hour.