Event Info
Level Info
| | |
| --- | --- |
| Level | 27 |
| Blinds | 40,000 / 80,000 |
| Ante | 0 |
Greg Mueller: 3.8 million
Pat Pezzin: 1.75 million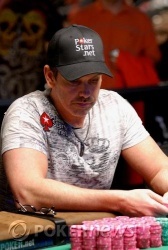 Chad Brown raised on the button and Greg Mueller reraised out of the small blind. Back to Brown who four-bet all in -- and a call.
Brown:
Mueller:
Board: a straightalicious
Thus to shouts of "Sui!" from Mueller's railers, Brown is our third place finisher, and at long, long last, we are heads up.
Wow, Pat Pezzin is making a real comeback here.
He raised from the button and was called by Greg Mueller in the big blind which left them staring at a
flop. They both checked.
Mueller checked the
turn too and Pezzin bet; Mueller called and they looked down at
river. Mueller checked once more and insta-called the bet from Pezzin -- but Pezzin showed him
for the straight, and Mueller mucked.
Pezzin's now up to 1.7 million, with Mueller still leader on 3.3 million and Chad Brown down to a piddling 450,000.
Most unusually, Pat Pezzin limped in on the button and Chad Brown raised from the small blind. Call.
Brown bet out on the
flop and the
turn and got himself called by Pezzin, and finally Brown check-called the
river. Pezzin turned over
and is up 1.2 million; Brown meanwhile is our new short stack on 900,000.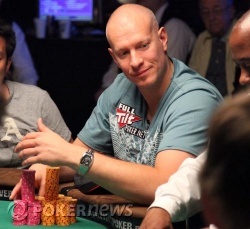 Greg Mueller has extended his chip lead to 3.6 million -- well over half the chips in play -- after his
hit the river of the
board; Brown just mucked and is down to 1.1 million.
Greg Mueller: 3 million
Chad Brown: 1.65 million
Pezzin: 930,000
Level:

27
Blinds:

40,000/80,000
Ante:

0
Back shortly.
This tournament may never end.
Last hand before the break, and it's a full double up for Pat Pezzin to 950,000.
Chad Brown raised the button and Pezzin called in the big blind.
Come the
flop Pezzin check-raised and then called all in to a reraise. Brown had top pair with
but Pezzin had a flush draw and a gutshot with
, the latter of which came in on the
turn. An irrelevant
on the river, and Pezzin was up to 950,000, Brown down to 1.55 million.
Mr Daniel Negreanu has appeared to rail.

Drunk railer: "Daniel, you're the best player ever!"

Negreanu: "Thank you. I disagree, but thank you. Have you ever seen Phil Ivey? He's scary."

Drunk railer: "Ok, you're the best Canadian player ever."

Negreanu: "Oh, screw that."