Event 52 - $3,000 Triple Chance No Limit Hold'em
Day: 3
Event 52 - $3,000 Triple Chance No Limit Hold'em
Day 3 Completed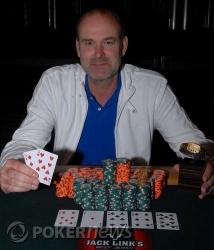 Play began a few days ago with 854 entrants for Event No. 52, $3,000 Triple Chance No-Limit Hold'em. Some of the notables included James Van Alstyne, Kathy Liebert, Michael Mizrachi, Sandra Naujoks, Jeff Lisandro, and John Juanda. All of those players fell before reaching the final day, which only 16 players remained. Among that group was Jorg Peisert from Dusseldorf, Germany.

Peisert began the day with 477,000 chips and sixth in chips. As the day wore on, he never seemed to be in jeopardy of busting out and won most, if not all, of the key hands he was involved in. One by one, players from the final table were busting out, but Peisert kept climbing the ranks. He won one big hand by making his eventual heads-up opponent Jason DeWitt muck to move to over two million chips and then took another big pot off Michael Katz to move to over three million in chips. Once over three million, Peisert never looked back.

When play got down to heads up, Peisert held a massive lead with the majority of chips in play. A few hands later, it was all said and done with DeWitt coming in second place. For the win, Peisert earned himself $506,800 and his first WSOP gold bracelet!

Thanks for sticking with us throughout the coverage and be sure to stay tuned to PokerNews for all of the live coverage from the 2009 WSOP!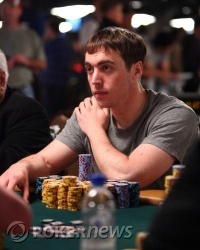 Jason DeWitt had been ground all the way down to about 600,000 chips before the final hand of the tournament played out. Jorg Peisert opened with a raise to 180,000. DeWitt looked down at his cards and then moved all of his chips in. Peisert quickly called, a bad sign for DeWitt.

DeWitt:

Peisert:


Peisert's fans on the rail started chanting for "No king!" as the dealer burned and flopped
. They're cried grew louder with the
turn, and they erupted into thunderous cheers and applause when the river fell
to eliminate DeWitt.

For finishing in second place, DeWitt will collect $313,227.

Jason DeWitt raised to 260,000 after Jorg Peisert limped. Peisert called. The flop came down
and DeWitt fired a bet of 305,000. Peisert called.

The turn brought the
and DeWitt checked. Peisert moved all in after taking his time as he usually does. DeWitt snap-folded his hand and Peisert showed
.

DeWitt is down to 960,000 while Peisert has a heck of a lot more than that, with about 6,700,000.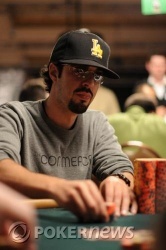 Benjamin Gilbert raised all in for 560,000 and Jorg Peisert went into the tank with over five million chips in his stack. Eventually, after a minute or so passed by, Peisert made the call with
. Gilbert slammed over his hand in a joking fashion to reveal a whopping
.

The board ran out
and another loud uproar of cheers came from Peisert's cheering section. Gilbert was bounced out in third place, earning over $200,000 for his effort. We're now heads up.

Jorg Peisert raised from the small blind and Jason DeWitt called from the big blind. The flop came down
and both players checked. The turn was the
and Peisert checked. DeWitt fired 225,000 and Peisert called. The river was the
and both players checked.

Peisert showed
and scooped the pot after DeWitt mucked his hand.

Jason DeWitt raised to 130,000 and Jorg Peisert called. The flop came down
and Peisert led for 225,000. DeWitt raised all in and Peisert folded, prompting the "Booyah Grandma!" roars from the crowd.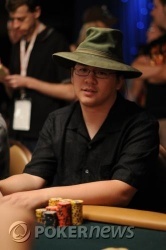 Jorg Peisert raised to 170,000 from the button. Next to act was Michael Noda and he reraised to 430,000. With action back over to Peisert, he four-bet by sticking a bunch of chips out in the middle. Noda then shoved all in and Peisert snapped. With the way Peisert acted, everyone expected him to roll over two aces, but his hand wasn't quite that good as he held
. Noda held
.

The flop came down
and kept Noda in the lead. The turn brought the
and nailed Peisert's hand. The river couldn't give help back to Noda as the
rolled off and he was eliminated from the tournament. Peisert pumped his fist and yelled "Yessss! Yessss!" as he walked over to slap fives with his cheering section who were applauding triumphantly. He's now up to 4,900,000.

Jason DeWitt reraised to 375,000 after Michael Noda raised to 125,000. Noda was on the button and DeWitt was in the small blind. The flop came down nice and low,
and DeWitt fired out 350,000. Noda mucked his hand, showing only the
and the cheers of "Booyah Grandma!" rang from DeWitt's cheering section.
Level: 27
Blinds: 30,000/60,000
Ante: 5,000