Marlon Shirley Doubles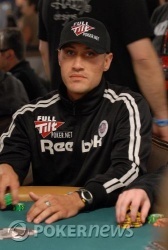 Marlon Shirley is no stranger to competition and pressure. In fact, he seems to thrive in both worlds. Shirley is a lower leg amputee and a member of the United States Paralympic Team.

According to the team's website, Shirley was abandoned by his mother at the very young age of three years old. Forced to tough it by growing up on the streets of Las Vegas, Shirley hit another tragic road block in his life when he lost his left foot in a lawn mower accident. Years later, another injury suffered in football called for the entire lower section of that same leg to be amputated.

Despite all of the adversity he has faced, Shirley battled through and now holds the world record in the 100-meter dash. He owns a total of 13 gold medals from various competitions along with two ESPY awards coming in 2003 and 2005. Shirley is also the only athlete to break the 11-second barrier in the 100-meter dash.

Today's event hasn't been going so well for him thus far, but things are looking like they'll be turning around. Down to about 6,000 chips, Shirley was all in holding
on a board of
. His opponent held pocket jacks,
. The turn brought the
and the river the
. Without his opponent improving, Shirley was able to earn the double up to 12,000 chips.

It may not be a gold medal, but certainly Marlon will welcome the addition of another certain piece of jewelry to his already stout collection.