| | | | | | |
| --- | --- | --- | --- | --- | --- |
| Annette Obrestad | | | | 450,000 | |
| Paul Varano | | | | 450,000 | |
| Michael Pesek | | | | 450,000 | |
| Justin Scott | | | | 450,000 | |
| Reagan Leman | | | | 450,000 | |
| Brett Shaffer | | | | 450,000 | |
| J.C. Tran | | | | 450,000 | |
| Johnny Kitchens | | | | 450,000 | |
| Derric Haynie | | | | 450,000 | |
| Dustin Dirksen | | | | 450,000 | |
| Heinz Kamutzki | | | | 450,000 | |
| Steven Kelly | | | | 450,000 | |
| Jeffrey King | | | | 450,000 | |
| Michael Cooper | | | | 450,000 | |
Event #39: $1,500 No-Limit Hold'em Shootout
Day 2 Completed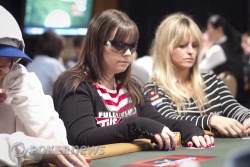 It was like 14 final tables, only all were winner-take-all. Nearly 12 hours after play began, all 14 ten-handed tables had played down to a single winner, each of whom now has a chance at a WSOP bracelet.
Derric Haynie was the first one through to tomorrow's final, dispatching of his ten-handed table in relatively short order. He was followed to the next round by Steven Kelly, Jeffrey King, Michael Cooper, Heinz Kamutzki, and Paul Varano.
J.C. Tran -- owner of two WSOP bracelets already -- was the next one through, followed by Johnny Kitchens, Dustin Dirksen, and Justin Scott.
We crossed midnight, and four tables continued play, with all four down to heads up. Annette Obrestad and Fatima Moreira de Melo began their heads-up battle nearly even, but Obrestad eventually chipped up and eliminated the renowned field hockey star.
Michael Pesek, Brett Shaffer, and Reagan Leman were the last to win their spots in tomorrow's final. All 14 are guaranteed $6,940 for making it to Round 2, but the big money awaits those making it to the top spots tomorrow. Play will begin tomorrow as a 14-person multi-table tournament (two seven-handed tables), with each player starting with 450,000 chips.
Rejoin us tomorrow at 2:30 p.m. Vegas time to see who among these 14 will successfully shoot their way through another small field of opponents and take the $381,922 first prize and coveted WSOP bracelet.
Things couldn't have been more brutal for Tristian "Cre8ive" Wade the last few hours. He was in command of the table throughout the day and had many opportunities to eliminate Regan Leman. Leman wouldn't go away though and chipped away long enough to come away with the win.
In the final hand Wade shoved with the button for 130,000 and Leman made the call.
Showdown
Wade:

Leman:
Wade connected with the
and the
bricked on the turn. Leman slammed the door on the match when the
rivered however and locked up his seat for Day 3.
Button shove. Call. You know the drill.
Tristan Wade (button):

Reagan Leman:

Dealer:
Leman wins the hand, and doubles to 328,000. Wade is down to 122,000.
Reagan Leman and Tristan "Cre8ive" Wade got it in again preflop, and the two held nearly identical hands:
Showdown
Leman:

Wade:
The
was huge for Wade, but the
gave Leman outs to a flush. The
on the river completed that flush, and now Leman is creeping back into the match:
Leman - 164,000
Wade - 286,000
Tristan Wade has chipped up again and is now sitting with 350,000 to Reagan Leman's 100,000.
We're down to our last table, at which we had a bit of excitement just now. End result? Nothing really. But exciting nonetheless.
Tristan Wade and Reagan Leman were still nearly even in chips when Wade open-shoved from the button and Leman called. Wade held
, and Leman
.
Then came what was described afterwards as "the sickest flop" --
. Boom. Two pair for Wade, and an apparent stranglehold on the hand. The turn was the
, giving Leman a flush draw.
Then came the
on the river -- a straight on the board, and a chop. Our sole remaining duo are back to close to even.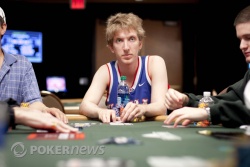 Brett Shaffer limped in on the button and Steve Hohn shoved for just under 200,000. Shaffer rolled his eyes and sat back in his chair, visibly upset with the situation. Hohn had shoved preflop almost a dozen times already, and finally Shaffer made the call.
Showdown
Shaffer:

Hohn:
(oops)
The
flop was actually fairly good for Hohn because it brought chop outs. The turn brought the
and he needed either a seven or a nine to chop the pot. It wasn't to be though as the
rivered eliminating him from the tournament.
After a very long heads up battle, Shaffer has clinched a seat in the final 14.
Over on Table 362, it has been a couple of hours since Chau Giang was eliminated in third and Reagan Leman and Tristan Wade began their heads-up battle.
The pair are nearly even at the moment, with Leman at 235,000 and Wade 215,000.