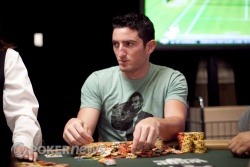 First to speak, Michael Linn opened for 150,000 from under the gun, only for Taylor Larkin to make it a 425,000 from the small blind. Going against common trends in which the big blind normally side steps out of the way, Miahai Manole had other ideas and duly slid in a four-bet to a whopping 1,025,000.
Linn immediaely moved all in (although his stack crumbled en route), whilst a disgruntled Larkin folded what he later revealed was
. Manole, meanwhile, shrugged his shoulders, asked for a count, and made the call.
Manole:

Linn:
Despite a hair-raising
flop, the
turn and
river were both blanks and Linn doubled through to 3,800,000, whilst a disappointed Manole sank to 2,490,000.