McEvoy Knows How Many Chips He Has... Or Had, That Is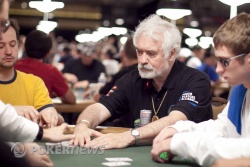 Tom McEvoy opened with a standard raise, and Marlon Shirley three-bet him small to 4,300 total. McEvoy flatted, and the two men took a flop of
. Shirley moved all in for 12,900, and McEvoy called with just about the same size stack to put the cards on their backsides:
McEvoy:

Shirley:
McEvoy leaned back in his chair and started to gather his belongings just as the dealer dropped the timely
onto fourth street. McEvoy was taken aback by his luck and he just sat there wide-eyed as Shirley stood to gather his own belongings, one card from elimination.
River:
(bink, as they say)
Shirley shot his arms up in shocked celebration of his two-out re-suck. McEvoy was already out the door by the time the stacks were counted down, and both men had exactly 12,900 when the money went in. Good eye, Tom, but we'll see you in the next one.