TomDurrrrDwan
Level 8 : 400-800, 200 ante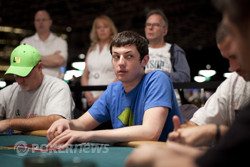 Under the gun, Scott Seiver made it 1,800 to play, and action came around to Tom Dwan on the button. He studied Seiver for a while, then reraised all in for 7,775. Seiver quickly called, and he took one card while Dwan stood pat.
"Durrrr" turned over the powerful
, and Seiver said, "Well, I'm drawing live."
There were a few surprised faces at the table, so Seiver showed his
as he squeezed the last card. It was no good. A red
was no good for Seiver, and Dwan doubles to 17,325.