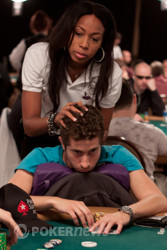 On a flop of
, Jonathan Duhamel checked from the small blind and his opponent in the big blind bet 7,000. Duhamel responded with a check-raise to 15,000 and the big blind called.
Both players checked the
, and then Duhamel bet 18,000 on the
river. The big blind called but mucked when Duhamel rolled over
for the nut flush.