Level:

20
Blinds:

5,000/10,000
Ante:

1,000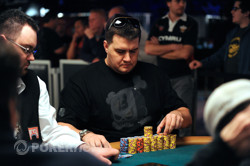 Day 3 of Event #54: $1,000 No-Limit Hold'em is set to begin and our final 44 players will be taking their seats shortly. Our chipleader is currently Anibal Andres with 799,000 in chips. Other big stacks include Stanislav Alekhin (786,000) and Terrance Eischens (709,000) but we can't leave out Matt LaGarde (517,000) and Max Lykov (338,000) who are both no strangers to going deep in WSOP events. Lykov and Alekhin will be seated right next to each other to start the day so we may see some Russian fireworks coming from that table.
We will be playing down to a final table today before play is halted, so this should prove to be a relatively short day. All of the remaining players are guaranteed to take home at least $13,137 but we're sure they're all itching to take home the $648,880 and prestigious gold bracelet that will go to our eventual champion.
Stay with us here at PokerNews for all your updates! Cards will be in the air soon!
| Table | Seat | Player | Chips |
| --- | --- | --- | --- |
| 275 | 1 | Ryan Buckholtz | 351,000 |
| 275 | 2 | Mario Doria | 454,000 |
| 275 | 4 | Pierre Neuville | 283,000 |
| 275 | 5 | Bobby Poe | 182,000 |
| 275 | 6 | Joshua Evans | 128,000 |
| 275 | 7 | Melad Marji | 301,000 |
| 275 | 8 | Christopher Trueblood | 281,000 |
| 275 | 9 | Sebastien Roy | 326,000 |
| | | | |
| 276 | 1 | Matthew LaGarde | 517,000 |
| 276 | 2 | Jason Vanstrom | 381,000 |
| 276 | 3 | Anibal Andres | 799,000 |
| 276 | 4 | Stephen Ness | 267,000 |
| 276 | 5 | Harald Olsen | 314,000 |
| 276 | 6 | [Removed:321] Abedi-Arani | 292,000 |
| 276 | 7 | Alex Smith | 267,000 |
| 276 | 8 | Jeffrey Manza | 503,000 |
| 276 | 9 | Michael Souza | 166,000 |
| | | | |
| 281 | 1 | Terrance Eischens | 709,000 |
| 281 | 2 | Matthew Leecy | 371,000 |
| 281 | 3 | Seth Baker | 177,000 |
| 281 | 4 | William Knuppel | 214,000 |
| 281 | 5 | Dror Michaelo | 280,000 |
| 281 | 6 | Mark Epstein | 184,000 |
| 281 | 7 | Douglas Mackinnon | 169,000 |
| 281 | 8 | Michael Byers | 76,000 |
| 281 | 9 | Christopher Chatman | 524,000 |
| | | | |
| 287 | 1 | Jason Bigelow | 476,000 |
| 287 | 2 | Aaron Overton | 453,000 |
| 287 | 3 | Stanislav Alekhin | 786,000 |
| 287 | 4 | Maxim Lykov | 338,000 |
| 287 | 5 | Ludovic Sultan | 295,000 |
| 287 | 6 | Warren Wooldridge | 153,000 |
| 287 | 7 | Dan Alspach | 314,000 |
| 287 | 8 | Ren Ho Zhang | 306,000 |
| 287 | 9 | Jonathan Levy | 93,000 |
| | | | |
| 293 | 1 | Mickael Morgousky | 189,000 |
| 293 | 2 | Marcus Balmert | 136,000 |
| 293 | 3 | Hendrik Alebregtse | 163,000 |
| 293 | 4 | Irme Leibold | 210,000 |
| 293 | 5 | Nahabedian Raffi | 477,000 |
| 293 | 6 | James Matteucci | 187,000 |
| 293 | 7 | James Waldron | 135,000 |
| 293 | 8 | Jamal Sawaqdeh | 187,000 |
| 293 | 9 | Wilson Diaz | 350,000 |
Event #54: $1,000 No-Limit Hold'em
Day 3 Started