Event #56: $1,500 No-Limit Hold'em
Day 3 Completed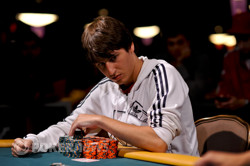 Day 3 of WSOP Event #56 has come to a close and due to the hard-stop rule, we're now wrapping things up here in the Amazon Room with only three players remaining.
42 players kicked off the action this afternoon in the wake of the Day 1a field of the Main Event, but despite the slow start, once Albert Strickland was busted, it ignited the players once again and we were down to just 18 players in the space of three hours of play.
The day wasn't without controversy, with James Boyle's erratic behavior causing a lot of problems for the players, highlighted by what could only be described as unsportsmanlike conduct during a pivotal hand between Rayan Nathan and Gavin Smith. Clearly rattled by what had occurred, Smith was eliminated in 12th place, then fellow Canadian Bryan Paris followed him to the rail in 11th place before the unofficial final table was set.
From there, Bryn Kenney was eliminated in 10th place after he lost the flip for his tournament life holding pocket jacks against Andy Philachack's ace-king. He was joined by Boyle a short time later in ninth place; Boyle got the last of his money in with ace-king as well, but failed to improve against Philachack's pocket sixes.
Selim Oulmekki changed gears from that point, commanding most of the action at the tables, but Ryan Goindoo was then taken out by John Horvatich in eighth place after his
were counterfeited by Horvatich's
on the
board.
Rayan Nathan was the next to go in seventh place when he got the last of his stack in the middle with
, but ran into Hasan Anter's
. Then both John Horvatich and John Borzio were sent packing in fifth and fourth place respectively; Horvatich had gotten his money in good with
, but Anter's
hit the set on the flop and then improved to a full house. Borzio was then eliminated in the very next hand when he found himself on the wrong end of the biggest three-way pot of the tournament.
Oulmekki's aggression then got the better of him; he was busted in fourth place when he got his money in on a board that read
with
, but Anter had made two pair with his
to take him out.
Nemer Haddad was then at risk twice, but doubled up both times through Anter to stay alive, but from that point, there was not much else to write home about. With that said, we'll be back here at 2.30pm tomorrow to finish this one off!
Who will take home the gold? Hasan Anter? Andy Philachack? Nemer Haddad? There's no way of no of knowing, unless you tune in with PokerNews again tomorrow from 2.30pm PST (GMT -7) as we bring you all the updates. Thanks for staying with us, and until then, buenos noches!
For almost the last 20 minutes, we saw no action at all between the final three players. With the countdown clock on zero, tournament supervisor Bob Smith has called time. Thank you linesman, thank you ballboys.
We'll have a wrap-up of the day's action for you soon.
After a raised pot pre-flop, Andy Philachack and Nemer Haddad went heads-up the flop of
. Philachack led out for 250,000 and Haddad called before both players checked the turn of the
.
Philachack then check-called Haddad's bet of 725,000 on the river of the
, but mucked after Philachack showed down
for two pair.
| | | | | | |
| --- | --- | --- | --- | --- | --- |
| Hasan Anter | | | | 8,650,000 | 2,250,000 |
| Nemer Haddad | | | | 3,850,000 | -1,950,000 |
| Andy Philachack | | | | 2,900,000 | -100,000 |
Hasan Anter has been able to recuperate some of his lost chips through Nemer Haddad as the three-handed battle rolls on through this final level.
Andy Philachack folded from the button and Anter raised to 300,000 from the small blind. Haddad called from the big blind, then Anter led out for 400,000 after the flop of
. Haddad called, only to fold after Anter fired out 650,000 on the turn of the
. Anter showed
and took it down.
Hasan Anter has had his stack cut back down to less than 6.5 million as Nemer Haddad and Andy Philachack begin to apply the pressure.
Earlier, Anter raised to 275,000 from the button and Haddad folded the small blind before Philachack called from the big blind to go head-up to the flop that read
. Philachack checked, Anter quickly bet, but folded just as fast after Philachack check-raised all-in.
In the very next hand, Haddad raised to 275,000 from the button and Philachack folded the small blind, but Anter re-raised, making it 600,000 to go. Haddad called, then Anter led out for 900,000 after the flop of
. Haddad shoved and Anter laid his hand down.
| | | | | | |
| --- | --- | --- | --- | --- | --- |
| Hasan Anter | | | | 6,400,000 | -4,050,000 |
| Nemer Haddad | | | | 5,800,000 | 3,700,000 |
| Andy Philachack | | | | 3,000,000 | 650,000 |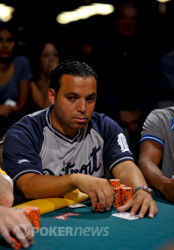 Nemer Haddad has just managed to double through Hasan Anter to move up to more than 4.3 million in chips as three-handed play continues here at this final table.
Andy Philachack folded from the button before Anter raised to 280,000 from the small blind. Nemer called from the big blind, then checked his option after the dealer spread the flop of
. Haddad fired out 250,000 and Anter called, then he check-raised all-in after Haddad's bet of 550,000 on the turn of the
.
Haddad snap-called, rolling up
for two pair against Anter, who wasn't thrilled that his
had been outdrawn. The river
completed the board, and with that, Anter's now down to 8.1 million and change.
Level:

30
Blinds:

50,000/100,000
Ante:

10,000
It wasn't that long after Selim Oulmekki's bust-out that Nemer Haddad found himself all in before the flop. Hasan Anter called, showing down
but was well behind Haddad's
.
The dealer spread the board of
and with neither hand improving, Haddad doubled up to just over two million. Anter's still well out in front with almost 10.5 million.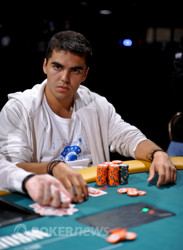 Just when we thought things couldn't get any more crazy up in here, Selim Oulmekki has just been sent to the rail in fourth place by Hasan Anter, who now holds more than 11.5 million in chips!
Oulmekki raised to 175,000 from the button and Anter called from the big blind before both players checked the flop of
. Anter then bet 300,000 on the turn of the
, Oulmekki shoved and Anter snap-called.
Anter:

Oulmekki:
Despite both players having paired up, Anter was way out in front and with both players holding a chack, Oulmekki's only hope was an eight. The only problem was that Anter made trips with the
- thus endeth his tournament life.