Dan Witcher Eliminates Jeff Manza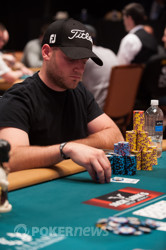 When the chips were bagged and tagged last night the top two names on the team sheet were Jeff Manza and Aaron Jones. If proof was ever needed about the fragility of stacks in poker then the story of those two says it all. We reported earlier how Andrew Lichtenberger eliminated Jones and now we are here to tell you that Manza has followed him into the sultry sun.
Whenever we have a loser there is always a winner and his name is Daniel Witcher. Witcher took all of Manza's chips in two consecutive pots. The first was
versus
for a 70k pot and then he finished off the job with
versus
for his remaining few chips.