Event 33: $1,000 No-Limit Hold'em
Day: 1
Event 33: $1,000 No-Limit Hold'em
Day 1 Completed
Level 10 : 400/800, 100 ante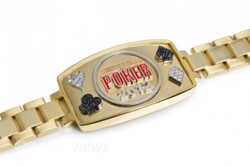 BOOM!
That's exactly what these $1k World Series of Poker (WSOP) tournaments feel like…supersonic!
2,795 players filled the Brasilia room and significant parts of the Pavilion and Amazon rooms. Then before you could say, "6-levels," 30% of the field had vanished into the ether like dew in the face of the rising sun. 5-levels later and only 231 players remained in the pursuance of WSOP gold. There is still plenty of poker to be played before that sliver of gold is slipped into somebody's slinky wrist, but in the meantime the man in pole position on the Day 2 grid will be Brad Libson who wrote the magic number 117,000 on his plastic bag.
Let's take you through the Day 1 journey as we saw it through the eyes of PokerNews…
As usual with large field WSOP events, all of the early noise surrounded who was leaving and not who was chip building. Leo Margets was in no mood to mess about when she got all of her chips into the middle in the first few hands. She won that pot but was not so fortunate a level later when she was eliminated
v
and left the tournament. Other notable female players that left us in the pre-dinner arguments were the multi-talented Kara Scott, WSOP bracelet holder Kathy Liebert and PokerNews very own Mrs Kristy Arnett.
Sorel Mizzi, Roberto Romanello, John Eames, Jonathon Kalmar & Chris Moorman were some of the top males heading for an early bath, whilst at the other end WSOP bracelet holders Athanasios Polychronopoulos and Jonathan Duhamel were sharing the same table and the one and two spots on the early leader board. Duhamel eliminating the legendary Hendon Mobster Barny Boatman (or was it Barry?) in a house over house extravaganza of a hand.
8 times WSOP bracelet winner, Erik Seidel, tripled up when he flopped a set of nines when down to a mere 575 chips, Dave Sands, Greg Raymer, Barry Greenstein, Joseph Cheong and Jeff Madsen all left, and by the time we had reached dinner a few players started to try and break away from the rest of the pack - notably Eric Price, Jeff Sluzinski, Tim Ryan and Kim Pham.
After the dinner break Dylan Hortin put the brakes on the runaway train that was two-time WSOP bracelet winner Richard Hughes in an all-in pre flop
v
disagreement, WSOP bracelet holder Mark Radoja doubled up when down to fumes and Lauren Kling fired three barrels of second-best cards into the welcoming arms of Chris Dombrowski.
Then as we entered Level 9 the chip stacks started to grow just like beanstalks planted by Jack. Several players started to break away from the rest of the group and they included William Chao who made a hero call to eliminate Jared Jaffe thus moving up to 78,000, Andy Bradshaw (65,000), who told us that he didn't really want to play because the cues were too long, and only did so because is missus would believe he was only over here to go on the lash (get drunk) - but no-one had more than Thomas Fuller who became the first man to hit the 100,000 mark.
The pace quickened and 2,795 players became 298 players in no time. As the clock slowly rolled into the last level of the night the money bubble burst and the news was greeted with it's customary round of applause. As per usual players started to fall like trees in the Amazon rainforest and we were down to the next pay jump with everyone guaranteed $2,012. Amongst the high profile casualties was Jonathan Duhamel, who according to his table mates, had a terrible run of luck that accumulated with him running his last 10,000 - and pocket deuces - into the pocket kings of his opponent.
At the top end of the charts the top spot became a sprint between Brad Libson (117,000), Thomas Fuller (103,000) and Eric Price (115,300) with Libson just pipping Price to the post in a photo finish.
Other notables through to Day 2 include Erik Seidel (30,800), Mark Radoja (28,000), Faraz Jaka, (81,900), Humberto Brenes (27,700) and Andy Frankenberger (35,400).
Player
Chips
Progress

Brad Libson

117,100

47,100

Joshua Price

115,300

Thomas Fuller

102,900

2,900

Sergey Lebedev

91,900

43,900

Steven Tripp

89,900

Jordan Cristos

89,500

-5,500

Ren Ho Zhang

83,900

Nicholas Mitchell

83,500

Justin Zaki

83,400

Faraz Jaka

81,900

78,900

Ryan Laplante

79,800

Alex Komaromi

79,600

Tom Middleton

78,500

35,500

Jared Hamby

78,300

David Windisch

77,500

Justina Takahashi

77,100

Lisa Hamilton

75,800

Steven Singer

74,900

Sami Banizuraij

69,100

Ting Ho

68,800

Derek Ichilcik

68,700

Jim Downend

68,600

Alexander Keating

67,900

Sebastien Lebreton

67,600

Marc Korner

67,600
We just saw Jonathan Duhamel taking the lonely walk out of the Brasilia room. His table tell us that has played superbly all day but had the most rotten luck. His eventual demise came when he moved his last 10,000 into the mixer, from the small blind, holding pocket deuces and ran into the pocket kings of his opponent.
Jon Spinks raised to 1,600 in mid-position and there was a call from the cutoff. The flop was
and Spinks made a standard 1,800 c-bet. Moments later and his opponent had raised to 5,000.
"Make it 96," said a cool and collective Spinks.
The player in the cutoff made the fold and Spinks was visibly disappointed.
A few tables over and Andy Bradshaw's 60k+ stack is now more like 18,000. Bradshaw told us that he lost a 40,000 pot
v
when his opponent hit a King on the flop. Bradshaw said he was so enraged that he moved all-in, with trash, several times and went from 5,000 to 18,000. Calm down...calm down.
Last but not least our former WSOP Main Event champion Jonathan Duhamel has also had his stack hacked into pieces. He was all-in pre flop
v
and now has 12,800 chips.
Player
Chips
Progress

Brad Libson

106,000

36,000

Thomas Fuller

101,000

12,200

Mohsen Tayfeh

71,000

32,000

Justin Cohen

65,000

Tim Ryan

54,000

26,000

Phillippe Ktorza

52,000

12,000

Jon Spinks

49,000

29,900

Mark Radoja

48,000

1,000

Martins Adeniya

46,000

-4,000

Vojtech Ruzicka

44,000

William Chao

43,000

-35,000

Chris Dombrowski

30,000

11,000

Andrew Teng

28,000

-13,000

Andy Frankenberger

26,000

-12,000

Nesrine Kourdourli

26,000

1,000

Craig McCorkell

16,000

1,000

Jonathan Duhamel

12,800

-43,200

George Lind

4,200

-9,300

Andy Bradshaw

1,800

-58,200

Matt Affleck

Busted

John Juanda

Busted
Pat yourselves on the back Day 1 entrants. Somehow you have managed to carve the field down from 2,795 to 297 with still one level remaining on the first day. We did not catch the bubble boy but we did catch Mandy Baker put into a spot nobody wants to be in.
With 298 players on the clock and only 297 players getting paid Mandy Baker was involved in a hand. The action had reached the river on a board of
, her opponent had bet 5,500 and Baker had raised to 12,000 on the button. Her opponent was in the tank when we arrived, and when he surfaced he decided that it was an opportunity to apply maximum pressure. He moved all-in and Baker was left looking she would have egg on her face. After several minutes thought Baker, through an almost inaudible croak, announced call and turned over
for two-pair. Her opponent turned over
and Baker, who was shivering like a naked Penguin, was up to 80,000.
With forty-minutes of the penultimate level remaining let's give you an update of what is going on in the Silver Section of the Brasilia Room. There are 337 players left and the name of Jack Ellwood is not among them. Ellwood reached superstar status in Europe when he won several major online tournaments in one weekend. He has followed up that technological success with some hard work in the brick and mortar world where he has earned over $200,000 including 5 World Series of Poker (WSOP) cashes. Ellwood found himself short and made his move with
in the cutoff. Former November Niner Eoghan O'Dea made the call from the big blind holding
(shows you how short Ellwood got) and the board ran out
to eliminate Ellwood just short of the money.
In other news Jared Hamby now has 90,000, Nicholas Batt has 78,000, Faraz Jaka has 81,000 but leading the Silver Section is Jordan Cristos with 95,000 chips.
Player
Chips
Progress

Jordan Cristos

95,000

55,000

Faraz Jaka

81,000

-9,000

Daniel Idema

65,000

Jay Hong

65,000

Andy Bradshaw

60,000

-4,000

Jonathan Duhamel

56,000

24,000

Tom Middleton

53,000

10,000

Mark Radoja

47,000

37,400

Dave Westfall

44,000

3,500

Phillippe Ktorza

40,000

22,000

Andy Frankenberger

38,000

500

Eoghan O'Dea

34,000

Matt Stout

32,000

29,000

Athanasios Polychronopoulos

30,000

22,000

Zimnan Ziyard

28,000

11,000

Anton Makiievskyi

26,000

Bryan Micon

25,000

Erik Seidel

24,000

6,000

JJ Liu

23,000

-5,000

Humberto Brenes

20,000

6,000

Jon Spinks

19,100

-7,900

David Vamplew

16,000

1,000

Thiago Nishijima

12,000

-8,000

John Juanda

5,000

-5,000

Jack Ellwood

Busted
Level: 10
Blinds: 400/800
Ante: 100
Level 9 : 300/600, 75 ante
The players are on their final twenty-minute break. Two more levels and then this thing is done.
As we approach the last third of Level 9 the stacks are growing as the players dwindle. 450 players are left and there is nobody seated in the Gold section with more chips than Thomas Fuller. Fuller has over $300,000 in World series of Poker (WSOP) earnings spanning a 7-year period and has become our first player, today, to hit the 100,000 mark.
Moving swiftly from Table #5 to Table #4 and a baffled looking Jared Jaffee has just left the tournament courtesy of a hero call from William Chao. We are using the words hero based on the dazed look on the face of Jaffee. We caught the action on the turn with the board showing
, Chao had checked from early position and Jaffee had moved all-in. Both players had similar size stacks and so it was a huge decision for Chao. Eventually, after lot's of time pondering, Chao made the call and Jaffee was not a happy-chappy.
Chao was begging for a deuce and when the
hit the river he let out a whelp of delight.
"Man, I nearly folded that hand," said Chao.
"I can't believe you didn't" said Jaffee as Chao moved up to 78,000 in chips.
Other big stacks that have popped up in the Gold section belong to last years runner-up in this very event, Justin Cohen (65,000), Brad Libson (70,000) and Andy Bradshaw (64,000).
Player
Chips
Progress

Thomas Fuller

100,000

William Chao

78,000

Brad Libson

70,000

Justin Cohen

65,000

Andy Bradshaw

64,000

Ryan Austin

52,000

Martins Adeniya

50,000

28,300

Sergey Lebedev

48,000

Noah Bronstein

46,000

Andrew Teng

41,000

21,400

Mohsen Tayfeh

39,000

4,000

Todd Terry

36,000

27,000

Tim Ryan

28,000

-7,000

Konstantin Puchkov

26,000

Mihai Manole

25,000

10,000

Nesrine Kourdourli

25,000

9,000

Chris Dombrowski

19,000

-19,000

Matt Affleck

19,000

-1,000

Craig McCorkell

15,000

5,000

George Lind

13,500

Nicolas Yunis

12,000

-2,000

Alessandro Longobardi

12,000

-4,800

Robert Deppe

Busted

Jared Jaffee

Busted