Blom Smashes One-Outer Against Cassidy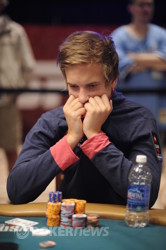 As if we thought we'd get through the night without anyting crazy happening...
"Oh my god! Oh my god!" said Joe Cassidy over and over after springing from his chair, with his hands clenched tight to his head as if he was holding his baseball cap on for dear life in a windstorm.
Viktor Blom also shot out of his chair, but was on the complete opposite side of the spectrum. He was all smiles and giddy. He walked over to the table next to his, reached across between Phil Hellmuth and David Oppenheim to Luke Schwartz on the other side of the table, gave him a big high five.
When Blom smacked Schwartz's hand, he said, "One-outer, baby!" Schwartz smiled and congratulated him.
Cassidy was still pacing back and forth with his hands on his head and here's what happened.
Pot-Limit Omaha
Cassidy and Blom were in action on the
flop and Cassidy was first to act. He checked and his Swedish counterpart fired a bet of 38,000. Cassidy raised and made it 138,000 to go. Blom called.
The
hit the turn and Cassidy potted it for 485,000. Blom called and was all in. Blom held the
for a set of nines. Cassidy held the
for a set of tens.
The river nailed the
and gave Blom a miracle one-outer. He srpung from his chair in shock and excitement. Cassidy sprung from his chair in the opposite manner, but just as shocked.
With that pot, Blom moved up over one million in chips while Cassidy was crushed down to just about 50,000 in chips.