Event 45: $50,000 Poker Players Championship
Day: 4
Event 45: $50,000 Poker Players Championship
Day 4 Completed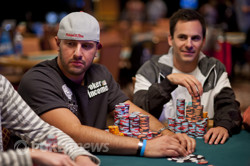 Day of Event 45: $50,000 Poker Players Championship here at the 2012 World Series of Poker has wrapped up. It was an extremely exciting day of play, which was capped off by the setting of the official final table.
The day began with Viktor Blom leading the remaining 26 players. Of those 26, 16 would finish in the money while 10 would go home empty handed.
Finishing outside of the money were Antony Lellouche, Phil Hellmuth, Michael Glick, David Chiu, Lyle Berman, Robert Mizrachi, Joe Cassidy, Phil Ivey and John Monnette. With those eliminations, the field was down to 17 players and on the official money bubble.
On the bubble, Ben Yu was knocked down to just 3,000 in chips after a confrontation in Limit Hold'em against Daniel Alaei. Yu was able to fight back in a couple of pots to stay alive and get back to 21,000, but that's where the comeback ended.
On his final hand, Yu made two pair of eights and threes along with an eight-four low in Stud-8. His opponent, Roland Israelashvili, made a seven-high straight along with a six-five low to scoop the entire pot and send Yu out the door.
From there, 16 players remained and eight of them needed to be bounced before reaching the official final table. Brett Richey fought long and hard as the "comeback kid," but finished in 16th place. MIke Wattel (15th), Viktor Blom (14th), Jeff Lisandro (13th), John Hennigan (12th), Daniel Alaei (11th) and David "ODB" Baker (10th) were the next to go before the final nine joined at one table with the goal of losing one more.
David Oppenheim got short at the "unofficial" final table, before doubling up through Chris Klodnicki. Oppenheim only got short again and then eventually busted to Michael "The Grinder" Mizrachi. He was the last person eliminated on the night, going out in ninth place for $142,197.
Mizrachi finished on the top of the leader board, but only barely. He edged out Andy Bloch by a mere 50,000 in chips.
Final Table Seat Draw
| Seat | Player | Chips |
| --- | --- | --- |
| 1 | Bill Chen | 1,293,000 |
| 2 | Luke Schwartz | 1,494,000 |
| 3 | Andy Bloch | 3,598,000 |
| 4 | Stephen Chidwick | 2,026,000 |
| 5 | Michael Mizrachi | 3,648,000 |
| 6 | Chris Klodnicki | 3,276,000 |
| 7 | Bruno Fitoussi | 188,000 |
| 8 | Roland Israelashvili | 694,000 |
Mizrachi will head the final table for Day 5. When he won this very event back in 2010 for his first WSOP gold bracelet, Mizrachi came into the final table fifth in chips. He'll be in better position this time around and seems to be playing his best poker. He's also running well, and anyone who knows poker knows that it a very lethal combination.
The final table will commence on Thursday at 2:00 PM and PokerNews will be on hand for all of the coverage. Be sure to stay tuned in then for all of the action, it's going to be a great show. Until then, enjoy the rest of our coverage from the 2012 WSOP.

Player
Chips
Progress

Michael Mizrachi

3,648,000

148,000

Andy Bloch

3,598,000

-399,000

Chris Klodnicki

3,276,000

-24,000

Stephen Chidwick

2,026,000

676,000

Luke Schwartz

1,494,000

253,000

Bill Chen

1,293,000

393,000

Roland Israelashvili

694,000

-384,000

Bruno Fitoussi

188,000

-236,000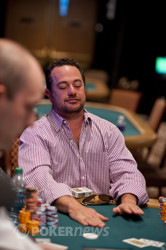 No-Limit Hold'em
David Oppenheim was all in for the ante from the small blind for his last 1,000. Michael "The Grinder" Mizrachi raised to 50,000 from middle position and action folded to Luke Schwartz in the big blind. He called.
The flop was
and Schwartz checked. Mizrachi went to bet, but Schwartz quickly mucked his hand and left Mizrachi heads up with the at-risk Oppenheim.
Oppenheim tabled the
for two overs and a straight draw. Mizrachi held the
.
Although he had plenty of outs to stay, Oppenheim couldn't spike it after the
fell on the turn and the
on the river. On the turn, he picked up more outs with a flush draw, but it wasn't meant to be.
Oppenheim exited in ninth place and has earned the title of "final table bubble boy." In 2010 when Oppenheim made the final table of this event and finished in third, Mizrachi won the event and was the one to eliminate Oppenheim.
Oppenheim took home $142,197 for his finish while all of the remaining players got ready to bag and tag, locking up a final table berth and at least $169,879.

Level 20
David Oppenheim had been knocked back down under 100,000 in chips after losing a pot to Stephen Chidwick in a hand of 2-7 Triple Draw. Chidwick had made a ten to beat Oppenheim's jack. After doubling up through Chris Klodnicki a few hands ago, Oppenheim was right back to being in severe trouble.
No-Limit Hold'em
Luke Schwartz raised to 50,000 from under the gun and Chidwick called from a couple seats over. Roland Israelashvili called on the button and Oppenheim called from the big blind, leaving himself with just 1,000 behind.
As the board ran out
, all four players checked it down, with none opting to bet anymore and force Oppenheim to make a decision for the last of his chips.
At the showdown, Schwartz showed the
for queens and fours and everyone else mucked.

2-7 Triple Draw
From under the gun, Chris Klodnicki raised. David Oppenheim reraised on the button and Klodnicki called. On the first draw, Klodnicki drew two and Oppenheim drew one. Klodnicki checked and Oppenheim bet all in. Klodnicki called.
On the second draw, Klodnicki took two and Oppenheim took one. Klodnicki then took one on the third draw and Oppenheim stood pat.
Klodnicki had a
and pulled a
to pair up. Oppneheim made an
to win the pot and double back to half a million in chips.

2-7 Triple Draw
Stephen Chidwick raised under the gun and David Oppenheim defended from the big blind.
Oppenheim took two cards, Chidwick needed one. Oppenheim check-called a bet.
On the second draw Oppenheim drew two cards and Chidwick stood pat. Oppenheim check-called once more.
On the final draw Chidwick stood pat again and Oppenheim took one card. Now Oppenheim check-folded and is down to just 200,000 chips.

2-7 Triple Draw
From the hijack Michael Mizrachi raised and Bill Chen defended from the big blind.
On the first draw both players drew two cards and Chen bet, Mizrachi raised and Chen called. The second draw had both players drawing one card and Chen checked. Mizrachi bet and Chen called.
On the final draw Chen took one card and Mizrachi stood pat. Chen check-folded to a bet and Mizrachi won some more chips. Mizrachi showed his
to prove he had the goods as he raked in the chips.
Level: 20
Blinds: 0/0
Ante: 0
Player
Chips
Progress

Andy Bloch

3,997,000

447,000

Chris Klodnicki

3,572,000

172,000

Michael Mizrachi

3,234,000

Luke Schwartz

1,241,000

Bill Chen

1,140,000

-10,000

Roland Israelashvili

1,078,000

88,000

David Oppenheim

472,000

147,000

Bruno Fitoussi

424,000