Luke Schwartz Eliminated in 4th Place ($406,736)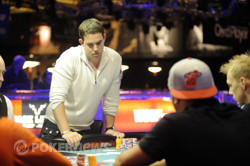 No-Limit Hold'em
Action moved to Chris Klodnicki in the small blind and he raised with a bunch of brown T25,000 chips to put the pressure on Luke Schwartz in the big blind. Schwartz went all in for a little bit more and Klodnicki called.
Schwartz showed the
and was dominating the
for Klodnicki. Schwartz popped out of his chair again and hugged the dealer with one arm. He also kissed the dealer on the top of his head and pleaded for a board in his favor.
The flop came down
and Schwartz stayed in front, although there was now a very good chance this pot was going to be chopped.
The turn brought the
and now Schwartz pleaded, "Just put a card lower than a five! Anything but a six!"
The river was exactly what Schwartz didn't want to see as the
landed on the river. Schwartz's hands were flung up in the air as he knew the worst had happened and he was eliminated.
For his finish, Schwartz took home just over $400,000 in prize money, leaving three players left for the title.