Jeff Lisandro Eliminated in 13th Place ($120,994)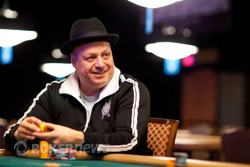 2-7 Triple Draw
In two Triple Draw hands Jeff Lisandro got chopped down and eliminated. On the first hand Roland Israelashvili raised, Andy Bloch three-bet and Lisandro called. Israelashvili made the call as well, and three-way we went to the first draw.
Israelashvili needed two cards, as did Bloch, and Lisandro took one. Lisandro bet and both his opponents called. On the second draw Israelashvili took one card, Bloch two and Lisandro needed one again. Lisandro bet, Israelashvili raised, Bloch folded and Lisandro called.
On the final draw both players stood pat, Lisandro bet and Israelashvili raised. Lisandro made the call and mucked when his opponent showed
.
After losing that big pot to Israelashvili Lisandro was left with just 25,000 chips. A few hands later he raised all in for just 20,000, after which Luke Schwartz three-bet. He got the other players to fold, and it was heads up.
Lisandro drew two cards on the first draw while Schwartz needed just one. On the second draw Lisandro took two again, while Schwartz took one. On the final draw both players took one card.
Schwartz showed
and eliminated Lisandro in 13th place.