Ilya Bulychev Bubbles Largest Tournament in History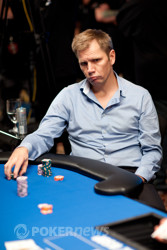 Action folded to Ilya Bulychev in the small blind and he raised all in for 2.55 million. Sam Trickett made the call from the big blind and the chance for the bubble to break had arrived.
Trickett turned up the
. Bulychev had shoved with the
and was looking to double up and stay alive. If not, he'd be forced out as the last player to go home empty handed while everyone else earned over $1.1 million.
On the flop, the dealer rolled out the
and Bulychev picked up some additional outs to a flush. He was now looking for a diamond or a queen with two more cards to come.
The turn card made things even more interesting when the
was added to the board. Bulychev increased his number of outs as he could now hit a five along with the aforementioned diamond or queen.
The crowd was silent and the cameras rolled. The tension in the air was so thick it could be cut with a knife. Along with the tension came intense anticipation of what was to come while the excitement within everyone was brewing within.
The river completed the board with the
and Bulychev had missed everything. Trickett's two pair of sevens and deuces proved to be the winning hand and sent Bulyhcev out the door in 10th place — the official tournament bubble boy.