Shorr Waits One Hand Before Being Eliminated; Penalty Awarded
Level 10 : 500/1,000, 0 ante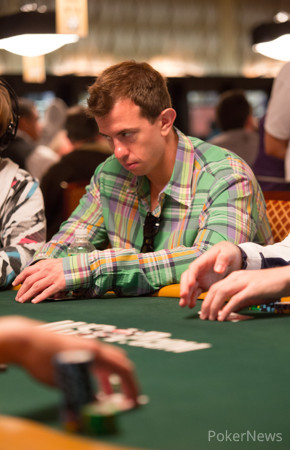 In a bizarre hand Shannon Shorr was in the big blind with 800 for the big and only had 500 total behind him. That's right 500! It folded to the small blind who threw out a 1,000 yellow denomination chip. Shorr said, "That looks like a call." Which for some reason translated to his opponent as "call." So Shorr's opponent flipped over his cards because he thought that he was all in with Shorr. He flipped up
. The dealer said that because Shorr's opponent did not say raise and he could only just called the 800 and action was on Shorr in the big blind.
The floor was called and he finalized that indeed Shorr's opponent just called and that the hand would continue. Action was then on Shorr who knew what his opponent was holding elected to check.
The best part of the story comes on the flop when the whole table rolled over laughing when the flop came
. Shorr's opponent bet enough to put Shorr's remaining 500 at risk. Shorr who figured he must be drawing dead to his opponent's set had to fold and wait for one last hand to get his less than one big blind stack in. He was eliminated the next hand
For prematurely showing his hand Shorr's opponent had to sit out for one round.